While I visited Kansas City in summer 2022, I have been quite amazed that the US-American city drives its own streetcar system. The network of KC Streetcar, which is just some 2.2 miles (3.5 km) long, does obviously not cover the whole metropolitan area, but it can be a very handy piece of public transport when you visit "K.C.". Here are my impressions.
Kansas City Streetcars – Network & Tariff
Pre-Covid, in 2019, about 6,000 people used Kansas City Streetcar per day. The route is a loop in the North with River Market North (3rd/Grand) being the Northernmost stop. The Southernmost train stop is currently Union Station, which allows to connect to the (rare) Amtrak trains. This leads to a total of ten stops currently. Using the streetcars is free, the expenses are funded by the city.
However, the City of Kansas City, who is finally driving the connection, is planning to add to connections on both sides.In the South, the tracks were already under construction. Eight additional stations (and 3.48 additional miles) shall connect the tram to the UMKC (University of Missouro – Kansas City). This station would for example also connect to the National Museum of Toys and Miniatures. A shorter extension (3/4 mile) is expected to run until Berkley Riverfront Park. Both projects are expected to be comöpleted during 2025. All stations have status screens currently, giving you in-time traffic updates.
Kansas City Streetcars – Rolling Stock
The trams used are CAF Urbos 3s streetcars. CAF (Construcciones y Auxiliar de Ferrocarriles) is a Spanish company from Beasain in Basque Country. However, they also have a construction site at Elmira, New York State. The low floor design trams are very popular and also part of the public transport system in cities like Amsterdam (Netherlands), Budapest (Hungary) or Oslo (Norway). KC Streetcars use standard gauge (1,435mm) and work with the three wagon configuration. The length of a whole train is roughly 18 meters, traveling at a top speed of 80 km/h / 50mph – which is of course not met in practical usage in Kansas City.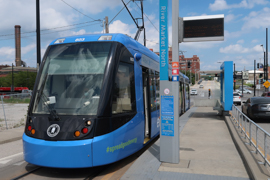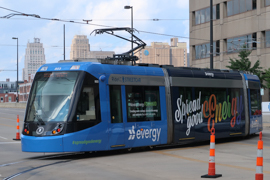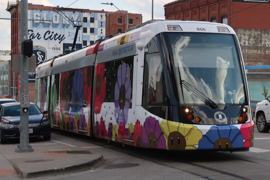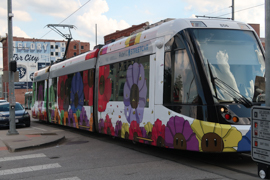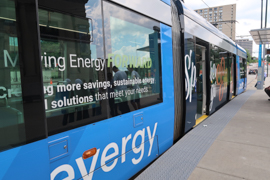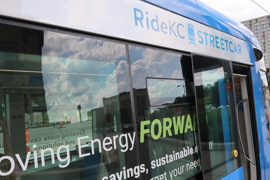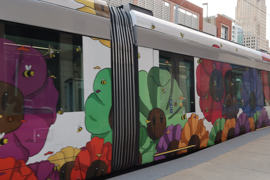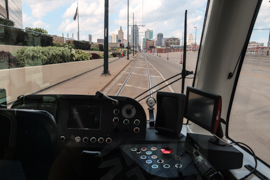 As you see in the pictures below, there are different kinds of seating in the train. You can access the whole train from any exit, there are no couplings or similar things within one streetcar which you cannot pass. Kansas City Streetcars does not offer you power or USB plugs in the trams.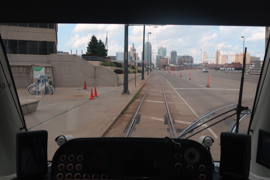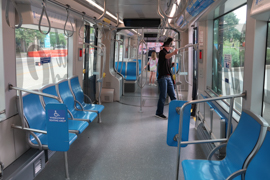 Kansas City Streetcars – The Experience
During my stay in the city center at the Hampton Inn & Suites Kansas City Downtown / Crossroads, right at Kauffman Center (16th/Main) station, the service was really reliable. There are minor delays here and there, but the frequency of having a train arriving every 10 to 15 minutes, even on Sundays, was very high. In lower frequented travel times the frequency of trains may be lower, though. Masks were not mandatory during my visit, but provided in the train.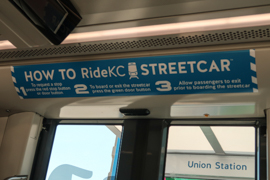 Kansas City Streetcars – My View
Yeah, the system is still very limited and there is just one line operating more or less along Main Street, but I really enjoyed this service. Having my hotel right next to a tram stop gave some handy connections, e.g. to the Arabia Steamboat Museum. The trams are modern, clean and well-maintained, so that I overall really enjoyed my ride with the service.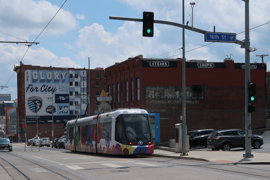 Rides on Rail (USA)
Here are my Rides on Rail postings related to the USA:
Flyctory Obscura
Flyctory Obscura-tagged reviews represent weird, unique, entertaining places of all kind: