When people discuss about good airlines for US domestic travel, Alaska Airlines is very frequently mentioned. Thus, I was really glad to be able to at least have a short impression of their services. On my West Coast trip with the Pittsburgh Penguins, I had an early morning service from San Francisco Airport (SFO) to Las Vegas (LAS), transferring from the Pens match at SAP Center in San Jose to the NHL match at T-Mobile Arena. My trip was in Domestic First Class.
Alaska Airlines Domestic First – On The Ground
The services at San Francisco airport were friendly and effective. Domestic First offers extended luggage allowances. Alaska Airlines also drives a lounge in San Francisco, which was closed due to maintenance and early hours during my flight.
Alaska Airlines Domestic First – The Cabin
I have been travelling with AS 1898 on 1st March 2020 from San Francisco to Las Vegas. The flight departed very early, at 6:00 hrs. Scheduled flight duration was 1:40 hrs, we made it in significantly shorter time, though. The flight has been serviced by an Airbus A320-214, registration N852VA. At the time of flying, the Airbus has just been eight years old.
I have been the only guest in the plane, which had three rows of Domestic First seats in a 2-2 configuration, i.e. two seats each on both sides of the aisle. Seatguru.com gives a pitch of 41 inch and a width of 21 inch. The seat is a very comfy recliner seat, as you typically find it in North American domestic first class products.
There is a fixed armrest with cup holders between the two seats, which are each equipped with a USB and a universal power plug port. Alaska Airlines does not provide any in-flight entertainment apart from WiFi in this configuration. There are 138 economy seats. The first rows have more seat pitch and sold as premium product.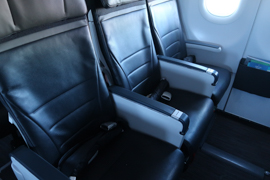 Alaska Airlines Domestic First – Food & Service
Alaska Airlines offered to pre-order from a selection of meals before the flight. Water was provided in the Domestic First cabin at boarding, there was a drink and snack service during the flight. There was also sparkling wine for free.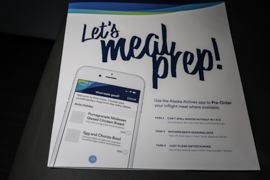 Alaska Airlines Domestic First – My View
Finally, I booked Domestic First due to the more relaxed luggage restrictions. The flight was comfortable, seat and crew were really nice nice. The comfort is definitely an upgrade  compared to the (very often) very basic business class products you have in Europe. Still, I feel that there are better services than the one I had between San Francisco and Las Vegas. Last, but not least, flying the California and Nevada sunrise was a lovely experience – so that I add some pictures of the view from the plane below.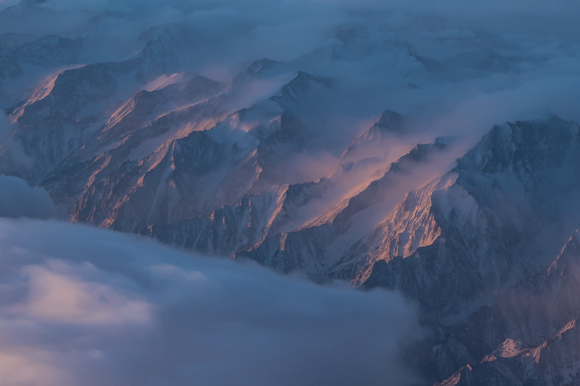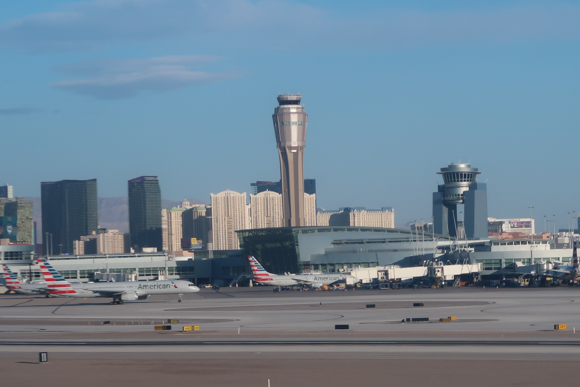 Airline Postings
Here are all postings related to specific airlines and their flights:
Aviation Museums
Here are all postings about museums concentrating on aviation: