After my first Chattanooga experience was already part of my trip following the Weird Al Yankovic Tour 2018, I made my first flight to Chattanooga Airport on 2nd June 2019, arriving from Washington Reagan Airport. I also started my way home from CMA Fest 2019 to Germany from the Southeastern Tennessee City. Here is a review of Chattanooga Metropolitan Airport, which is also called Lovell Field.
Chattanooga Airport – Location & Connections
Chattanooga Airport is located West of city center. It is about a five minutes drive from I-75. There is no public transport connection to the airport. Some hotels offer shuttles, though.
Currently, ten cities are connected directly from Chattanooga Airport. The most frequently flown destination is Atlanta, flewn by Delta Airlines. In case of ideal weather and traffic connections, this flight takes less than 20 minutes, but is still very popular due to connections and Atlanta traffic situation. Other important connections are Charlotte, Chicago, Dallas/Fort Worth and Newark Airport, served by American Airlines and United. I flew in from Washington D.C. / Reagan Airport and departed to Dallas / Fort Worth. Allegiant Air offers flights from Chattanooga to Florida.
Chattanooga – Atlanta's second Airport?
Chattanooga is also the primary diversion airport for Atlanta. During my visit, thunderstorms blocked operations at Hartsfield and some planes diverted to Chattanooga. As the airport is that close to the Georgia metropole and has significant additional capacity, there were plans to connect the city and the airport to Atlanta's local traffic and use it as second Atlanta airport. This high-speed rail idea pops up periodically, but there is no final decision.
Flying from Chattanooga Airport
The airport is currently shaped like a star: one wing is doing the departure and check-in services, one is the arrival section with luggage belts and rental cars. The third one, obviously, is the airside terminal with the gates.
The luggage drop-off / check-in wing is absolutely fit for purpose. Each handling airline has their own desk. Allegiant was closed as they just have early morning flights. The service was very efficient. However, I have not been granted a priority tag by American Airlines despite my oneworld Emerald status. In the lovely entrance hall, you find the banners of the partner cities of Chattanooga, including the one of Hamm in Germany.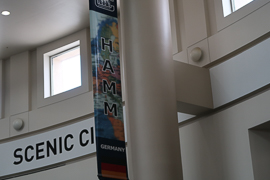 The average peak time waiting time at security is 20 minutes, as given by the TSA. Peak time is early morning – in the noon hours, it took me less than five minutes to pass security. There are food services landside and airside. However, you will not find any lounge facilities. Only the cafes / restaurants offer seats with tables and power sockets. Power sockets and really fast internet are available in the whole terminal building, though. Close to the landside cafe, there is even some sort of lounge with cozy seating. As you see in the chart above, Chattanooga Airport currently just has five gates to handle flights.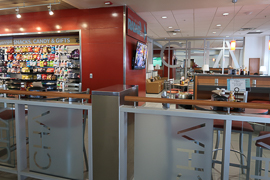 Flying into Chattanooga Airport
When I flew with PSA AIrlines from Reagan Airport, I had, as expected, it is just a short walk from your arrival gate to the luggage belts. The baggage claim hall also features the rental car offices. There are some vehicles in exhibition. As there were several flights arriving in similar time slots, the waiting time for luggage was longer than expected, roughly 25 minutes after being at gate. Apart from that, it is a small airport and the services have been very efficient. The luggage belts only showed the flight number, not the airport of origin.
Chattanooga Airport – My View
Chattanooga is a nice compact regional airport. The staff was very friendly and helpful, the food reasonable. You cannot expect a lounge or similar facilities, but the fast internet connection and high number of power plugs help a lot if you need. From the gate area, you also have a lovely view over the airfield.
Flyctory.com in Chattanooga TN
Here are all postings dealing with the Southeastern Tennesse city:
Airports on Flyctory.com
Here are all other airport-related postings:
Airport map: Chattanooga Airport website