Can you imagine what the highest-rated attraction in Germany, according to Tripadvisor, is? Cologne Cathedral? Wrong! Neuschwanstein Castle! No! And forget about Brandenburg Gate or Oktoberfest! It is Miniaturwunderland in Hamburg, the largest model railroad layout in the world. It an absolutely amazing place (will definitely visit it with Flyctory.com one day) with a high level of detail and a lot of side stories told. You cannot introduce Gulliver's Gate in Manhattan, New York, without mentioning the magnificent original just across the Atlantic Ocean. At least, when Gulliver's Gate opened in 2017, the Hamburg colleagues did marketing for the New York attraction. This is quite remarkable, as Miniaturwunderland is typically not doing that. So, is it worth to travel to Manhattan to see a wrap-up of Planet Earth – or do you simply have to travel to my home country? Here's a review of my visit I did during the Tennis US Open.
Gulliver's Gate – Location & Admission
The ordinary adult admission including tax is roughly 40 USD – Gulliver's Gate is definitely not on the budget side of exploring New York. You may reduce the price slightly by pre-booking online (which requests you to select a certain date) or by using coupons.
The location is really ideal, as it is just around the corner of Times Square on 44th St. It is also well signposted and advertised, so that you cannot miss it.
The review is split by region displayed in the exhibition area of the 40m USD project. The most wonderful thing in these kinds of attractions is to look for the small stories told by the makers of Gulliver's Gate. In general, the stories told are not as black humored as in Hamburg, just due to cultural reasons. There are so scenes showing naked people, intercourse or other topics which people might feel offended of in Manhattan. At the entrance to the exhibition, there is also a sign listing up some special items hidden in the exhibition, e.g. Spiderman in New York (see below). I did not try to identify them all. You get a key instead of an entrance ticket – this key may activate certain special actions like mountain railways or music. Like in Miniaturwunderland, the exhibition changes from daytime to nighttime – thus, some pictures are more illuminated than others.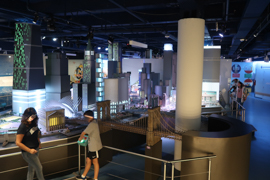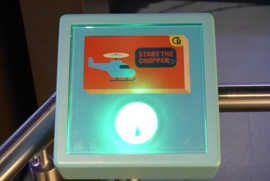 Gulliver's Gate – New York
The New York City display is the first one you will visit in Gulliver's Gate. There is not too much of the Manhattan skyscraper skyline, but a lot of nice areas and buildings in display. Grand Central Station is quite cool, for example. I also liked Brooklyn Bridge a lot.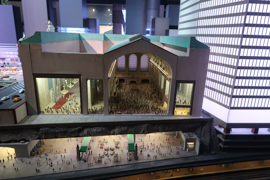 New York Stories told
New York is full of superheroes. Spiderman is taking care of the metropolis from Brooklyn Bridge and the Ghostbusters are in town as well. Somebody is taking a rowing trip in the fountain and there are a lot of other stories to explore.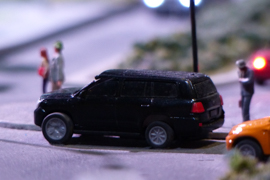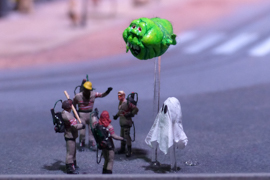 Statue of Liberty & Maid of the Mist
There are two small spin-off displays of the large New York diorama: first of all, the Statue of Liberty greets you from the opposite city of the city's display. Secondly, there is Niagara Falls with the "Maid of the Mist" hidden in the real water mist. While I liked "Torch Girl" quite much, my fascination for the Niagara Falls display was limited, especially due to my recent visit there.
Gulliver's Gate – New England States
The New England area is comparably small, but very nicely arranged, so that I enjoyed it a lot. It ranges from a small beach area to the more mountain-like areas.
Some New England Stories
Due to the diversity within the display, there is quite a lot to explore in the New England area. My favorite was definitely "Noise'r'us", the firework company.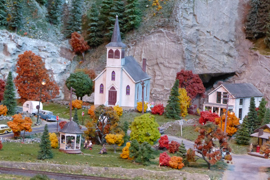 Gulliver's Gate – (Continental) Europe
Three areas are covering good, old Europe: the Central / Continental Europe display is the largest and covers a variety of countries. Russia and the UK have individual displays, both are quite large compared to the Continental Europe one. You will typically start with the Mediterranean area, where the first display is the Colossus of Rhode. You will also find Pisa and Venice, some areas of the Iberian and other. There is a cut version of Eiffel Tower, Paris, Brandenburg Gate and Neuschwanstein Castle as well as Scandinavian areas – Copenhagen even features Tivoli. A very nice display.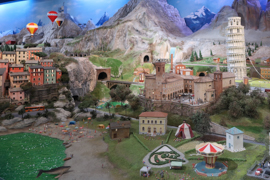 What is happening in Continental Europe
Don Quijote is fighting with windmills, there are gondolas in Venice and pigeons on St Marcus Square. Europe is full of stories to explore – I just saw some of them. Yes, and you may even find the Knight Rider car K.I.T.T. and the A-Team van if you look closely!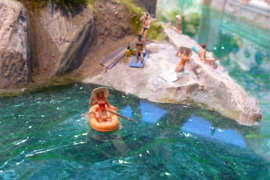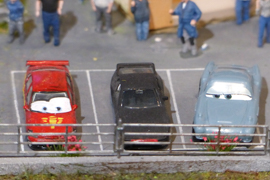 Gulliver's Gate – Great Britain
Great Britain has a huge London area with Tower Bridge, Big Ben and Buckingham Palace. Then, there is another area also displaying the Scottish Highlands or Stonehenge.  In general, it felt a bit too large to me.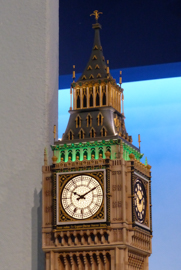 Great Britain Fun Scenes
There are druids in Stonehenge and Scooby Doo is around as well. You can also see Nessie in the Loch Ness area. Nextby, there is also the Harry Potter Golden Egg.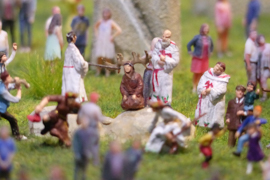 Gulliver's Gate – Russia
All the sights of St. Petersburg and Moscow – and much more: Russia is shown as a winter wonderland – thus, it is very impressive in both settings, daylight and nighttime. One of the most beautiful displays in Gulliver's Gate definitely.
Remarkable stories in Russia
Russia is full of side stories. I even just loved to watch the cars, as the modelling of the icing is very well done. Sochi Olympics takes a certain role in the display, though I have to say that I especially felt that the biathlon shooting range was really poor.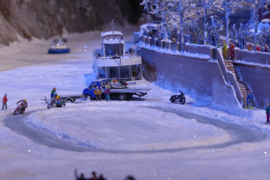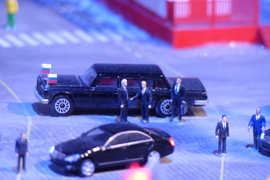 Gulliver's Gate – Asia
Asia contains a series of very interesting sights. Some are the Forbidden City, Taj Mahal, the Bangkok Palace or Petronas Towers. Nevertheless, I did not like Asia too much – there are quite many free areas between the sights. In contrast, Europe looks much more densely populated at Gulliver's Gate. Furthermore, there are quite many mistakes in the layout of the area – the most obvious one was that a German train was controlled centrally passing by sights like Lhasa. Should not happen!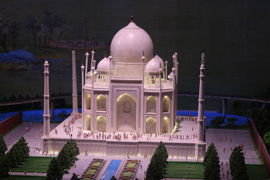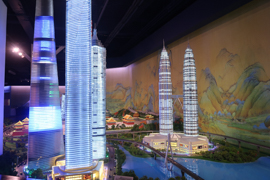 What is happening in Asia
I especially loved the masks and the dragons in the displays, but there is a nice variety of stories around in the Asian sector.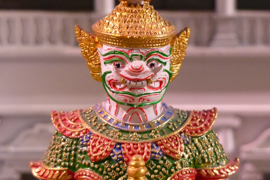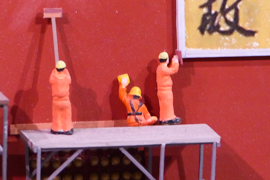 Gulliver's Gate – Latin America
Honestly, it took me a while to figure out all the locations of the Latin America display. I neve have been to that area, so I cannot compare to the original here. Iguassu Falls did not impress me too much, but the Rio de Janeiro display with Copacabana beach and the colorful Favelas was veryy impressive. Panama Channel has really working watergates, which is a very nice feature.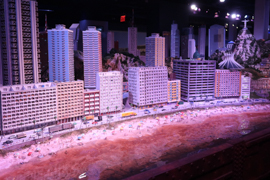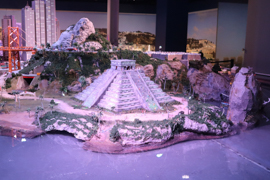 Latin America Closeup
A wedding, people sitting on top of their favela houses, beach volleyball in Rio – there is so much to explore in Latin America, I loved it. Of course, there is also the Jesus Christ statue on top of the Brazilian city.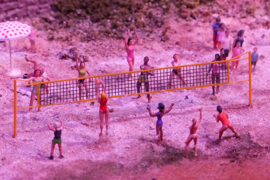 Gulliver's Gate – Jerusalem
One of the founders of Gullver's Gate is originally from Israel – and thus, it is not that surprising that the Israel display (which is in fact a Jerusalem one) is rather huge. I loved the detailed old town display, which the modern town part felt a bit too much to me. Maybe it is a lack of common knowledege, but I did not know most of the places in display there like the Knesset.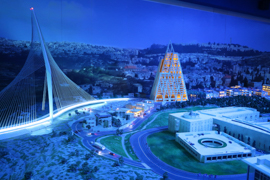 Macro Jerusalem
The coolest mini-story in Jerusalem is likely that KISS are having a gig there. There is a lot of business in the old own area and some protests around Knesset, which you see on the pictures below.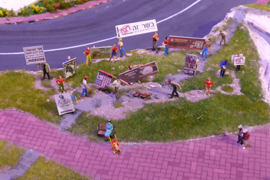 Gulliver's Gate Airport
Knuffingen Airport is one of the absolute highlights of Miniaturwunderland. I absolutely love that place – and even my wife did so. In New York, I felt that the airport is the biggest disappointment. You do see the system which makes the planes land and depart – but it is just poor compared to the Hamburg one: the planes take an angle at landing that any of these in reality would be a crash – furthermore the planes touchpoint is by far too late. It looked to me as only planes on apron positions may depart, which made the terminal life very static. Overall, there is not too much happening in Guller's Gate Airport. The terminal building itself is rather nice, but most of the areas a difficult to look at.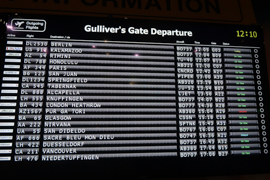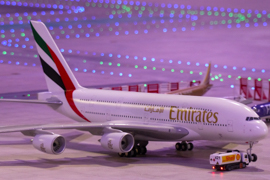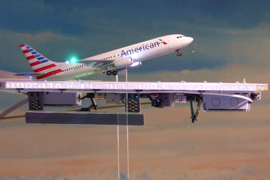 Gulliver's Gate – Minor Exhibits & Services
There are a couple of small exhibits around, like the pyramids and Mecca in the Asia-Latin America section. There are also some small displays before you leave the exhibition.
The gift shop offers some nice memorabilia, but nothing too special. There is one sanity facility more or less in the center of Gulliver's Gate. The facilities have been reasonably clean.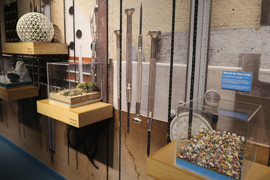 Gulliver's Gate – My View
Rating Gulliver's Gate is really challenging to me. There is something out there, Miniaturwunderland in Hamburg, who just do a much better job. Their displays have less inconsistencies and errors, their stories are more funny and I even feel that their models are more detailed. The Germans manage to really model airport life as well.
Is Gulliver's Gate bad due to that? I would say no! To be honest, most of the American visitors will never go to Hamburg. A couple of them might not even recognize that there are German trains in Asia or similar mistakes. Gulliver's Gate educates the visitor by showing him places he might not have seen in real before – and it entertains you. The price is high, but I had absolutely nice 2 1/2 hours in there – you may easily spent four hours if you want to spot any detail. So: it is worth it. Especially with kids, Gulliver's Gate is a great visit, for example at unfavorable weather. I rate it a Top Pick – finally you do not need to compete with Germany's #1 tourist attraction when you get this one.
New York on Flyctory.com
Here are all postings about the "Big Apple":
"Travel with Kids" Postings
Here are all postings about locations I recommend to visit with kids: