During my February 2019 visit to Philadelphia featuring the NHL Stadium Series match and my round trip with Southern Airways Express, I stayed in the Hampton Inn Philadelphia Airport. I majorly took the hotel due to its proximity to the Airport and Lincoln Financial Field. Overall, it has very good connections. Here are my thoughts about the hotel.
Hampton Inn PHL Airport – Location
The Hampton Inn is located right at at Philadelphia Airport, just across I-95. My trip to the car rental return, for example, was some three miles. There are a lot of hotels around. However, I felt quite a lack of restaurants. There is a Ruby Tuesday in very close proximity. The only other opportunity to grab some food in walking distance is the Wawa petrol station.
One interesting feature of the hotel that also Eastwick train station is a short walk. If you have a short visit in Philly, you may thus take the courtesy bus to the hotel and then transfer on by train to the heart of the city by the Airport Line. This may be quite inconvenient for more remote locations like the Malls, though. Even for my trip to Lincoln Financial Field, I felt better with having a rental car.
Hampton Inn PHL Airport – Rooms
Including tax, I paid 409 USD for the three night stay in a standard King Room. There were no surprises on the room side – neither to the positive nor to the negative degree. The room was sufficiently spacious, the workdesk was nice. The room featured a fridge and a microwave oven. The bathroom was very nice as well, featuring a nice bathtub with shower and amenities. Just everything as you would expect it to be when you visit a Hampton Inn.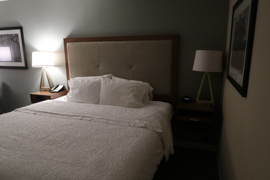 Hampton Inn PHL Airport – Breakfast
Writing about breakfast at a Hampton Inn is likely not too thrilling for you. Their breakfast is standardized – which also means that it is quite reliable. There are different kinds of bread, fruit, alternating warm dishes, coffee, juices and the waffle machine. The area is clean and well maintained – they never ran out of something while I had my breakfast.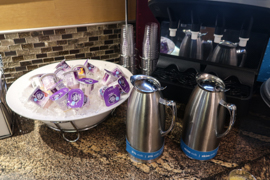 A very nice alternative is that you may also go for a breakfast bag. It contains an apple, a cereal bar, some small cake and a bottle of water with a mix to make it ice tea. In addition, there is coffee and tea available 24 hours. I made use of that option when going to Lancester to fly Southern Airways Express.
Hampton Inn PHL Airport – Services
One of the most frequented services at the Hampton is likely the transfer bus to the airport. In addition, there are quite a lot of parking lots. I, however, felt that quite a lot of people use it for some sort of park, sleep and fly – when I came back from Central Philadelphia on Saturday at 2p.m., the parking lot was almost full.
The reception staff is very nice, housekeeping is very good as well. Many people seem to stay just for one night for airport connections. The hotel has a nice way to honor longer stays – you get a bag of microwavable popcorn with each room service. The complimentary Wifi is working very fine as well.
The hotel has an outdoor pool, which I did not rate / look at due to the low temperatures. There is a small fitness room, though, if your want to do some sports. A two computer business center is next to the breakfast room.
Hampton Inn PHL Airport – My View
A good location with a reasonable location for a reasonable price – the Hampton Inn Philadelphia Airport absolutely fulfilled my requirements and expectations. It is a nice travel hub to the airport and the city center as well as to the sports arenas. Especially if you want to use public transport to Philly Downtown, but also want to explore some places in Greater Philadelphia, this is a good choice to stay in.
Hilton Hotels – More Reviews
Here are all my reviews of Hilton Hotels:
USA – All Postings
Here are all postings which deal with the USA: