Travelling to the NHL Stadium Series match of the Pittsburgh Penguins at the Philadelphia Flyers in late February 2019, I took the opportunity to add some airline experience. On the day after I had my first Premium Economy flight with American Airlines in their Airbus A330, I went for smaller planes and shorter flights. Southern Airways Express is a regional carrier operating several routes throughout the States. I went for a round-trip through some East Coast states. After my recent Air Belgium review, a very different flight experience.
There is a full gallery supporting this posting.
I decided that to me, this posting was the best posting I did during the 1st half of 2019.
Flying Southern Airways Express was my Best Aviation Experience in 2019.
Southern Airways Express – Fleet & Routes
Southern Airways Express is based in Hernando, Mississippi, and Pompano Beach, Florida. It has two main regions of operation: in the Mid-Atlantic region, they mainly cover airports in Pennsylvania and some adjacent states. The route map of the Gulf region is more widespread with destinations between Dallas and Atlanta as well as some flights within Florida. Many of this flights are part of the Essential Air Service program, which means that they are co-funded by the States to support better connections in more remote areas.
With the recent acquisition of Hawaiian Mokulele Airlines, the company now also features Hawaiian island flights and a connection between Imperial and Los Angeles in California.
Fleet: Mainly Cessna Airplanes
One of the key features of Southern Airways Express for aviation nerds is that they do scheduled flights mostly with their Cessna 208 Caravans, which can carry up to nine passengers. There are also three Piper PA-31 in service. Mokulele has a similar fleet, owning 14 Cessna 208EX Grand Caravan and some Pilatus PC-12, which they operate for Lanai Air.
On my trip, I just had Cessna planes in two different configurations. One plane had staggered seats (1-2) staggered one without a back seat row. The other plane had a 1-1 configuration with a back seat row. In both cases, the seating was very comfortable.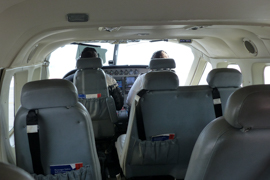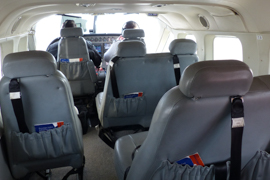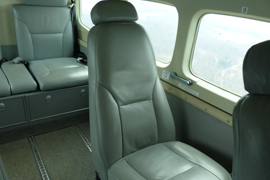 Southern Airways Express – My Round-Trip
On 22nd February 2019, I went for the following roundtrip.
| Flight | Dep. | Arr. | from | tp |
| --- | --- | --- | --- | --- |
| 9X 1054 | 0825 | 0905 | Lancaster (LNS) | Baltimore/Wash.(BWI) |
| 9X 402 | 0920 | 1045 | Baltimore/Wash.(BWI) | Morgantown (MGW) |
| 9X 403 | 1110 | 1150 | Morgantown (MGW) | Pittsburgh (PIT) |
| 9X 954 | 1435 | 1555 | Pittsburgh (PIT) | Lancaster (LNS) |
Lancaster is some 90 minutes away from Philadelphia, where I stayed in the Hampton Inn at the airport. I know the Lancester area quite well, as Amish country is nearby. The trip was booked by three separate tickets (9X 402 and 403 can be bought in one ticket) for a total of 281 USD. If I had booked one day earlier, I would have paid some 80 USD less, because I missed some of their most discounted fares. Here is the geographic overview of the trip.
Southern Airways Express ensured me by mail that I will very likely make the tight connection in Baltimore. To be very sure that I somehow make it back to Lancester, I thus also bought 9X956, leaving BWI at 1725 for Lancester. In case I had to go for that flight, I would have opted to visit Baltimore. This reserve ticket was 29 USD.
About Lancaster Airport (LNS)
I fell in love to Lancaster Airport from the very beginning: it has free parking, there are even some rental car facilities (driven by the local franchisers), there is a restaurant and even free coffee in the morning. Southern Airways Express is the only carrier which is operating from Lancaster. The check-in stuff was very nice and friendly. Unfortunately, I could not be checked in for all flights (Southern Airways currently has no online check-in) – I had to grab my boarding passes at the respective departure airports.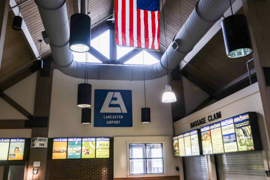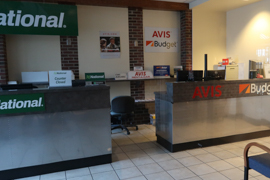 A very special feature of Lancaster and all Mid-Atlantic Southern Airways destinations is that the airports have full TSA screening. This means, you will arrive clean at the major airports like Baltimore or Washington and can directly transfer, there is no additional security control. In Gulf region, Southern operates from the Executive Airports and does not feature this amenity. They even interline with American Airlines, so that you can check your luggage to your final American destinations. One piece of hold luggage is free in addition to a 7kgs hand luggage item.
Southern Airways Express – Trip Report
After having checked in at Lancaster and was ready to board for Baltimore, I was really looking forward to that unique flight experience. Three airports I have not visited so far (I only had one flight to Pittsburgh before) and of course the Cessna plane promised a very interesting day.
Lancaster (LNS) to Baltimore (BWI)
Apart from myself, there was just one other lady on the flight. We departed in Southeastern direction, directly making a left turn towards Baltimore.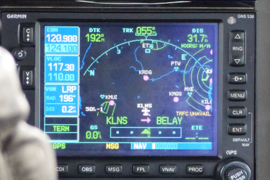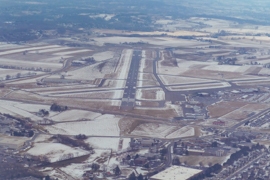 The flight was very short, just 23 minutes, so that there were not too many remarkable waypoints on the trip. That also meant that the plane was flying quite low (it is never flying that high anyway…) and you had a lovely view, especially, when we approached the suburbs of Baltimore and Washington. Here are nice views of Martin State Airport, Baltimore Downtown and the Francis Scott Key Bridge.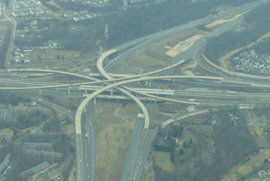 The landing in Baltimore was quite smoothly.  We landed on 33R (i.e. in Northwest direction), which seems to be exclusively used by general aviation and minor airplanes. Southern Airways Express has its own gate, at the very end of the D gate area.
Unexpected Baltimore Airport Sightseeting
Already in Lancester, I had received a text message that my flight in Baltimore will be slightly delayed. Unfortunately, due to problems with an aircraft on the very early Pittsburgh to Morgantown service, the whole flight schedule changed. The flight was finally announced to be some 80 minutes delayed, which gave me some time to explore the terminal.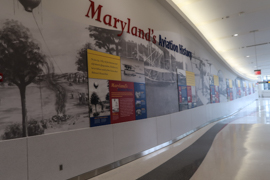 There were some Delta and Delta Connection flights around. Especially the International E terminal was very empty – the Europe-heading flights are rather departing in the afternoon and evening hours. As the delay also meant that I could not stick to my original plan to have a nice and proper lunch at Pittsburgh airport, I went for some breakfast in addition to the breakfast bag I received at Hampton Inn Philadelphia Airport.
Flying over Maryland to Morgantown (MGW)
In contrast to N29MG, which brought me to Baltimore, N9642F serviced the two following flights to Morgantown and Pittsburgh. As the Baltimore gates could not issue a printed boarding pass to me, they gave me a manual one – bad luck that I had to return them at boarding – would have loved to have one as a souvenir.
This 1:05 hrs trip was likely the highlight of the whole day. Again, we were just two people in the people. This is by the way why the Essential Air Service program is sometimes criticized – the utilization on some routes is questionable. After leaving the urban areas of Baltimore, the first way-point was Fredrick Airport (FDK) in Maryland, which we passed. At this time, we also flew above an United Airlines narrowbody, which was in approach to Washington Dulles. Soon we approached the Maryland Heights. One nice viewpoint was flying over Harpers Ferry, where the Shenandoah River flows into the Potomac.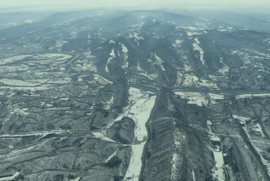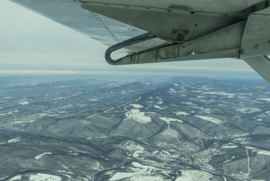 While we majorly had a white winter wonderland in Maryland, approaching West Virginia also lead to a significant decrease of snow on ground. A nice viewpoint in West Virginia was Cheat Lake and its I-68 exit. We were already in descent to Morgantown, where we landed in Southern direction.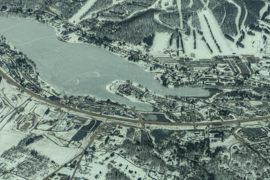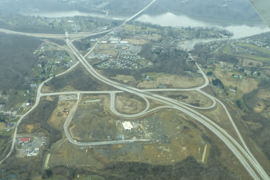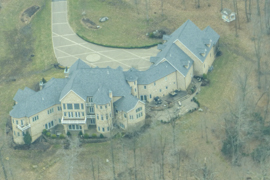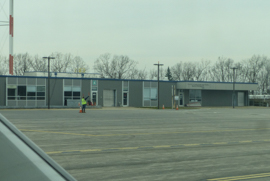 Home sweet Hockey Home – all alone to Pittsburgh (PIT)
In Morgantown, I was instructed that the flight will be additionally delayed. Thus, I had about an hour to explore the airport. Unfortunately, that felt insuffient for me to give the lunch buffet in the airport restaurant a try, which felt to be very popular amongst the locals. Emotionally, this short hop to Pittsburgh (the shortest trip that day) was very special to me, going to my "Hockey Home Town" on the best side of Pennsylvania. I now was the only passenger in the plane, which meant that I was first serviced by two very nice TSA officers and then had two pilots bringing me to Pittsburgh.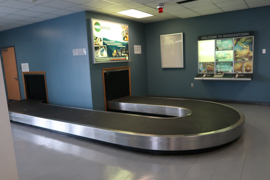 The most interesting pictures of that leg were maybe taken from Point Marion in Pennsylvania. The Cheat River is flowing into the Monongahela River. Funnily, at Google maps, the Cheat River looks more "dirty" in contrast to the pictures I took. Thereafter, we passed Rostraver Airport and crossed the Monongahela River near Elizabeth again.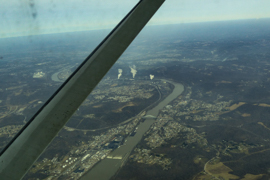 You may see at the pictures that the sky was not as clear any more, so that I had to use more Lightroom to create reasonable pictures. Of course, I loved to see the Pittsburgh skyline and saw PPG Paints Arena. Before landing at Pittsburgh on Runway 32, I had a nice view of the I-79 / I-376 intersection.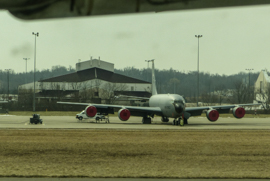 As my flight to Lancaster was even announced to be early, I just had a short walk through Pittsburgh hockey. Felt home when I saw the Pittsburgh Penguins ads on the monitor screens.
Pittsburgh – Lancaster
My final leg that day was served by N29MG, which already did my first flight. I was a bit unfair to the fellow passengers and blocked the back seat (which I had on the first leg as well). I just felt it gave me best photo opportunity. This time, the plane was quite full with eight passengers.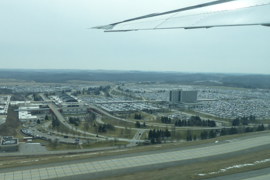 I felt to be quite tired already before the 1:14 hrs trip. The more I loved to see the UMPS complex (unfortunately, bad picture), which hosts the Penguins training and junior facilities. At Lawson Heights, we passed Arnold Palmer Regional Airport, which is quite famous for its airshows. The scenery was just not that stunning like on the Westbound trips. The more I loved flying over impressive Harrisburg.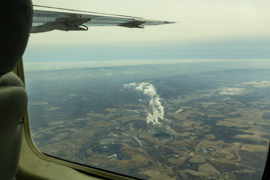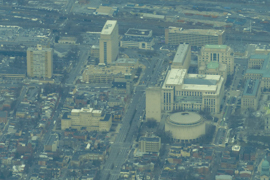 After Harrisburg, we already approached Lancaster again. I have been greeted by the lovely airline staff there.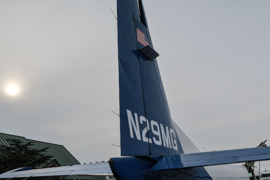 Southern Airways Express – My View
Not just due to having my first scheduled flight being the only passenger, flying Southern Airways Express was an amazing experience. Despite all the schedule changes and problems to issue my boarding passes, ground staff and crew was amazing. Flying in a that low altitude gives you a great view of nature. I initially thought about not assigning the best possible rating due to all the schedule changes, but I just loved this day too much. I would definitely love to explore some more destinations with Southern Airways Express or other EAS airlines in the future. Top Pick!
Southern Airways Express Trip – Gallery
I felt that some people might want to have more pictures of this trip. Here are all 330 I took (and felt worth to publish):
Network map taken from airline's website.
Aviation on Flyctory.com
Here are all postings about Airports & Airlines:
Postings with Gallery
Here are all Flyctory.com postings, which come with a larger size picture gallery: