Day 1 of the trip to Weird Al Yankovic. It has been already some 14 years since I saw this guy on stage, travelling from La Guardia to Myrtle Beach, SC, just for a show. I cannot really count the number of shows I did so far – must be in the twenties, I guess, most of them in North America. The more I looked forward to this trip, despite of the early departure in Cologne (6 a.m.) and the somewhat weird, but mileage-optimised schedule for the day with three flights in a row, from Cologne via Munich and Frankfurt to Atlanta. Would be interesting to see if the baggage will make it 😉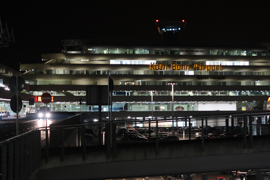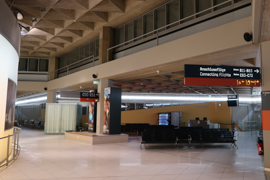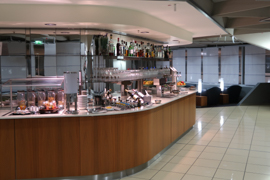 Nice flight to Atlanta
Cologne airport has been nice and calm at these times. Terminal 1 which is more or less solely driving Lufthansa's operation including their low(er) cost Eurowings just hosted to Majorca flights before my trip to Munich. After I confused the check-in agent with the strange booking (which is a bit of back and forth in Germany, but quite nice to collect some miles), I could pass security more or less directly just to be at the Lufthansa Lounge directly at its opening. I had the Senator Lounge for myself for some ten minutes – very rare occasion… Typically there are always some people (typically in suit, shirt and tie 🙂 ) which are desperately waiting for these sliding doors to open.
Flight to Munich has been easy. A320 with some 40pax. Chocolate bar as economy breakfast snack, nothing special. Arrived in time in Munich. The connections that day were all very short, so even an in-time flight did not allow me to have a short time in the lounge, but I had to head to the Frankfurt flight directly. Munich was not that crowded either – I have been quite surprised about that. Not too crowded was the Airbus 321 bringing me to Frankfurt – a typical carrier flight for several international and intercontinental destinations: fully booked, business class up until row 11 – the best way to give it a 20 minute delay in Frankfurt on top of an apron/bus position. But Frankfurt is really efficient – from unboarding the bus to boarding LH 444 to Atlanta took at most 15 minutes.
Just time to take one picture of the beautiful A340 and then boarding Lufthansa's Business Class. The Lufthansa Cityline jet just has three rows of it, I have been lucky to convert one of my status upgrade voucher from Premium Economy. Nice crew, quite a bumpy flight in the Iceland community, good food 🙂 Aaand, they had the Carly Pearce album and Danielle Bradberry's Sway in the inflight entertainment – I don't get the latter song out of my head since the Country 2 Country in London.
Long time from arrival to being in the rental car
I am always a bit nervous before immigration to the USA since it took me more than two hours in JFK a couple of years ago. The processes in Atlanta have been quite efficient though – I at least have been at the luggage belt way before my suitcases in fact arrived. Headed straight to the rental car transfer bus. The Hertz Gold Service is very efficient ("Just go to the Hertz Gold section and take any car you like"… Okay, there have been just some five cars available in a lot of 100 slots…I opted for the Kia Optima), but the transfer from the International Terminal to the Rental Car center takes you a fortune (maybe 20 minutes) and the queues at the Hertz checkout have been massive. Finally made it… And somehow prepared me to what will happen later the day…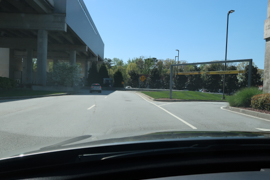 By the way, the airport is huge – and of course dominated by being the Delta airlines hub. Complying to Murphy's law, the Rental Car center is "of course" on the wrong side of the airport for my travel plannings.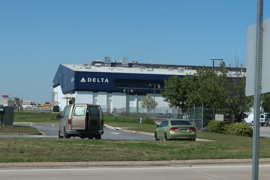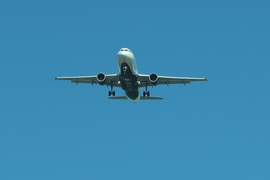 Disappointment first
My first destination has been Stone Mountain, GA, the place where the Summer Olympics 1996 Tennis Tournament has taken place. A place which changed my life, as it brought me my sports idol, Leander Paes. Just by coincidence, he just took the Davis Cup record for doubles players the weekend before. The trip is some 30 miles from the airport, which has been in traffic jams about half of the distance. Being there, I first could not find the ruins of the stadium – until I asked a local telling me the took it down just a couple of weeks ago. So sad for me, would have loved to see this place – or at least, what has been left of it.
Day of lost places…
As a next destination, I wanted to head to North Point Mall in Northern Atlanta, as they showed a Michael Kors store with men fashion on their website – I love that stuff. But after having an even-much-worse traffic jam fight to reach it, it just seemed to be not my day. At least, the carousel for kids is quite cool – and the chessesteak was delicious: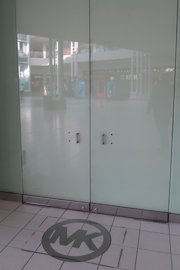 Ended the day in Sugarloaf Mills, an outlet mall close to my hotel. Nice place – I also had some gaming at the local Dave & Busters – I just love these places: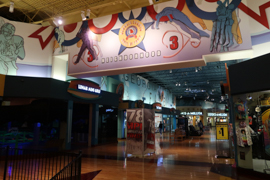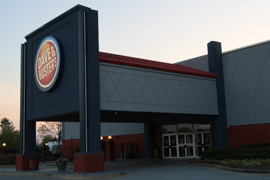 Ended up in Lawrencewille, GA, in a Hampton Inn. Long day, not too successful. Nevertheless, look forward to see more of Georgia the next days – the state seems to be quite nice, people are very friendly and in contrast to other states like Alabama, I even understand them comparably easily.
Here are links to the remaining posts of this trip reports :
Day 1, 12th April 2018, Flight from Cologne to Atlanta, sleepover in Lawrenceville