Apart from the Skydeck at Willis Tower, Chicago also hosts another viewing point from a higher skyscraper level: From the 94th floor of the John Hancock Center, visitors can enjoy views of the city. The special attraction of the building is TILT, which moves out eight glass windows by an angle of 30 degrees.
360 Chicago & TILT! – Location & Admission
John Hancock Center is located at N Michigan Avenue, rather on the Northern part of city center. It is either an easy walk or a metro or bus ride. The closest metro station is Chicago. There are a lot of shopping opportunities around. You take stairs down from street level to enter the building and take the elevator up to 94th level. This area also features some cafes and restaurants.
Chicago 360 is open daily from 9:00 to 23:00 hrs. Adult admission to the Observation Level are 25 USD per adult. The TILT! ticket adds another 8 USD. A General Admission / Observation Level ticket is mandatory to ride the TILT! You can also buy tickets which combine with other attractions, have a beat-the-queues fast pass or have a two visit ticket, which allows to see Chicago by day and by night. If you buy tickets online in advance, you will receive a discount. TILT! tickets are generally timed – the staff was very generous with the time slot, though.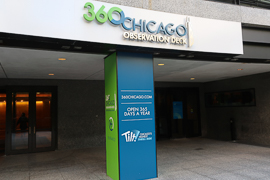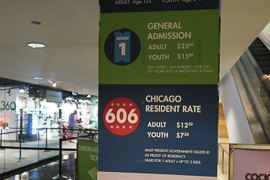 360 Chicago & TILT! – Observation Level
Before you head up to the elevators, the waiting queue is also an exhibition about the different parts of the city, which is quite nicely done. I did not have a too crowded day, though. On very popular days and times, you might have significantly more time to learn about the neighborhoods.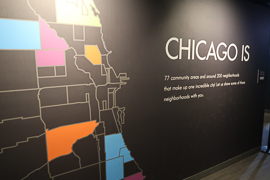 The area at the 94th level is quite nice and there is quite some space. However, it is a bit tricky to reach all areas and views out of the windows. There are also information screens, which help you to identify the sights of the city. There are also some minor exhibitions and the quite famous time capsule.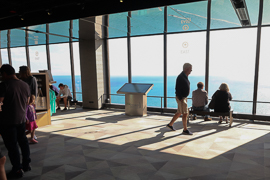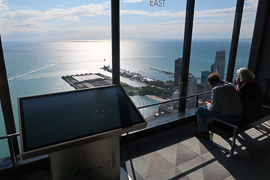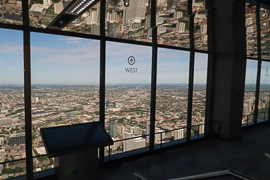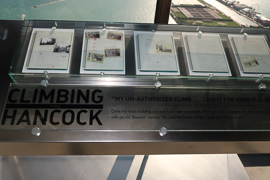 The view from the Observation Deck is lovely. I was lucky to have a clear view day as well, though.I especially loved to be able to explore the beach and harbor area. One important thing for that is that they use very good glass, which does not give too many reflections.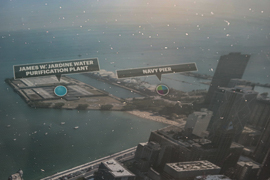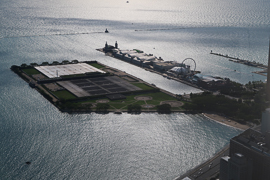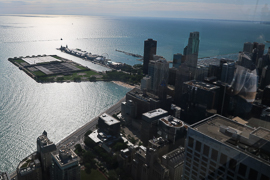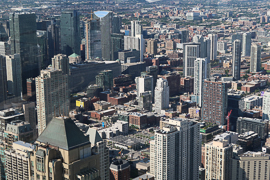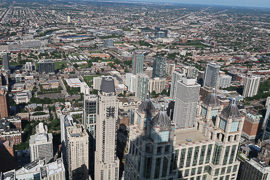 360 Chicago & TILT! – TILT!
The TILT! is integrated in some of the windows of the Observation Deck. There is a separate queue, Photography from inside is prohibited. There are eight windows next to each other, driven by one mechanism. You hold yourself with your arms while the windows including the platform you are standing on is tilting in three steps to 30 degrees, which is just above the maximum angle in which the body feels being in balance. The experience lasts two to three minutes.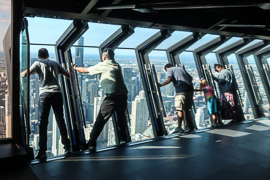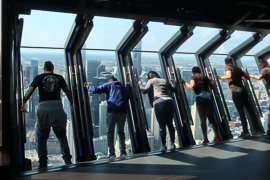 I was quite afraid of the TILT! before I rode it. Finally, I have to say that to me the feeling was much better than I expected. However, in my body size, it can be very bothering as the angle also means that you have most on your body weight on your arms. For me, that was very inconvenient. However, I stood the period of being tilted over the ground – you could, of course, any time take a step back to horizontal normality.
360 Chicago & TILT! – Services
The Observation level at 94th also features a nice bar and cafe facility. The scenery is lovely and offers a nice view over the beach of Chicago. Many people also just grabbed a drink from there and sat down somewhere else – the Observation Deck has quite a lot of places for it. There is also another restaurant on 95h floor, which you have to reserve separately and cannot be accessed from observation deck: The Signature Room at the 95th looks very nice in the internet, but I did not try it.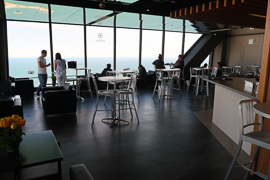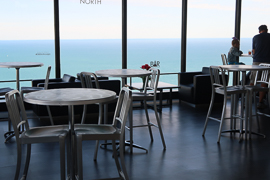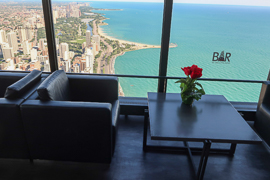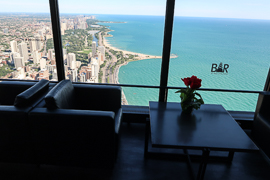 Of course, there are also some opportunities to exchange your funds against memorabilia. There is a minor souvenir shop at Observation Deck level and a major one around the entrance area. The items are quite nice and the pricing is reasonable. I could nevertheless resist the offers.
360 Chicago & TILT! – My View
I felt that the TILT! is much more boring and less spectcular and then it feels it could be. Apart from that, the 360 Chicago Observation Deck on John Hancock Center is definitely a lovely view to have a drink and enjoy the city from above. Also because of the much better setup and glass quality, I very slightly favored this building to Willis Tower / Sears Tower. Definitely a great way to start the day on a sunny one!
USA – All Postings
Here are all postings which deal with the USA: