On the fifth day of my Pittsburgh Penguins West Coast trip in February 2020, I had my first flight from Long Beach Airport. I slowed down the reviews of aviation topics, hoping that traveling will be back to normal soon after a short while. As you all know, my thoughts were wrong. Thus, quite delayed, I now take you to Long Beach in the Greater Los Angeles area for an airport review. The fligth I had was a JetBlue flight, B6 826, an early morning serve to San Jose Airport.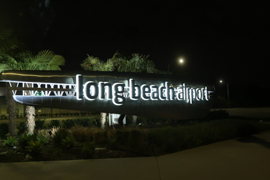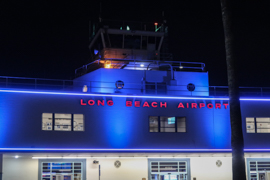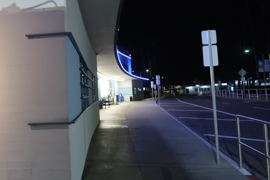 Long Beach Airport (LGB) – Location & Transport
Long Beach Airport is located North of the center of Long Beach. It is roughly a ten miles drive away from the key attractions. I went to the airport by rental car, staying at the Holiday Inn hotel nearby. The airport is nicely connected and just a short drive away from Interstate I-405.
Arriving at Long Beach Airport / Terminal
I just had a one-way flight from Long Beach, so that I just briefly checked the public arrivals area and rental car lounge – which was still closed when I arrived at the airport. The airport is quite compact, but everything is nicely located. The rental car return lot is just a short walk away from the terminal building, so that you have very short routes. The terminal also features some minor exhibitions. The waiting area had scattered seating with power plugs, which was very handy.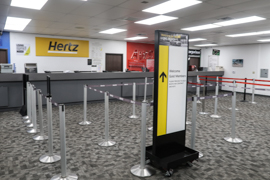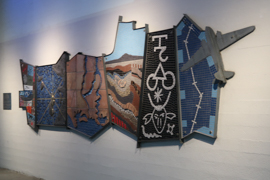 Departing from Long Beach Airport
I arrived far too early for my morning service to San Jose. As it was my debut flight from Long Beach, I arrived roughly at 4:15 for a 6:48 hrs departure, i.e. some 2 1/2 hours before departure.In fact, I have been the first person in the terminal building and checking in started about 5:00 hrs. Thereafter there were some queues for security – the airside part of the airport itself opened roughly at 5:20. I rather blame the hotel I stayed in than the airport for it (even though JetBlue gave the advice to be at the airport at about the time I arrived). Security featured a TSAPre lane, which was not in use in the early morning (not too many people around anyway).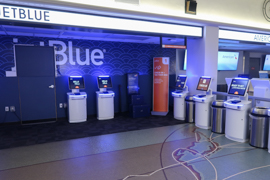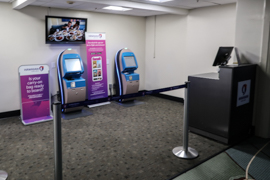 The airside part of the airport was a real beauty. It had a bit of a touch of minor island airports, as there was some open-air area. There are two wings of departure gates, the gate areas are covered buildings. There are not passenger bridges, planes are on parking position in front of the gates and boarding is done by stairs. I really enjoyed watching the Long Beach sunrise.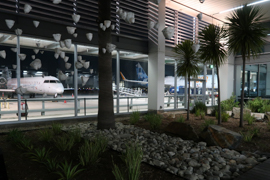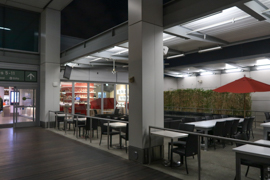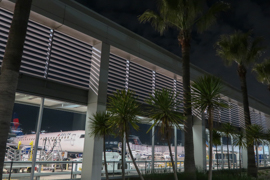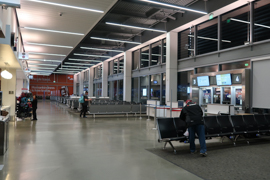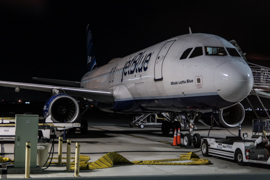 There are some snack and shopping services, which partially opened at these early Saturday hours. It was absolutely sufficient. The airport featured some work desks, which I felt to be very helpful.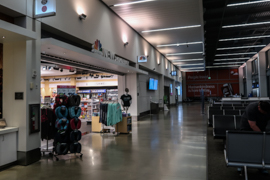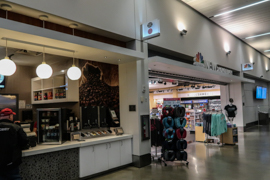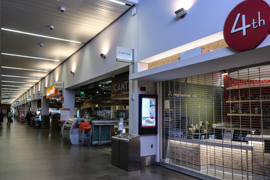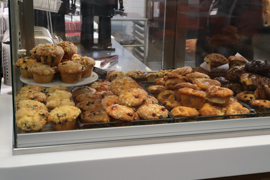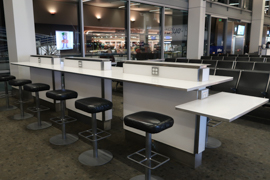 For boarding, you walked along a covered gangway to the plane. Due to the lovely weather and the beautiful sunrise, it was just a lovely moment – my thoughts might have been slightly alternative on a rainy or stormy day.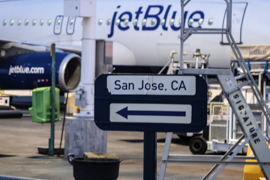 Long Beach Airport – My View
Even though waiting in an empty and still closed airport was definitely not the preferable experience compared to just having thirty additional minutes of sleep, my Saturday morning at Long Beach Airport was really a nice experience. I try to prevent flying Los Angeles Airport (LAX) – so I feel that this one is a very nice alternative to the major flight hub of the region – Long Beach even featured a flight to Honululu while I was around. Nice one.
Airports on Flyctory.com
Here are all other airport-related postings:
Greater Los Angeles – Travel Review
Here are all travel related postings featuring the Greater Los Angeles area: