Halls of Fame are very popular in the United States. Finally, there are likely Halls of Fame for almost every topic. When I drove from Indianapolis to Chicago in late August 2019, I passed an advertisement on the Interstate for the "Mascot Hall of Fame". As a sports fan, I just could not stand to google it and add it to my route. The architecture of the building in Whiting in Northern Indiana was already promising. Unfortunately, I struggled with the place too much.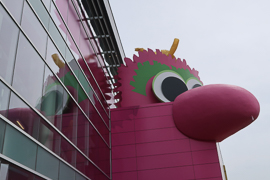 Mascot Hall of Fame – Location & Admission
Whiting is on the very Northeastern edge of Indiana. In fact, it is already part of Greater Chicago. When I tried to approach the museum from Indianapolis, I passed miles of harbour and industrial plants. There are also a lot of detours, which make the trip very bothering from that direction. The drive to Chicago was easy thereafter (apart from traffic jams). Whiting in general is a quite beautiful spot.
As the museum is focusing very much on children, there is no difference between adult and children admission. Only kids under two years of age and active military do not pay the 12 USD fee. Parking is available for free next to the museum.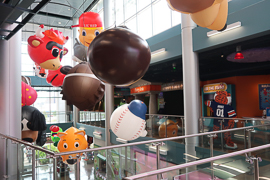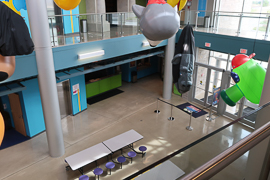 Mascot Hall of Fame – Playground Area
Major parts of the Mascot Hall of Fame are designed as a Children's Museum, so that kids can explore the topic by playing and touching exhibits. There are also some areas which are not directly linked to the topic, but in general, the museum is very colorful and makes you smile. This part is definitely a well done, though it feels to be rather limited and small – the topic might just not have too much potential for a really large kid's exhibition.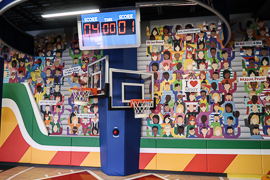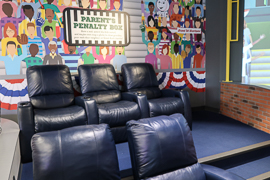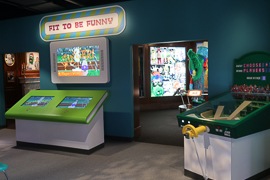 You can also play a quiz on (US) mascots pictured below. A cinema is showing a movie about the local mascot Reggy and how he is looking for a team to support.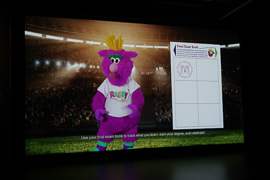 Mascot Hall of Fame – Museum and Hall of Fame
There is also a museum area, which shows a bit of the history of sports mascots. Unfortunately, this part is too weak in my point of view. There are so many aspects missing. The museum just has very few reference to Europe, for example. There are living mascots, which do not play too much of a role. Also sports events mascots like Olympic mascots or Soccer World Cup mascots are rarely mentioned.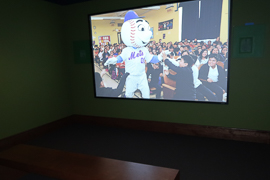 The Hall of Fame itself is more or less a display at one edge of the museum. There are only North American inductees. Among the selection criteria is also social impact, which I feel to be a very wise idea.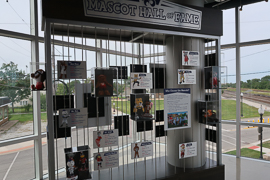 Mascot Hall of Fame – Services
The Mascot Hall of Fame is built to give an enjoyable day with your family. Of course that includes food. The museum provides snacks at a kiosk next to the entrance and also provides some nice seating around.
The souvenir shop is located closeby. I addition to the items you may buy in that area, there is also a Build A Mascot store, i.e. an outlet of the Build A Bear franchise.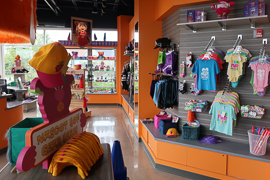 The staff was very kind and helpful. There was also free WiFI in the place. Unfortunately, the staff asked me for my ID card or passport and noted some personal details – which is a Data Protection Fraud according to European laws. The place should teach their people better.
Mascot Hall of Fame – My View
Giving a fair judgement on this place feels very difficult to me. Yeah, it is colorful, posh and somehow fun for kids – which prevents the Mascot Hall of Fame from a really disastrous rating. I feel the topic is too limited for a Children's Museum – and the kids I saw during my visit left the place comparably quick again.
I love the idea of the museum, though. The mission has so much potential – unfortunately, the museum part is poor and too limited as the building size is just not sufficient to what this place could be like. You could tell so much about culture, also in other parts of the world. If you illustrate that well, you could tell the young and the older ones so much about sports and culture in different parts of the world. But this place does not do it. It feels a bit arrogant to me. Thus, I cannot rate higher than 2/5 stars.
"Travel with Kids" Postings
Here are all postings about locations I recommend to visit with kids:
USA – All Postings
Here are all postings which deal with the USA: