After I tested their A330 Premium Economy Class on a flight to Philadelphia before, I was really flattered to check out American Airlines Flagship business class on a Boeing B777-300ER flight from London-Heathrow to Miami in summer 2019. I expected to have some nice relaxation on board before heading on to Orlando and the Tampa Bay region.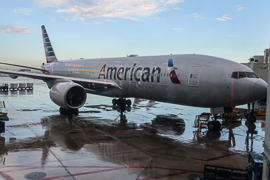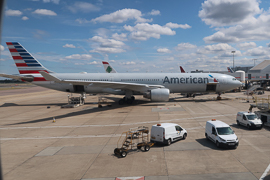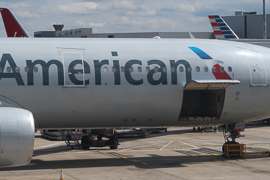 American Airlines Flagship Business – At The Airport
At Heathrow Terminal 3, American Airlines operates an Admirals Club – thus I could not enter the British Airways First Class Lounge in the same terminal. Unfortunately the lounge was packed, so I could not take pictures in there. It is much nicer than ordinary Admirals Clubs, but it is still far away from the Flagship Lounges, for example the one in New York JFK I reviewed recently. The WiFi was very poor in there, but they had some desktops with fine connection which I could make use of. I came from Helsinki Airport on that day, so that I did not have any check-in experience. The staff in the lounge and at the gate was very kind, though.
American Airlines Flagship Business – The Cabin
I was sitting in seat 3A, which is a single seat at the window (1-2-1 configuration). Similar to Swiss, who have the Stübli in their Business Class product, the first two rows of American Airlines are right behind the First Class Seats, but in front of the entrance doors, so that it is really quiet there. It is a reverse herringbone configuration (i.e. the windoe seats face towards the windows). The seat is very cozy, all you need like controls and power plugs are close to you, but you do not touch them during the flight. There is a small table section (and of course a large one you can expand).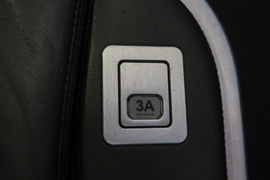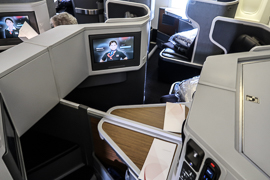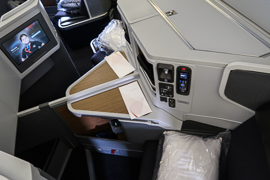 ,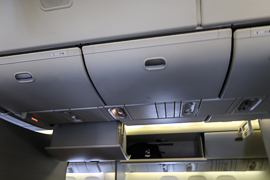 What I also loved about the configuration is that there is so much space to put your stuff in. There is a small compartment right next to you and a major one closer to the floor, which also held the nice amenity kit and a bottle of water at boarding. The inflight entertainment system is also very nice and contains quite some variety.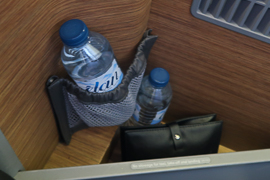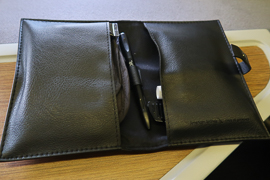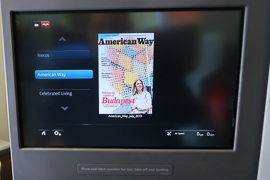 I also had a nap on board. Pillows and blankets are provided. The seat is lie-flat, so that there is no angle against the floor of the plane. Compared to peers, the foot space was very nice as well.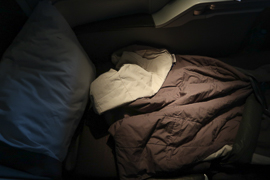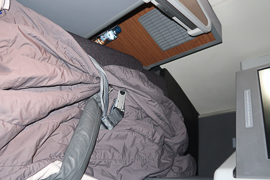 American Airlines Flagship Business – Food & Drinks
Before the flight, I was welcomed with the menu and a choice of drink. The champagne was served in plastic, which felt quite strange. Later, glass was used. After take off, we have been served another drink and perfectly warmed nuts.
The meal service was quite fast, which I highly appreciated. The starter was Lemon Grass Prawns. After that, I had marinated salmon with rice and broccoli. Other choices were Braised Beef, Broccoli-stuffed chicken or a vegetarian Potato Korma. I finished the meal with the Traditional Ice Cream Sundae, which I favored to cheese and chocolate mousse.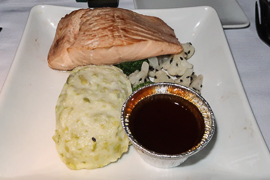 Before landing, there was also a light snack service with two hot pies, crisps, some fruit and chocolate pudding. During the flight, the galley had a snack self service with stuff like nuts, chocolate bars, but also sandwiches and cakes.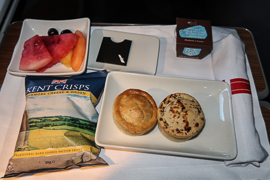 American Airlines Flagship Business – Crew & Service
Not just the cabin product itself, also the crew was very friendly and attentive, so that I did have a very nice service from London to Miami. There were several rounds of drinks and a self-service snack point at the galley. The only negative point I had was that the cleaning of the plane in London was imprecise – my table featured a lot of remains from a salad dish obviously served ont he outbound service.
I also used the on-board internet for some website updates. It was reasonably priced and overall at good speed.
American Airlines B777 First Class – Some Views
At boarding, I had a chance to have a brief view into the First Class cabin of the Boeing 777. I felt it really looked nice and very competitive at least to the Lufthansa First Class cabins I had on my May 2019 trip to Singapore.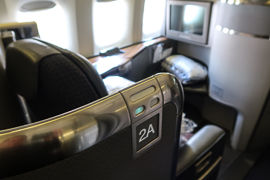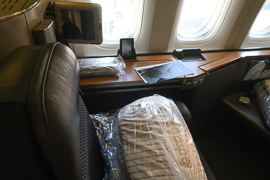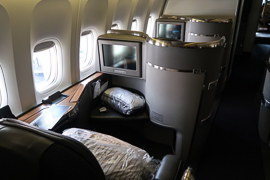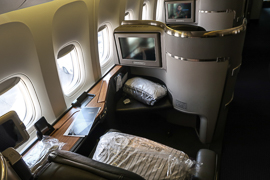 American Airlines Flagship Business – My View
With that flight from London to Miami, American Airlines underlined to me that they are a very strong competitor for comfortable flights on the transatlantic routes. The cabin layout is really nice and comfortable. The service was good as well as the food was. Especially compared to the British Airways cabin which is currently in use, the American Airlines Flagship Business Class is a significantly better product. A definite Top Pick!
Flyctory.com about Business Class & More
Here are all articles related to Business Class and First Class travel:
USA – All Postings
Here are all postings which deal with the USA: