The last show of my Weird Al Yankovic tour-chasing in April 2022 took place in New Bedford, Massachusetts. Thus, after I started the day in Boston, I was looking for a night in the region on that fifth day of my trip. Not that surprisingly, I chose a Hilton Hotels option and went for the Hampton Inn New Bedford / Fairhaven, which is in fact located in the neighbor city of Fairhaven. Here is my review.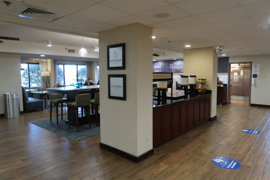 Hampton Inn New Bedford / Fairhaven – Location
If you are not stuck to New Bedford as your stay (which is a lovely city), the location of the Hampton Inn is actually really nice. It is close to the US-6, which is also connecting to New Bedford in a few miles. There is a Walmart and some simple restaurants in short distance. It is also just a very short drive to the Interstate I-195. The hotel itself is a bit more away from the main streets, so that it is rather quiet. There also seems to be a bus station nearby, which I did not try.
Hampton Inn New Bedford / Fairhaven – Room
I booked a King Bed room at a semi-flex rate of 124.79 USD, including tax. I got a really nice room with a fridge and a microwave oven as well as a nice work place (you could move the desk itself away from the shelf itself, this might not be too clear on the pictures). I really liked that room, especially as I had to prepare my luggage for the flights back to Germany and thus needed some extra space.
The bathroom came with a bathtub, which also featured a shower. The bathroom was clean and well maintained. Thus, in US relations, the room was really a nice value for money.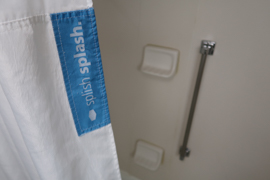 Hampton Inn New Bedford / Fairhaven – Breakfast
The breakfast atmosphere was a bit of chaotic, the breakfast area was not as cozy as in other Hampton places. However, the staff serviced the buffet itself quite well. I really enjoyed to have all the traditional Hampton items before heading back over the big blue ocean.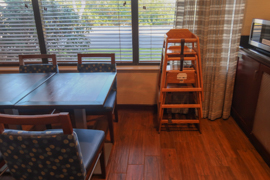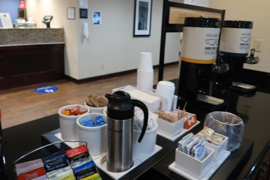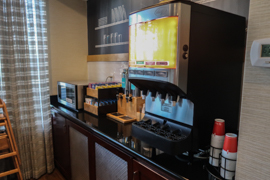 Hampton Inn New Bedford / Fairhaven – Service
While check-out was really friendly, the check-in process felt somehow a bit of strange. Typically, the processes are rather "standardized" and streamlined – the staff at the Hampton Inn New Bedford / Fairhaven did not feel that welcoming to me. Overall, the stay was fine, though. The hotel also drives a nice small gym. In summer months, you can enjoy a refreshing dip into the relaxing water of an outdoor pool. WiFi worked very well.
Hampton Inn New Bedford / Fairhaven – My View
The stay at the Hampton Inn in Fairhaven was not memorable. That's good and bad. Good, because (maybe apart from the check-in issues) it was a smooth stay and nothing went wrong. Bad, because there was nothing really good to remember. Just a solid night in Massachusetts. That's not too bad – much better than remembering too many bad details. I am pleased with that night.
US Hotel Reviews
Here all reviews on hotels & other accommodation in the USA:
Flyctory.com about Weird Al Yankovic
Here are all postings related to Weird Al Yankovic: