Orlando is a place to hang, enjoy yourself – and spend quite some money. Thus, it is not too surprising that there are numerous adventure golf lanes around International Drive. One of the most well-known places is likely the Gator Golf Adventure Park, which is – by its name – combining two touristic demands: having fun and alligators. I had a visit there in October 2022.
Gator Golf Adventure Park – Location & Admission
Gator Golf is located on the Northern part of International Drive. Apart from several hotels and restaurants, some nearby attractions are Titanic: The Artifact Exhibition and the Magical Midway Arcade. Lost Cavers, another adventure golf place I already introduced you to, is a short walk away. There is sufficient free parking at and around Gator Golf. You could also make use of the bus system, International Dr and Carrier Dr stop.
The Gator Golf Adventure Park is typically open daily from 10:00 to 22:00. An adult round of golf is 11.99 USD, pre-tax. You may also just buy a general admission without playing golf (5.99 USD), which might sound weird, but is due to the lovely atmosphere. Of course, you can feed gators as well or take a picture with a (baby) gator. Playing golf, feeding gators and having a picture taken is 21.99 USD, pre-tax. As for practically any Orlando attraction, you will find alternative deals.
Gator Golf Adventure Park – Atmosphere
As said,, you can just enter the "park" without golfing at all. And there is a good reason for it: the area is definitely one of the most beautiful adventure golf places I have been. There are plenty of gators – but they also have comparably a lot of space. There are also some turtles and other animals around. Overall, the lanes and the habitats were very well maintained and clean during my visit.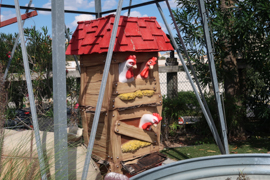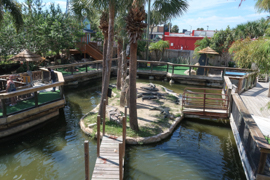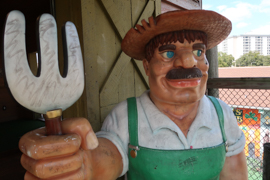 Gator Golf Adventure Park – The Course
Apart from the animals, Gator Golf stayed in my mind due to two key characteristics: first of all, it is a mixture of rather mini golf courses (on turf) with few obstacles and rather complex adventure golf-style lanes. Secondly (I guess this is rather random), renovations of the lanes lead to the situation that the artificial turf may significantly alter. There are rather high and slow turf parts, which require much more force hitting the ball. However, the lanes also feature some very short and flat turf parts, which almost make you feel being on a concrete mini golf course.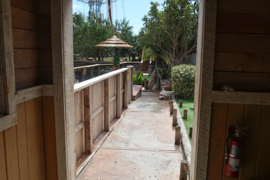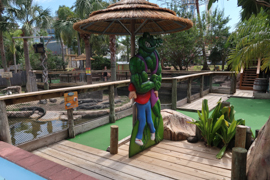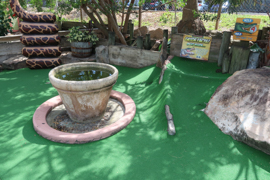 After two mini golf style holes, the third one is a bit more creative, as you have to hit a block of wood in a way that it is deflected in the desired way. After the easy start, the mini golf-style lanes like 8 and 9 feel a bit to easy, though – especially as the holes before required significantly higher skill. However, I liked the next two ones, hole 10 (where you could go for several options) and the very soft turf on hole 11. Towards the end of the visit, there are some really interesting ideas. For example, the ball needs to take half a looping in one hole (16), while hole 17 reminds of a marble run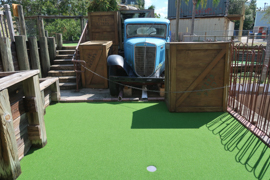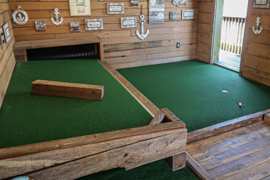 Gator Golf Adventure Park – Services
The reception desk offers you to buy simple souvenirs, drinks and arranges to do the alligator pictures. I refuse to do it (as the animals are taped for the pictures for obvious reasons). The staff was very friendly and helpful.
Gator Golf Adventure Park – My View
I really like Gator Golf. The park and lane design are really beautiful. Having different kinds of turf (even though this is rather due to maintenance than intentionally) increases the challenge of playing at this Orlando adventure golf courses. The price is absolutely fine, so that I fully recommend it.
(Greater) Orlando – Postings
Orlando is much more than Disney – here are all postings about the Entertainment Wonderland:
Mini Golf / Adventure Golf:
Here are all postings related to mini golf & adventure golf: