The match between my Pittsburgh Penguins and the Los Angeles Kings was the first one on my West Coast hockey trip in February 2020. Similar to my review of Honda Center in Anaheim, I decided to publish my arena review now – I feel that a proper NHL experience will be possible at the beginning of the next season (2021-22) earliest anyway. Here are my thoughts about my experience on the second day of my trip.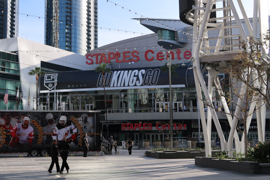 Staples Center – Location & Traffic
Staples Center is located right in the heart of Los Angeles. It is located in the L.A. Live district, which also hosts the Los Angeles Convention Center, Microsoft Theater, dining, hotels and restaurants. The Grammy Museum Los Angeles is located right around the corner of the arena.
Traffic in Los Angeles is generally a mess. There is a tram connection (Pico station) and a metro station (7th St. / Metro Ctr) in short walking distance, but likely, you will be part of one of the countless L.A. traffic jams before the match or event. If there are not too many other events in parallel, parking is comparably convenient. Together with my ticket, I could purchase a parking lot in a parking garage next to the arena for 28 USD. which is quite bargain keeping the location in mind.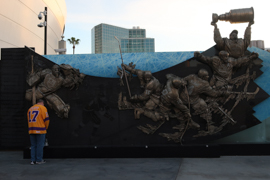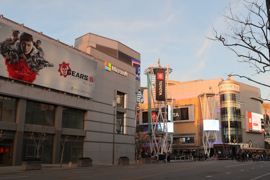 Staples Center – Arena & Tickets
Staples Center ahas been opened on 17th October 1999. For NHL matches, it comes with a capacity of 18,230 spectators. The arena is however also used by the L.A. Clippers and L.A. Lakers, who both operate the venue with roughly 19,000 people. Concert capacity is up to 13,000.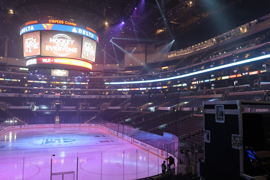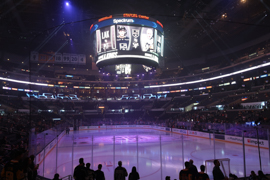 I am used to stressful beginning of season ticketing for PPG Paints Arena in Pittsburgh – compared to that, buying tickets was an easy – and cheap – thing. I had lower rank seats with a good view, located behind the away team goal, for 125 USD, tax included, parking excluded (see above). It has been a bit bothering that you had to use the American AXS app, which is a bit of a struggle to install on a German mobile. You receive the tickets 48 hrs before the match and need internet connection at the entrance. This may be bothering for abroad visitors. Will Call was possible, but at a significantly higher fee.
Staples Center – Atmosphere
As Staples Center is used by so many different teams, the statues at the front of the venue are definitely cheering you up before the match. At Star Plaza, how the area is called, you find Wayne Gretzky, Magic Johnson, Oscar De La Hoya, Kareem Abdul-Jabbar, Luc Robitaille or Bob Miller, just to name a few. They soon plan to install an eleventh statue for Lisa Leslie, basketball player of the WNBA team Los Angeles Sparks.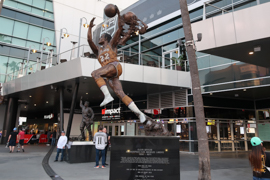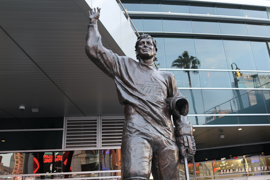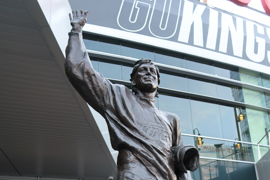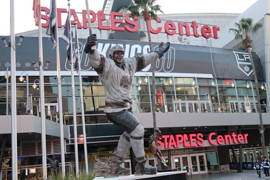 You see that the arena is no longer a really modern one, but overall, the seating was really nice. You have to say that I felt that half of the people wore Pittsburgh's color – and even though the Penguins lost the match, the excitement on the home crowd side was really limited. It is not comparable to European or some Canadian and East Coast venues.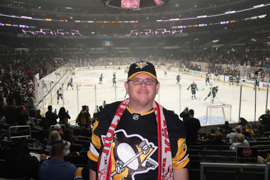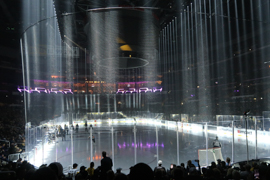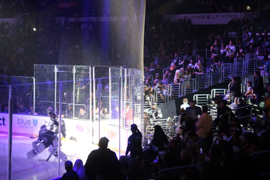 Staples Center – Food
I have been quite surprised that there has been a rather limited selection of eats in Staples Center. The organization was quite fine, though – maybe also as the arena has not been that full. Price are… NHL standard. You struggle a bit as European, but you at least get nice quality at the outlets.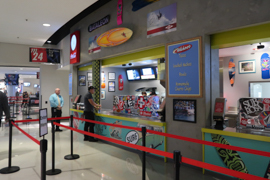 Staples Center – Shopping & Services
Of course, a visit at a venue is not complete without visiting the souvenir store. Team LA and smaller outlets throughout the venue have the obvious stuff. Compared to very "capitalistic" franchises like the Vegas Golden Knights, the selection might be rather limited – but you definitely will find some item which make you happy somehow.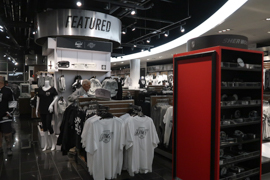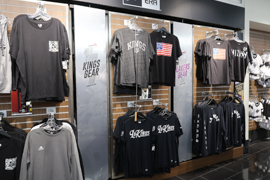 Staples Center – My View
Staples Center is definitely not the nicest, most modern, most fancy venue in the NHL. But it is charming. I loved to stroll around Star Plaza, the whole L.A. Live area is a beauty, so that you really can enjoy the time before the match. Seating in the arena was very nice as well. Catering could be better, but overall, I had an enjoyable time at that venue.
Stadiums & Arenas
Here are all reviews and reports about (sports) Stadiums & Arenas:
Greater Los Angeles – Travel Review
Here are all travel related postings featuring the Greater Los Angeles area: