Second stay on the "hunt" for some budget nights around Nashville: after I had two nights at the Hampton Inn in Lebanon, TN, some 30 minutes away from the heart of Music City, I had two nights close to the airport during my August 2022 trip. Since quite a while, it has been my first time staying in a Red Roof franchise hotel. Here is my review of the Red Roof Plus+ Nashville Airport.
Red Roof Plus+ Nashville Airport – Location
The hotel is located at the Donelson Pike in East Nashville, which offers direct access to the airport. It is about a mile away from the Interstate I-40 exit. The hotel offers an airport shuttle as well. There is also a public bus service from a station nearby, but the frequency is low so that I won't opt for this hotel if you want to enjoy Nashville Downtown and don't want to rent a car or use Uber frequently. Depending on the runway usage, planes are approaching right over the hotel, which may bother you (I rather like it 😉 ).. Driving time Downtown, depending on traffic, is about 20 minutes.
Regarding the food situation, the location of the Red Roof Plus+ is ideal. There are three options, a Waffle House, a family restaurant and a Panera, which are practically direct neighbors of the hotel. Apart from that there are a lot of options around (e.g. McDonalds, Wendy's, a Mexican restaurant and more). There is, however, neither something like a Dollar Tree or a major grocery store around, where you can stock up basic food and drink reserves. In urgent needs, the area features quite a number of gas stations shops, though.
Red Roof Plus+ Nashville Airport – Room
I had a Premium Room (smoke free). The two night rate in August 2022 was 279.85 USD, including tax. The hotel has motel-style rooms, so that every room has a door facing to the parking lot (on ground level). I loved that, as I could park the car right in front of my room. The room was slightly smaller than, for example, a typical Hampton Inn room, but I liked it very much. The bed was very nice, there was a nice large fridge with a microwave oven and a comparably large room safe. I also liked the large work desk, which helped me a lot. One thing I also liked is that the room featured so many power outlets. The sink was located in one edge of the room and had sufficient space for my washing stuff.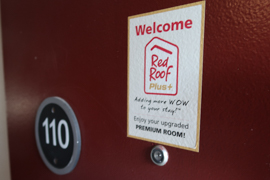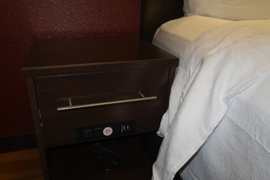 The bathroom was separate and very compact. It consisted of a small bathtub with shower and the toilet. Everything was clean, amenities were provided. I especially loved to have a package of tissues in my room (therefore, you did not have a tissue box in there.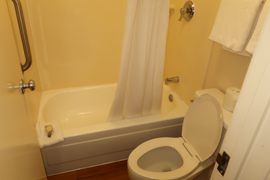 Red Roof Plus+ Nashville Airport – Food
That is the easiest category of all in this review: the Red Roof Plus does not offer any major kind of catering. You may grab a coffee at the reception or grab a quick bite at the vending machine. That's all. But there are a lot of options around. One evening, I went for an Uber Eat, which was also very handy. The hotel also offers in-room dining services, which feel to be coordinated with local providers.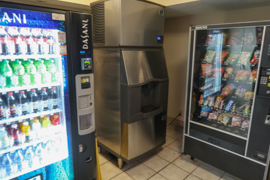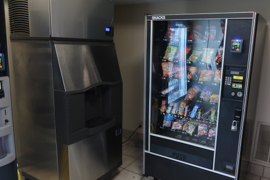 Red Roof Plus+ Nashville Airport – Service
The staff was overwhelming friendly, welcoming and helpful. The hotel WiFi was absolutely fine, so that I even did not have any issues when I needed to scan hundreds of new music releases on a Friday morning. I opted not to have house keeping for my two night stay – It would have been possible after the first night though (they did it twice a week during my visit for longer term stays). It absolutely made me smile to have a snack box in my room for the Premium Room category. It contained a bottle of water and orange juice each, a cereal bar, two candies and microwavable buttered popcorn. The latter was a bit of messy, just because you had to clean the microwave oven afterwards.
Red Roof Plus+ Nashville Airport – My View
I really enjoyed this Red Roof hotel experience. The staff was really friendly, I loved the room and its equipment. It gave a nice value for money. However, I do enjoy having food right in the hotel. Nonetheless, the Red Roof Plus+ Nashville Airport is an excellent option if you need a stay close to Music City.
Airport Hotels in the USA
Here are all Hotel reviews of Airport Hotels related to the USA:
Postings about Road Trips
Here are all road trips on Flyctory.com