As the season was practically over after I visited Boston in April 2022 as part of my Weird Al Yankovic Tour Kick-Off trip in April 2022, I decided to delay my review of TD Garden, home of the NHL ice hockey club Boston Bruins, until the following season has started. Unfortunately, I just missed this date and now I am finally delivering this arena review. The arena is also home of the Boston Celtics in the basketball NBA, Hope you enjoy my thoughts..
TD Garden – Location & Traffic
No, I did not make a mistake and marked a train station instead of a sports venue: the TD Garden is indeed located above Boston's North Station. I unfortunately did not make it to take some snaps from the other side of the area, where this is more obvious. On game day, you likely enter the venue through a small shopping arcade and then take the elevator upstairs. This is quite unique, TD Garden is definitely in the heart of Boston. When you visit a Bruins or Celtics match, you are definitely in the heart of the city, so that finding an appropriate stay, a drink befre and after the match or some bite will be easy.
I had an Uber to the arena before the match. Even though the match against the Buffalo Sabres was not overwhelmingly popular, there was a lot of evening traffic around TD Garden. Boston is not a good place for parking in the city indeed – and I would rather recommend to use some form of public transport to get to the match. Underground and rail connections give you quite some options.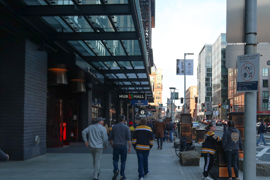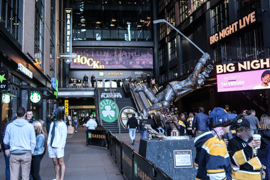 TD Garden – Arena & Ticket Situation
TD Garden has a capacity of 17,850 for ice hockey and 19,156 for the Celtics matches. At concerts, the venue can roughly hold 20k spectators. Overall, roughly 3.5 million people visit TD Garden, which makes it the most popular arena in New England. The arena opening took place in 1995. Due to the location above North Station especially the aisles around the arena feel a bit narrow. I decided rather late to add the Bruins NHL match to my fourth day of the Weird Al trip.  I nonetheless had no issues to get reasonable tickets.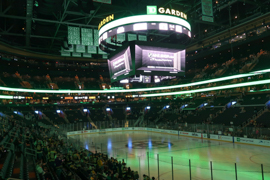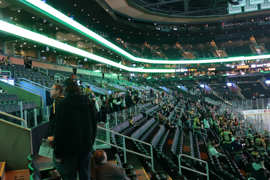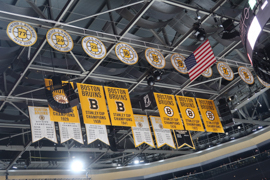 TD Garden – Atmosphere
I typically like East Coast matches, as NHL fans there feel to be rather enthusiastic – at least in North American relations. I have to say that I was rather disappointed about the support of the Boston crowd – it is definitely not comparable to the New York Islanders at their UBS Arena, for example.There are some nice games and entertainment before the match and during the breaks, but overall, I felt that the atmosphere during that match was surprisingly modest. The fans overall felt very friendly and open-minded, though.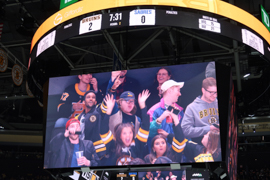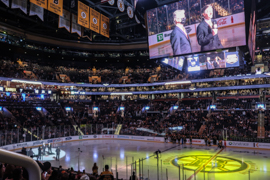 TD Garden – Food & Shopping
The concourse around the interior of the arena features a nice range of food and drink options. As said already, I felt that TD Garden is comparably narrow. Prices are US standard, which is quite ridiculous in European relations. I had some chicken fingers which were actually really nice, though.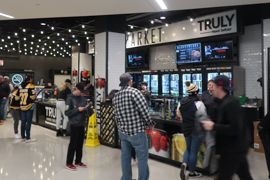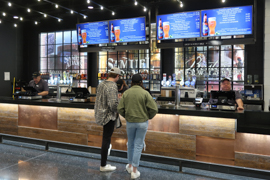 There are, of course, also some opportunities to stock up your collection of Boston Bruins (or Celtics) gear. However, I did not spot a huge "superstore", as there might be one in other arenas.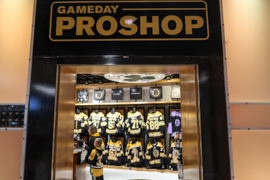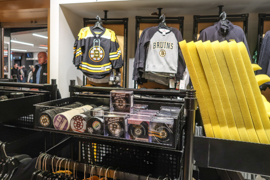 TD Garden – My View
It's been a nice game at TD Garden. The location is nice, public transport situation is nice, while going there by car is less recommended from my side. I liked the view and the ticketing situation, even though the atmosphere did not meet my expectation. An interestingly located venue right in the heart of Boston. Good one.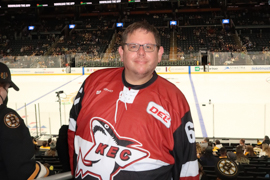 Flyctory.com about Ice Hockey
Here are all ice hockey postings on Flyctory.com:
Flyctory.com about Weird Al Yankovic
Here are all postings related to Weird Al Yankovic: