After having two Weird Al Yankovic concerts on the second and third day of my trip, tennis was in focus of the fourth and last full day of my July 2019 trip. After he won the match on Friday, I was especially flattered to see my biggest sports idol, the Indian tennis legend Leander Paes, back on court for his full seminfinal match.
India Waale – The Trip To Newport
I started the day with a nice breakfast with my friend Jeremy, who headed on to the next stage of the Weird Al Tour in Forest Hills. A place with a lot of tennis history, as the original US Open were played there before the tournament moved to Flushing Meadows (I visited the US Open in 2018). I headed on to Newport, the only grass court tennis tournament in the United States.
There were already Fahrenheit temperatures in the 90s. A challenging day regarding the weather were thus to be expected. After listening to country music and Weird Al so far, I pumped myself with listening to Indian songs. Here is one of my favorites (which is by the way my alarm clock sound when I am traveling). Here is a translation of the lyrics, if you are interested.
Newport – A Pearl in Rhode Island
It was my second time in Newport (first time at the tournament – I visited the Hall of Fame before, though). The closer you came to the city, the more was the traffic – Newport is very popular for beach vacation in summer. In order to reach the city, you have to cross two bridges, the Jamestown Verrazzano Bridge and then, finally, the Claiborne Pell Newport Bridge (which is a 4 USD toll bridge)
The city is amazingly beautiful. Unfortunately I had no proper times to enjoy the view. The parking situation around the Hall of Fame is terrible – the more I wondered that I finally found a reasonably priced car park quite close to the Hall of Fame.
The Tennis Hall of Fame Open 2019 – Semifinal Day
I felt so happy to be back at the Tennis Hall of Fame grounds, which I have visited some years ago. Such a classic, traditional place with a very unique and intimate atmosphere. The big names are missing the week after Wimbledon, but that does not necessarily mean it is not a good tournament.
There were just four matches that day, two singles semifinals and a doubles semifinal on center court and the second doubles semifinal on an outer court. In the first match Arvevalo / Reyes-Varela won against McLachlan/Smith in a not always classy, but very thrilling semifinal 10-4 in the super tie-break. Kazakh Alexander Bublik sealed his first ever ATP Final in a dramatic three-setter against Marcel Granollers. I did not watch John Isners victory against Ugo Humbert, wo came back after losing the first set. There will be more details in a separate posting about the museum and the matches.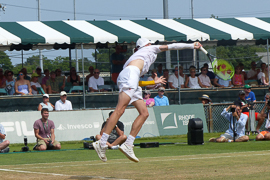 Finally, I wanted to enjoy as much time as possible with Leander and thus first watched im warming up for his semifinal. Quite impressive to see the level of tennis he is still able to produce at this age. I even felt he had improved in serve and return compared to some years ago. Bis match on Court 1 was a thriller. With his partner Marcus Daniell (New Zealand), he lost 6:3 6:7(8), (9-11) against Granollers and his Ukrainian partner Segiy Stakhovsky. The outer court had no hawk eye review facilities. The umpiring was quite terrible so that there were a couple of crucial scenes.
Of course, I was disappointed (and exhausted) as Leander was, but it was fantastic to see him again and to see him still being so good. They also played well as a team. After his warm-up and after the match, we had some time to chat. Why is this guy still looking as if he was in his mid-20s? 🙂
The International Tennis Hall of Fame & Museum
A nice feature about visiting the Tennis Hall of Fame Open in Newport that your ticket grants you free access to the Hall of Fame and the museum. Even if you have seen the place before, it may be favorable to go there – the museum is air-conditioned. But of course, it is also interesting to browse through all the exhibits and memorize the stars of that sports. And, hey, Leander is also there – not a member yet, though, as they just allow people five years after their retirement.
Hall of Fame Inductees
Semifinal Day at the Tennis Hall of Fame Open is also the induction day for players and officials to the Tennis Hall of Fame. This year, Na Li from China, Mary Pierce from France and Russian Yevgeny Kafelnikov became Hall of Famers. I watched the ceremony for Mary Pierce, but I am not too much fan of these events (too many speeches). Cool to see Nick Bolletieri doing the inductions speech, though. I also felt quite weak and thus decided to leave the holy grounds. Finally, I just had to some farewell pictures at the entrance gate.
Heading West
For the last night in the US, I decided to go for the Hampton Inn & Suites Providence / Warwick Airport. It was a some 25 minute drive there. I enjoyed the sights in the sunset and finally even managed to grab a quick bite in the area.
Weird Al & Tennis 2019 – Day by Day
Here are the links to the overview posting and daily entries of this trip report:
Day 4, 20.07.2019 – Leander Paes or the Tennis Hall of Fame Open 
Trip Reports
Here are all (other) Trip Report postings:
Postings about Tennis
Here are all postings which are related to tennis on Flyctory.com