A gallery of music instruments which became part of music history – where could that place be better located than in Nashville? Music city is hosting this rather hidden museum right at Belmont University. Here is my review of the Gallery of Iconic Guitars at Belmont – sometimes quickly abbreviated as GIG.
Gallery of Iconic Guitars – Location & Admission
The museum is located in the same building as the Lila D. Bunch Library, right across the street from Massey Concert Hall. Belmont Mansion, one of Nashville's key attractions, is just a block away. You may use a bus (Wedgewood Ave & 17th Ave, bus lines 77 and 93) – but in practice you likely go to the GIG by car or taxi / Uber likely. Free street parking lots are provided on the premises.
The Gallery of Iconic Guitars is open daily apart from Tuesday and Wednesday. Times re 10:00 to 16:30 and from 13:00 hrs on Sundays. Admission is 5 USD.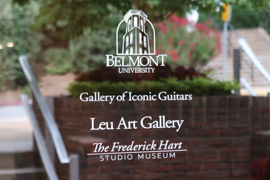 Gallery of Iconic Guitars – The Visit
The gallery room feels rather small at first sight, but in fact, the museum hosts quite a nice set of musical instruments. The presentation is really nicely done. To practically all guitars and mandolins in display, there is a small documentation plaque next to it. One of the oldest guitars in display is the 1887 Martin 0-28. However, the museum also honors iconic guitar models like the Gibson Les Paul Standard. There are also other key manufacturers like Fender. It is really fun go stroll along the displays and have a quiet an unobstructed view of the amazing items in display.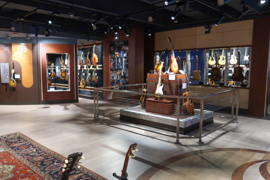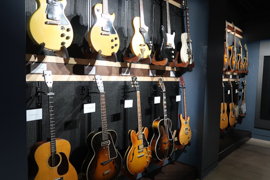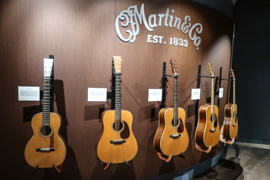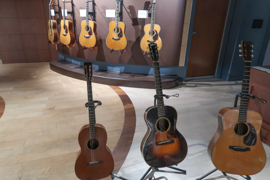 Gallery of Iconic Guitars – My View
If you never played an instrument or never made music, this playce might feel like a waste of time at first time. However, the Gallery of Iconic Guitars is just a great set of musical masterpieces. Guitarists have to spend some 45 to 60 minutes here. Music enthusiasts might be quicker, but still have an interesting time. Despite the good documentation, the GIG is rather a place which is fascinating the visitor than education him/her.
Musical History
These are all articles, in which I dealt with events and places influencing musical history:
Sound of Nashville on Flyctory.com
Here are all postings related to the Sound of Nashville concert series in Germany and the Netherlands: