One amazing feature of Washington D.C. is the massive number of museums driven by the Smithsonian Institution: they are typically well driven and very educative and on top of that offer free entry. While tourists typically focus on the "Big Ones" around the National Mall, there are numerous locations spread around the city. One of them in the National Postal Museum. Sounds like an arsenal of stamps – but my visit there during my Musical Trip to CMA Fest 2019 was really cool.
National Postal Museum was my Best Museum / Exhibition Visit in 2019.
National Postal Museum – Location & Admission
The National Postal Museum is right across Union Station (Amtrak). Thus, it is first of all well connected and of course you just cannot miss it. There is an operating post office, in the same building.
Opening times are 10:00 to 17:30 daily. As stated above, the entrance is free.
National Postal Museum – The Visit
The first section of the museum really deals with stamps – however, you should not be too afraid, the place is definitely NOT a stamp museum. The initial exhibits are very special stamps, which are either valuable or had a certain story. But there are also items, which illustrate the international postal history. One very impressing exhibit to me, for example, was a letter whcih was transported by the Hindenburg airship, when it set to fire.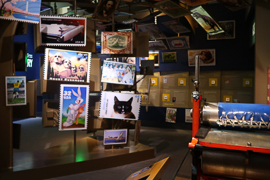 The museum continues with the Inverted Jenny, which was a very famous printing error. Thereafter, there are numerous items which tell the story of postage and also showcase important persons like Amelia Earhart.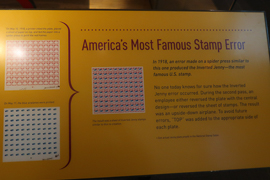 Global Stamps and National Stamp Salon
Yeah, there are more stamps to come – but I have to admit, I did not feel to be this part of the exhibition boring at all. The next section is Stamps around the Globe. There is really at least one stamp for each country ever released stamps, very impressing. It also includes regions no longer being sovereign territories like Bohemia or Saarland as well as not fully independent territories like Greenland or the Faroe Islands.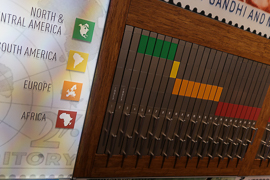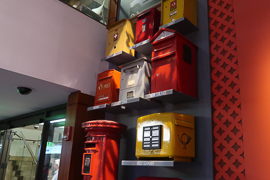 If you really want to dive deep in the US American stamps, you can spent hours at the National Stamp Salon, which is a full archive of the stamps issued so far. I felt it is also just fascinating to browse through the drawers.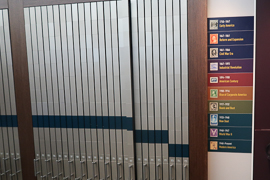 Impressive Atrium Downstairs
After these exhibits, you head the escalator downstairs and end up in a massive atrium, from which a couple of special exhibits are incepting. The atrium itself, though, hosts some interesting exhibits like historic planes used to transport mail or USPS cars.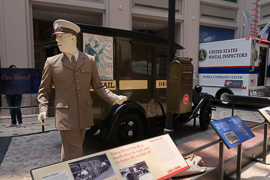 Postal Inspection, Pony Express and More
There are multiple spin-off exhibitions focusing on different aspects of postal services. The first one is about postal inspection and especially the work of the United States Postal Inspection Service. Does not feel to be too thrilling at first sight, but the exhibits are amazing, including original letter bombs and similar items.
During my visit in June, a smaller, but very nice exhibition was Beautiful Blooms, which featured flowers and plants on stamps.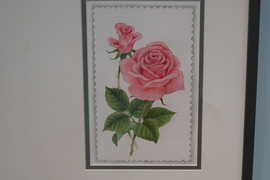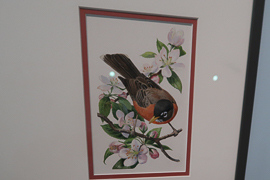 To me, the most interesting exhibition, though, dealt with the expansion of the United States and how they have been supported and influenced by the postal services. A key part of the exhibit is of course the Pony Express and how it worked in practise. However, there are many other interesting aspects. You can for example learn how letters are barcoded and sorted to have an efficent delivery to their final destination.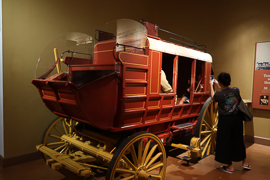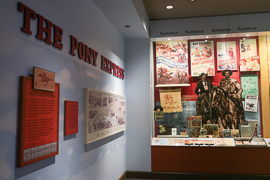 National Postal Museum – Services
On the lower floor, the museum also hosts a souvenir store. The selection of items is quite nicely and wide.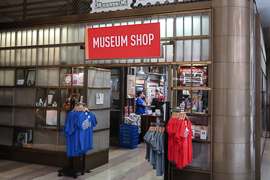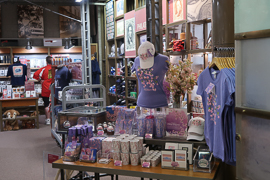 As said above, the museum building also includies a working post office. If you use the lower floor connection, you pass a Benjamin Franklin statue (I already visited the Benjamin Franklin Museum in Philadelphia).
National Postal Museum – My View
The National Postal Museum is much more than a collection of stamps. Thus, I feel that this place is quite underrated – not necessarily regarding the average reviews (the Google rating is 4.6, for example), but regarding the number of visitors in the place. I can really encourage you to dare to visit the museum – it is a great collection, great presentation – and especially the lower floor tells you so much about the cultural influence of mailing, you just should not miss it! Definitely a Top Pick!
Flyctory.com in Washington D.C.
Here are all postings about Washington D.C. and surroundings:
Historic Museums
Here are all other postings on Historic Museums: