No concert… But this trip is just not complete without a venue. On Day 4 of my trip following the first Weird Al Yankovic tour stops, I did not have any show of Weird Al… But ice hockey. NHL. Here is my trip report entry.
Early Leave? No Chance!
My original plan was to leave Albany at about 7:00hrs in the morning. Okay, I was even still busy with working on the Day 3 posting. Despite four hours of sleep… I did not have proper plans (and also no fixed / timed tickets… So I had a relaxed breakfast as well. Good old Hampton style – a nice way to farewell from the Hampton Inn & Suites Albany:
A Loong Drive Eastbound
Some three hours net driving time ahead of me. The I-90 East was not too much of a thrill and I became more and more tired. A quite interesting spot was to pass the highest point of the highway East of South Dakota (the state which features famous Mt. Rushmore). The weather was rather cold, even activating the freeze warning in the car at three degrees (Celsius, not Fahrenheit – I always change this unit in a rental car…). I stopped at a shopping mall near Worchester MA, which finally has been rather lousy. I still envy the Mega Construx Pokemon, Halo and Hot Wheels sets. Another stop right before Boston to fuel up the car.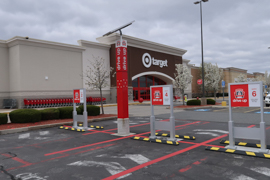 Boston City and JFK
I initially wanted to have some time in Boston Downtown, which is a real beauty. However, the parking fees in the US are really weird (stuff like 1st hr. 25 USD, whole day 30 USD – hard to spend two three hours under these circumstances. Need to do Central Boston one day. I decided to go for some outskirt places, where the car is more sensible and helpful. Located not too far away from the hotel, I visited the John F. Kennedy Library and Museum Boston. A great place and a must visit.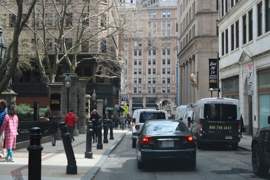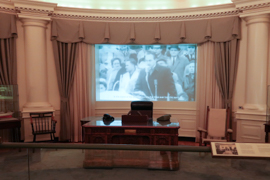 The Hotel with Cookies
Apart from the Microtel Inn by Wyndham Long Island City on Day 1 and three Hampton Inns, the DoubleTree by Hilton Boston Bayside was the only stay of that Hilton brand on the whole April 2022 trip. Nice stay with a bit of a strange parking situation. Did some Flyctory.com stuff before preparing for the main event of the evening.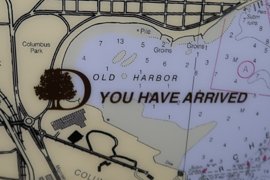 Hockey Time in Boston
Boston Bruins vs. Buffalo Sabres. I am not emotional about any of the teams, so I that I expected an relaxed ice hockey evening at TD Garden. I had hoped for German Jay-Jay Peterka being called from the Rochester Americans – but finally, the match was without any German participant. Just enjoying my last hockey match before supporting Germany at the Helsinki IIHF World Cup in mid-May 2022.
TD Garden is a somehow weird venue, hidden in/behind North Station of Boston. The match was strange as well. I felt that Buffalo was the better team for the first 25, 30 minutes – but they just did not score. Boston increased the pressure, lead by two goals after 40, 5-0 overall. 32 saves shut-out by Linus Ullmark. The tour bus on the last pic is, by the way, not the Weird Al one… They directly traveled to New Bedford.
Last, but not least: Thank You!
I should typically thank you for reading at the end of my trip report – but the reactions on the Day 3 posting were just that overwhelming. Glad you liked my report – and the picture gallery 🙂
Weird Al Yankovic 2022 Tour Kick-Off – Day by Day
Here are the episodes of my 2022 Weird Al Yankovic tour kick-off trip report
Day 4, 28.4.2022 – JFK and NHL Hockey
Weird Al Yankovic 2022 Tour – Flyctory.com Playlist
At the morning of Day 2 of the trip, I decided to create a playlist with all the originals (and very few covers). Just when you need a warm-up soundtrack:
Flyctory.com about Ice Hockey
Here are all ice hockey postings on Flyctory.com:
Historic Museums in the USA
Here are all my postings related to Historic Museums and the USA: