16th April, time to leave Atlanta again. At least, there has been plenty of time before to do some sightseeing – or whatever Atlanta allows you to do – there needs to be quite a lot of buffer due to the traffic situation when you want to return a rental car at the airport.
Georgia Aquarium
The Georgia Aquarium, based right next to "World of Coca Cola" (finally, based more or less next to everything… Nearly all major attractions are in walking distance…) has become one of the key attractions of the city (and is currently also topping the soda temple in tripadvisor by rating). The first display you see when you enter the aquarium is already very stunning – and right afterwards, you enter some sort of main hall, from where the exhibits are starting.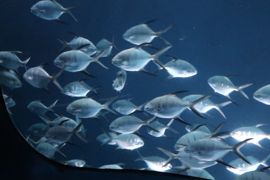 Here is a more detailed Review of Georgia Aquarium, so I for now just post a couple of pictures of it. I overall stayed there for roughly three hours (and would have done even longer if not some of the attractions would not open quite late in the day). For water life enthusiasts, this is the place to go – I definitely liked it more than the Coke Marketing Hall nearby.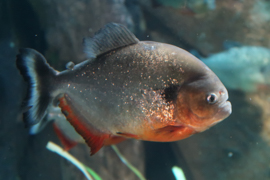 College Football and more
Fuhnily, the first place I saw after I left the aquarium has been a fish restaurant… Did not check the menu if they have some strange roasts on the daily menu, though. For homesick Germans, there is also a "Biergarten". I opted for Atlanta-based Chick-Fil-A – rather because you could have a look inside the College Football Hall of Fame – that interactive part of the exhibits looked like fun to me – even though I am not that much into American Football and know nothing about College Leagues.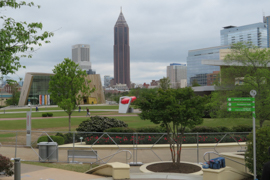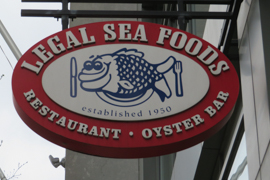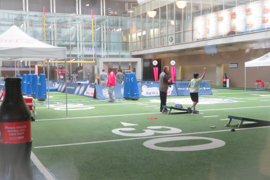 Olympic Paths and Modern Era
After this aquatic experience, I had some time to visit some of the Olympic venues just around the Olympic Park. The Congress Centre hosted several events and is still in use, while the Georgia Dome, which hosted the Handball and Basketball Olympic finals has been torn donw in 2017 and the site is still under processing: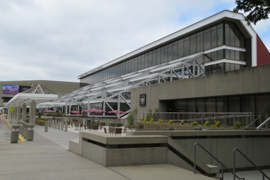 There are also new venues in this area: the Phillips Arena is now hosting the Atlanta Thrashers and the Hawks and the 71,000 capacity Mercedes-Benz Stadium has replaced the Georgia Dome and now hosts the NFL Falcons as well as the MLS Atlanta United. I had the opportunity to step in the stadium and have a quick view into it.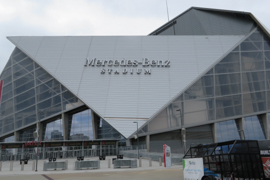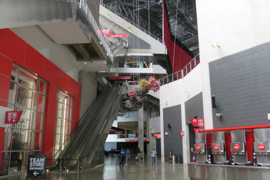 On the way to the airport, I stopped by the Tom Lowe Trap & Skeet Range, which used to host the 1996 Olympic events in these shooting disciplines. Nice area – and the facilities are still used for what they have been constructed.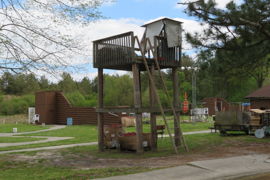 These vists also found my posting on the today's status of the former Olympic venues.
Atlana to Cologne – Four Flights, Four Countries
From there, the trip to the rental car return facilities are reasonable. I was glad that I did not trust the rental car people too much when I got the car and asked them if there are gas stations nearby – I could not see any the three miles on my way to the building, but have fueled up the car before. Hertz seemed to have been low on manpower – they completely closed the ordinary check out lines and just had the "Leave the key in the car and we will sent you the invoice" option lanes open. Did not like that at all. Even though the transfer bus started quite soon, the total time from leaving the rental car behind to being at the terminal took roughly 30mins – I am not sure how long it may take if there is congestion on route…
Arriving at the Air Canada counter, I already saw that they were discussing with three customers in parallel. My flight to Toronto has been delayed due to snow in Toronto and due to the storms the days before by at least one hour, which would have meant that I would not catch my connection at Toronto Pearson. Already hoped for a free night in Atlanta and a chance to see the concert of Stephen Jay and Jim Kimo West (members of the Weird Al band) that night – but "unfortunately", the earlier flight, which should have more or less just taken off at that moment, had a delay of 2.5 hours, so that they rebooked me on that one. Very kind and efficient service – they also named me the United Club as their contractual lounge, without telling me that this one is of course based in the domestic terminal and not the international one. Lufthansa is contracted with a lounge at the international terminal, which is of course dominated by SkyTeam. As the tram ride between the terminals at least takes ten minutes each, I stayed in the terminal – quite small one, but comparably nice.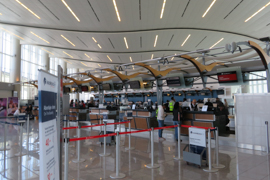 The Air Canada Express flight to Toronto has been a mess, though. I really like Air Canada services, but the crew felt very unmotivated to me. They also gave me a customs landing card and insisted that I have to fill it out, though I have been on an international transfer. At Pearson I felt that the plane first came very, very close to a LOT Dreamliner which has just been arriving from Warsaw, before it took more than ten minutes before taking the parking position. The capitain decided to do an announcement after ages stating that the necessary ground staff is not available. Does Pearson really not have these parking position assistance? Hard to believe…
The transfer process is really efficient using new transfer validation machines. I had a short stroll through the airport before going to the Maple Leaf Lounge – the new signature lounge is unfortunately just open to Business Class customers (and only those who have paid "proper" tickets – no promotions, no upgrades or mileage bookings of any kind). Interesting to see how many people try to get access to the Maple Leaf Lounge without being entitled to… Quite long queues.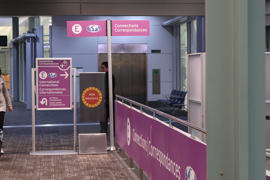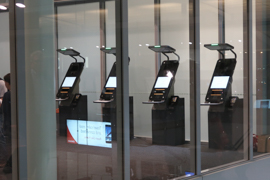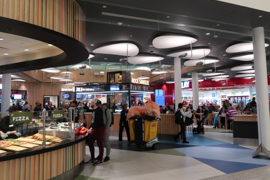 Boarding in Pearson at the International Terminal is always prone to chaos as there is practically no space for the people lining up for their flight – and having a flight to Delhi nextby makes the situation even worse. I do love India – but it is always interesting to see on India flights how many elder people are doing wheelchair boarding, but walk down the passenger tunnel quite athletically 🙂 I have been quite angry that the monitor in my Premium Economy seat had a defect. It took ages until the flight attendant came stating she knew about the problem (but did not help at all). Nevertheless, I had a good sleep – they had Danielle Bradbery's album in the Inflight Entertainment, so i swayed into sweet dreams until we reached the Irish coast and it became finally clear that our delay is more than one hour.
As both of my ongoing flights, LH 2475 to Munich and LH 1992 to Cologne, had minor delays as well, I could manage to finalise most parts of my blogpost in Heathrow and Munich. Love the new Munich satellite terminal, by the way. The Munich to Cologne flight was my 200th either inbound to Cologne or outbound from my hometown. For that anniversary, Lufthansa even brought one of my favourite celebrities, Victoria Swarovski, to the flight… Just did not dare to chat to her when she was waiting for her luggage in Cologne 😉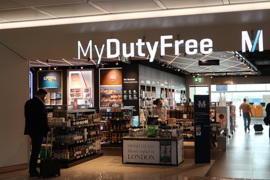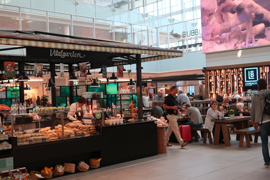 Now, back at home, finally made it. Three amazing concerts – thanks to Weird Al, Steve, Kimo, Bermuda and Ruben for the great performances and the crew behind, especially J.W. for all the tough work. Met a lot of new and nice people and some interesting places. Still feel very sad though that the Tennis Stadium is gone… Would have loved to see it.
I am very thankful about comments how you liked this format!
Here are links to the remaining posts of this trip reports :
Day 5/6, 16th/17th April 2018: Sightseeing in Atlanta, flight back to Cologne.