I have to admit, I am not the biggest fan of wax museums. I stick with Lonely Planet's comment on London: In 19th century, when Marie Tussauds opened her cabinet at London Baker Street, these kind of places might be a great visit. But nowadays, in the age of internet and magazines, we just know how our idols look like. Going to a place with figures to watch them just feels outdated. So the 2015 opened Orlando outlet in the heart of the ICON Park Orlando district (formerly: ICON 360 Orlando) might have a hard time with my review. I have to admit: I had quite some fun in Florida!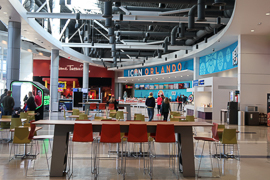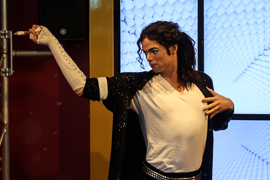 Madame Tussauds Orlando – Location & Admission
The ICON Orlando 360 district is located right at the heart of International Drive. The wax museum is located in the main hall called Terminal Building.
Finding the best, i.e. cheapest, ticket to Madame Tussauds Orlando is not too straightforward. The regular walkup price is 28 USD. However, you can reduce this amount by pre-booking online or by using one of the many vouchers you will find in magazines in your hotel. You may also combine your ticket with other attraction. The ultimate combo, which has not been advertised during my visit in mid December 2018, seems to be the Premium Combo, which adds The Wheel at ICON Park, disappointing Sea Life and a Legoland Florida visit to your wax experience. The total amount for that ticket is roughly 110 USD. You may also just add the ICON attractions Sea Life and the ferris wheel for a total of 50 USD.
Madame Tussauds Orlando – The Exhibition
Most Madame Tussauds wax museum feature one "free" figure which is located close to the entrance as an "appetizer" near the entrance. In Orlando, you have a meet & greet with Michael Jackson for free. The first celebrity you meed after paying is Pitbull. Then you come to celebrities sorted by topic.
History & Leaders
Your visit in Orlando starts with some very big names of American history. The first one you are meeting is Juan Ponce de Leon, followed by fictional Uncle Sam and Abraham Lincoln. Barrack Obama or Donald Trump – you got the choice of US presidents. There are also some very different "leaders" like Andy Warhol, Walt Disney or Albert Einstein. A very interesting exhibit is Marie Tussaud herself with her workshop.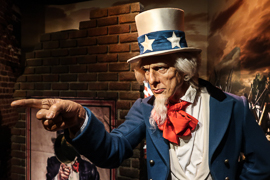 Sports
The sports section offers a wide range of American sports stars. One of the first people you meet is NASCAR Dale Earnhardt Jr. You can also take pictures with Muhammad Ali or Shaquille O'Neal. The Neymar exhibit was not present during my visit, but Tiger Woods, David Beckham or Derek Jeter give a great time at the ICON Park Orlando.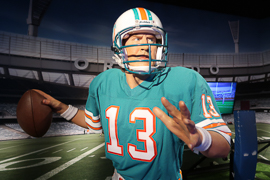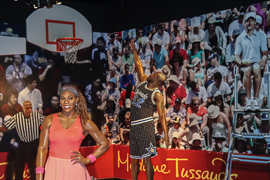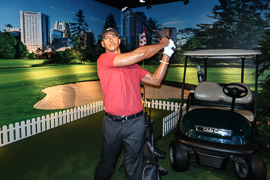 Music
One of my favorites, former country music singer Taylor Swift tells you are in the next section now. The wide room has a lot of amazing artists in wax. In case you prefer Miley Cyrus to Justin Bieber, you may just do both. For us, it was great to meet Elvis, as we had an Elvis wedding 2013 in Las Vegas. Don't miss the current world most successful artist, Katy Perry.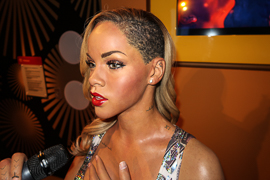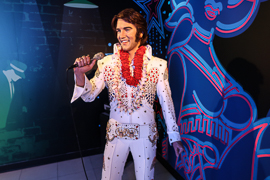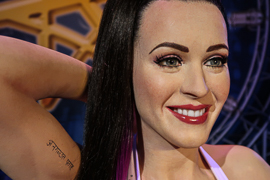 TV
Oprah Winfrey or Jimmy Fallon are also well-known in Germany. However, some other TV stars were new to me in this relatively small section. At least, I just loved beautiful Sofia Vergara. At the end you may meet Jim Parsons.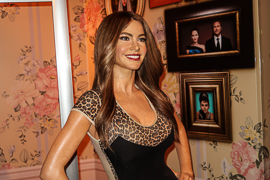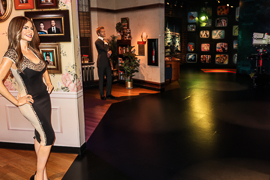 Justice League
Aquaman, Superman, Wonderwoman or Batman – Justice League is maybe the signature collection at Madame Tussauds Orlando. The museum tries to give you an interactive time here – you may activate the Bat Sign as well as hang on the helicopter with Superman.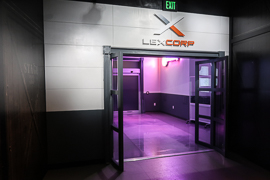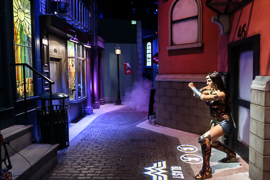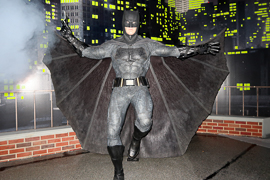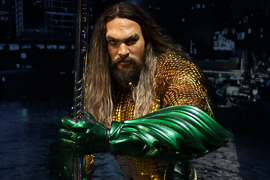 Film
I am not too much into cinema and movies, but the movie section of this way museum is really fun. There is E.T., Shrek and Kung Fu Panda. Okay, there is Spielberg as well and you may have "Breakfast at Tiffany's" with Audrey Hepburn. You may also go back in time and enjoy the "Grease" superstars. The section feels comparably slow, but is very enjoyable.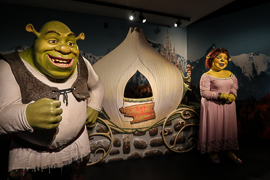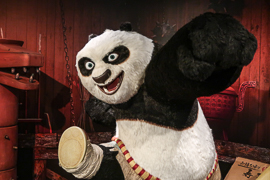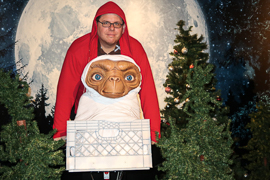 A List Party
The final section, before you head to the (disappointing) gift shop looks like a huge party of stars. The most funny thing is that Brad Pitt and Angelina Jolie do not look at each other nay more.  Maybe it is about Anne Hathaway or Jennifer Aniston? Will Smith is smiling at the fireplace.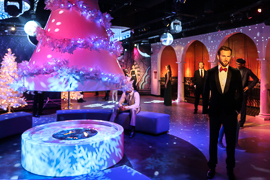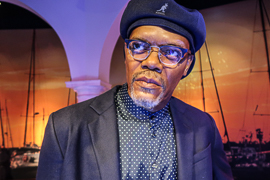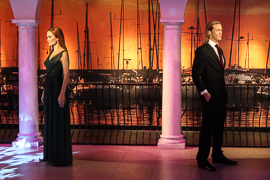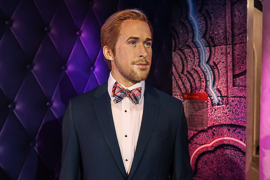 Madame Tussauds Orlando – My View
Visiting Madame Tussauds in London, maybe even on a weekend, is just terrible to me. As I said above, I in general doubt about the nowadays sense of wax museums. During peak times in the UK capital, it is just a pushing for pictures. Being at the Orlando outlet very early just gave us a great time. You could take pictures and take your time. No hassle, just minor waiting time. In addition to that, the figures are nicely arranged with lovely backgrounds and good information. I visited Madame Tussauds in Amsterdam, Berlin, Nashville and London before – but Orlando was simply the best so far. Thanks for a nice time, I can absolutely recommend it!
Just in case you want to see this: