New York LaGuardia Airport (LGA) is not regarded to be the nicest way of air traveling in and around the Big Apple. However, the Port Authority of New York and New Jersey who are driving the airports are currently renovating the Northern Queens travel hub. I did not know about it and was thus really amazed by new Terminal B of LGA, when I traveled from New York to Pittsburgh Airport (PIT) on the second day of my Pittsburgh Penguins trip in March 2022. Needless to say that I also had a look into the American Airlines Admirals Club. Here are my thoughts.
LaGuardia (LGA) Admirals Club – Location & Access
The Admirals Club at New York LaGuardia Airport (LGA) is located airside in Terminal B, close to gates 30 and 31. You walk downstairs to this gate area. However, it is still above the gate area, so that you can look down from the lounge, like from a balcony. According to the American Airlines website, the lounge hours are from 4:30 to 21:30 hrs daily with an 30 minute earlier closing on Saturdays.
Access to Admiral Club lounges is a bit of more difficult in North America than it is in Europe. I entered the lounge with my oneworld Emerald status (British Airways Gold), a Sapphire one is also fine, if you are on a oneworld flight that day. You may buy into the Admirals club, be an AAdvantage Executive World Elite or a ConciergeKey member of travel on an international ticket in First or Business Class. A one day Admirals Club pass is 50 USD, an annual membership is 650 USD, if I saw correctly.
LaGuardia (LGA) Admirals Club – Atmosphere
The Admirals Club comes with a new and fresh atmosphere. Unfortunately, the lounge was rather packed during my stay, so that I could just take a few snaps, but I liked the different kind of areas. There was bistro-alike seating, a TV area, work spaces and places made to hang out and relax before or between flights. I would have appreciated a higher number of power outlets around the seats on some spots.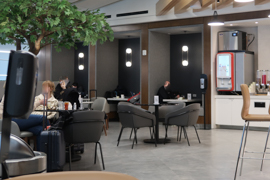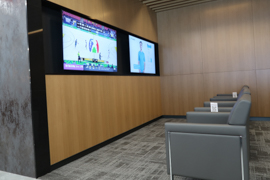 LaGuardia (LGA) Admirals Club – Eat & Drink
The dining (or better: snack) options in an Admirals Club are typically limited. There were some snacks like vegetables, crisps, cheese, hummus, some fruit, some selection of bread and a soup. Sodas and water as well as hot drinks are for free. The lounge is operating a full service bar, which was rather popular among other guests.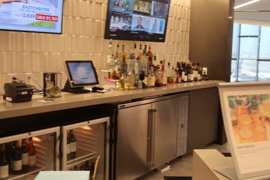 LaGuardia (LGA) Admirals Club – Services
The lounge staff was very welcoming LaGuardia Admirals club of course features sanitary facilities, but no showers. The WiFi worked very fine. I would have loved to have more flight monitors around, but my seating was also a bit of unfortunate in that regard.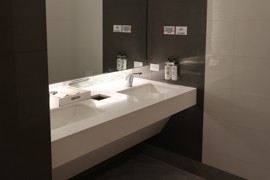 LaGuardia (LGA) Admirals Club – My View
The modern Adminars Club lounges are a really nice upgrade compared to the legacy ones. I like the cozy place at Pittsburgh Airport (PIT) – and so I did the LaGuardia one. It is still not a competitive place compared to many European spots (or the much better AA Flagship Lounge at JFK, for example), but at least a nice place to relax and work while waiting for your (next) flight. I really like the nice balcony view of the gate area below.
USA Lounge Reviews
Here are all my Lounge Reviews related to the USA:
Blues Music
Here are all postings related to blues music: