After I did a review of Mini Golf at Walt Disney World in Orlando in late 2018, I received quite a lot of good feedback. People especially liked that I described the quality of the course as such, i.e. where it had difficulties and where it felt too easy. I always wanted to invest into some more mini golf and especially the more entertaining adventure golf coverage on Flyctory.com. Finally, I did so during late summer and fall 2022 – and present my first "new" review of an adventure golf course today. Congo River has several outlets in the Florida, I visited the Clearwater one, which was the last course I visited on my Weird Al Yankovic tour-chasing trip in October 2022.
Congo River Clearwater – Location & Admission
Congo River operates multiple adventure golf locations in Florida. The Clearwater place is located East of the city, close to the bay and rather next to the Gulf to Bay Blvd, which is crossing the bay. The course as such, however, is right next on the West side of US-19. Access to the adventure golf course is thus a bit of tricky. You later exit the area through a residential area, depending on which direction you take. The US Hwy 19 N + Druid Rd bus stop is right in front of the parking lot and offers connections via bus #19.
Congo River is opening daily from 10:00 to 23:00 hrs. On Fridays and Saturdays, you can even play until midnight. The nominal adult price for one play is 15.99 USD plus tax, which leads to a some 17.50 USD total. However, there are multiple upgrades (like playing the whole day for 12 USD more or getting a discount for any other Congo River thereafter), which leads to several options to reduce the price if you play more. Additional services (see below) are available at an extra charge or certain packages.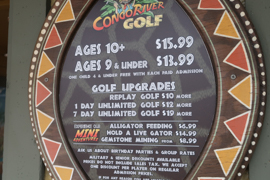 Congo River Clearwater – Atmosphere
Even though the setting right at a major road and next to the parking lot is not overwhelming, the general design of the course including a "crashed plane" is really nice. They also work with lakes, artificial waterfalls and other design elements. One thing you may use is that there are some "wheels of fortune" at a few courses, which every player should spin. It may include bonus strokes, but also things like "you do the first shot for the next player". Might be fun for families, but I ignored it.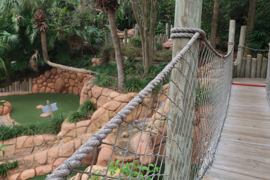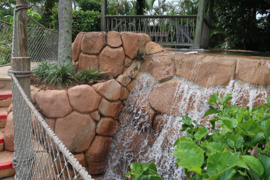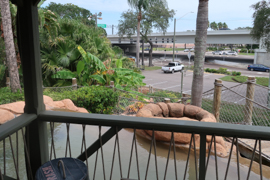 Congo River Clearwater – The Courses
Playing Congo River Clearwater on Tuesday noon, I in general enjoyed the maintenance of the course, especially at the first half of the 18 holes. Congo River uses artificial turf. I did not feel any change in the turf quality while playing. However, some courses were close to water, which lead to wet turf and thus significantly different playing conditions. The first courses are rather straight and don't offer real challenges. The third course brings you inside a "cave", which leads to the wet turf conditions, while the fourth hole is the first one which finally gives you several options and which is by that more challenging.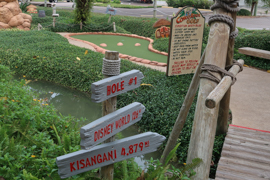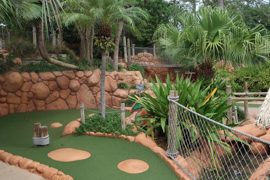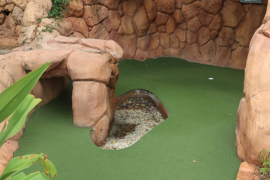 I am not an overwhelmingly skillful mini golf player, I just enjoy doing it and think about strategies for the courses. Thus, it was quite remarkable that I made all the first third of courses in two strokes. Thus, Congo River is rather a family attraction than an adult challenge. The eighth and ninth course offered the first real challenges – they also nicely worked with the structure of the area, Course #9 even had a bit of a bunker-alike area, which I liked. The tenth course leads you on top of the Congo Queen ship and you have to decide whether it is more sensible to pass the captain's cabin on the left or on the right.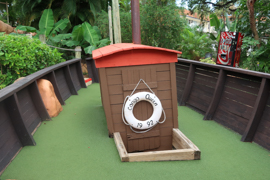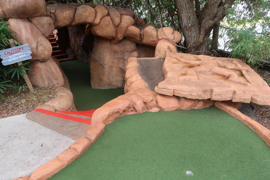 More Challenging Adventure Golf in the later courses
Thereafter, Congo Rover Clearwater has some highlights. The twelfth course, for example, comes with the option to "raft" the ball down an artificial waterfall. Not a challenging one, but a nice element and – of course – a situation leading to very wet turf and thus altering playing conditions. Hole #14 is special, as the course is having a steep drop right after you hit it. A fence is preventing that you hit the ball too high – or try to climb down to you next shot in another way than using the stairs. My limited skills were in this section reflected by lower efficiency. I typically used some four strokes to complete a lane now. The following course either gives you the option to play the ball down a spiral hill or go for a smaller, more direct path.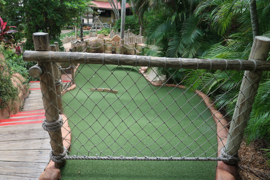 r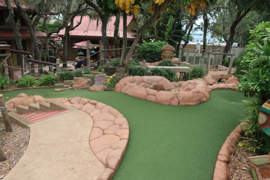 Unfortunately, Congo River did not activate the artificial creek for the last challenge, where the "rafting" of the ball down the lane was almost mandatory. Nonetheless, I liked the challenges of the last lanes at Congo River Clearwater.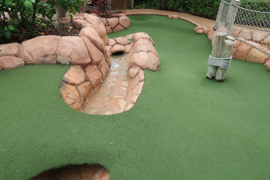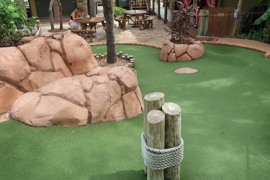 Congo River Clearwater – Services
Like (too) many Florida locations, Congo River is offering you to feed small alligators which are in front of the reception desk or even to hold a living one. I don't support that. Adventurers may also do "Gemstone" mining, which was rather popular during my Florida visit. In addition, the course offers some arcade action.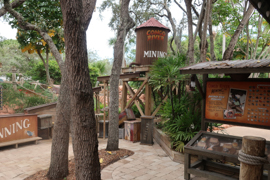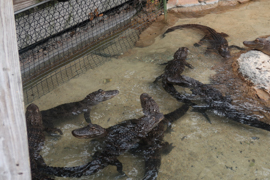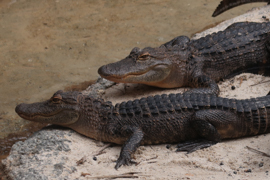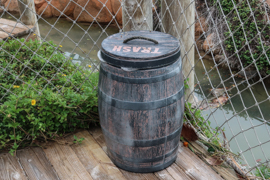 Congo River Clearwater – My View
Congo River is a nice adventure golf course. The first half of play is a bit of too easy in my point of view, though. The second half offers more interesting designs and also more challenges. Bad luck that the very final course did not operate properly during my visit. In general, I feel that the pricing is rather high – I would recommend to play several locations on your trip, which then allows to have a rather moderate price per game.
Entertain & Relax in the USA
Here are all my postings of the Entertain & Relax category related to the USA:
Flyctory.com Floorball Postings
Here are all Floorball-related postings on Flyctory.com: