When you pass North Huntingdon Southeast of Pittsburgh on the US-30, it feels like a very typical American city at their main road. There are plenty of dining options, most of them by typical North American restaurant chains. I guess that most people just drive by on their route to or from Steel City and don't even get that the local McDonalds hosts a very special (and nerdy) attraction – the Big Mac Museum.
Big Mac Museum – Location & Times
The Big Mac Museum is located inside an ordinary McDonalds restaurant. As said, it is located North of US-30 (or Lincoln Highway), rather close to the I-76 (or: Pennsylvania Turnpike). You fine a lot of other shopping an dining opportunities around.
According to my information (I have to admit that I forgot to re-check it when being in North Huntingdon), the restaurant is opening daily, from 5:00 to 22:00 hrs. In fact it is a McDonalds and entrance is free, but I would typically suggest to combine your visit with an order.
Views of McDonalds North Huntingdon / Big Mac Museum
First of all, this place is a restaurant – and I was not even sure if I should share the first pictures in my Pictured Story format with you at all. As you see, the place is very modern and attractively designed. You have to say that it felt quite popular and there were in fact a few other people during my visit, who felt to visit the McDonalds North Huntingdon because of its special feature.
Three things make it special. First of all, there is a "timeline" about the history of the Big Mac. It is in fact a Greater Pittsburgh invention by McDonalds franchiser Jim Delligatti in 1967. However, the museum is not located at the burger's original birthplace which is in fact in Uniontown, South of Pittsburgh, and thus some 40 miles away from the museum. The timeline also features some illustrative items. You also have a few screens with historic McDonalds (and Big Mac) advertisement. Some of them are rather cool, including an original Big Mac sauce dispenser. Apart from a Big Mac branded race suit, a showcase next to the toilets also shows an original bun toaster.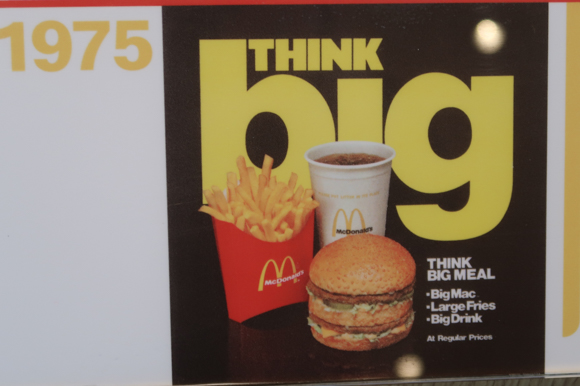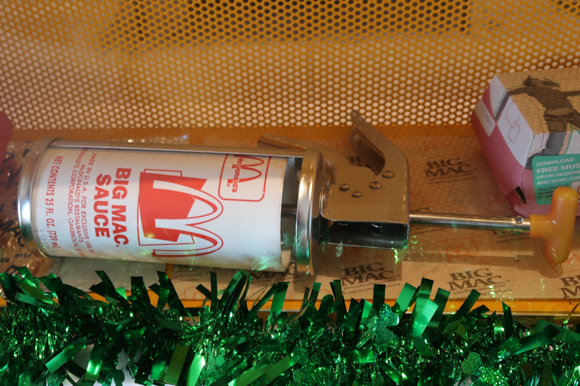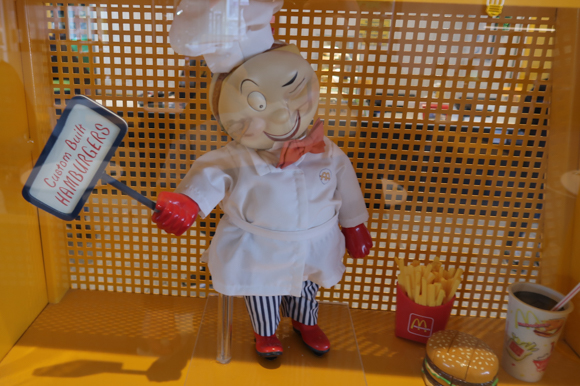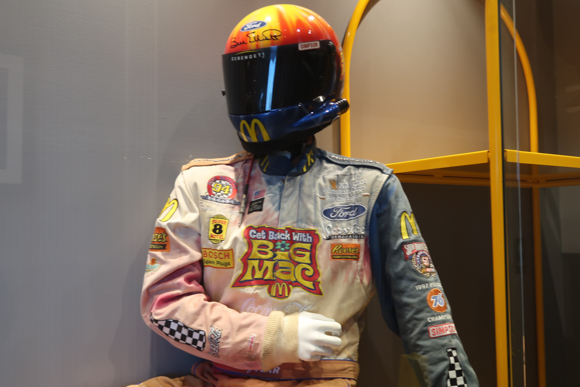 However, there are two statues, which might even be more striking. First of all, there is a Delligatti statue, which is right inside the restaurant. The playground section of the McDonalds also features a Big Mac statue, which is actually 14 feet (4.25m) high and 12 feet (3.60m) wide.It is the world largest Big Mac statue. This setup of the restaurant, by the way, exists since 2007. I would have loved to have some more detailed facts like the development of the Big Mac index, but overall, I felt it is worth a stop (and a bite).
Flyctory.com on Eating & Drinking
Flyctory.com is not a culinary blog. Nevertheless, here are all posts dealing with Eating and Drinking:
Pittsburgh Travel Postings
Here are all my Travel postings related to Pittsburgh: