When you think about a great Christmas time in one of the Orlando theme parks, you likely first think about Disney. Due to recommendation of a good friend, my wife and I opted to see SeaWorld during the holiday season. Here is a view how the park interprets Christmas – you will definitely have a great time out there! This posting is not a review of the SeaWorld park itself, it just gives a small introduction about the park in general and focuses on my visit during the 2018 holiday season. In that year, the Christmas season special lasted from 17th November to 31st December.
SeaWorld Orlando – Location & Admission
Sea World Orlando is located at the Southern part of International Drive, not too far from Disney (where I did mini golf on that trip). From our December 2018 hotel choice, the Homewood Suites Lake Buena Vista, it was about a ten minutes drive. In August 2019, I stayed at the Hilton Garden Inn At Sea World, which is just a block away.
In general, the Christmas program is included in the SeaWorld admission. You may have additional expenses, though. For example, there are additional Christmas photo packages or reserved seats for some of the Christmas shows. The nominal adult admission for SeaWorld for one day is 99.99 USD, plus tax. Parking is additional 25 USD, incl. tax. Our entrance was included in the admission price for SeaWorld's luxury water park Discovery Cove.
Packages pay off quickly, especially if you are interested in Busch Gardens, Tampa, or one of the SeaWorld water parks, Aquatica or Adventure Island. Two parks admission is 149.99 USD, a 14 day pass for all parks, incl. parking, is 219.99 USD. Even the annual pass may be an option if you visit the park for multiple days – the SeaWorld only Silver option including free general parking and a free guest ticket (for one day) is 179.88 USD. Of course, there are also numerous vouchers and discounts, for example when you buy the ticket at your hotel concierge. Some Orlando ticket booths offer breathtaking deals of significantly lower prices – I do not know the exact conditions, though. There are special resident prices as well.
SeaWorld Orlando Concept
SeaWorld Orlando combines the concept of a zoological park with theme park elements. In contrast to Busch Gardens in Tampa, which is also driven by the SeaWorld Group, there is a stronger element in marketing and attractions on showing and conserving wildlife. Nevertheless, zoo purists will rather feel like being at Disney than in a traditional zoo. As suggested by the branding, SeaWorld is thereby concentrating on wildlife in and around the water.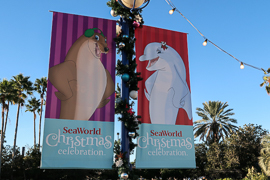 The most popular animal attraction at SeaWorld is likely the Orca show. The oldest and most well-known Orca is Shamu, who is also naming the show. SeaWorld already announced that they will neither breed nor catch whales in the future, though. There are also aquariums, manatees, turtles, penguins, sharks and many other animals. Most of them are shown in designated attractions. My favorite place is the penguins habitat. Unfortunately, a lot of people share my matter of taste. Just getting into the penguins home (and being really close to them) took us about half an hour in late December – doing the additional family ride was named to take double the time roughly. We just visited a few attractions on this visit.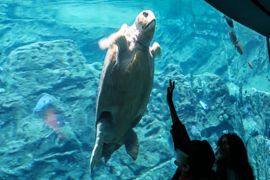 In addition to the animal attractions, there are more and more thrill rides at SeaWorld. Most of them are branded about aquatics or water animals. The most advertised one is the raft water ride Infinity Falls, which is holding the world largest drop for rides of this kind. Manta is a roller coaster featuring movements of a giant manta ray. Mako and Kraken are additional coaster attractions. The Sky Tower travels to 122 meters to give you an overview of the park. At least for the Christmas times, the tower is subject to an additional fee of 5 USD.
Christmas Time at SeaWorld Orlando
More than 3 million lights illuminate the park in the afternoon / evening hours, especially around the large lake area in the heart of the park, which turns into the Sea of Trees. Countless artificial Christmas trees have been installed on the water and may be illuminated in different colors.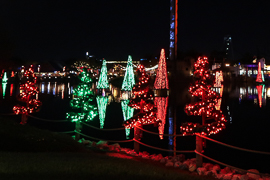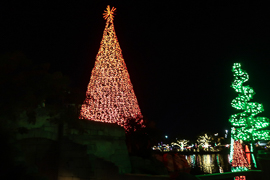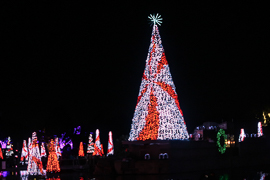 There is also a Christmas market alike area on the Northern side of the lake. There are different kinds of shops and small stages. Additional opportunities to fill up are of course given in the restaurants. There is an all day dining option as well as a designated Christmas dining pre-paid pass. In that area, there is also a model train featuring Santa.
Christmas Shows
There are a couple of Christmas-themed shows in the park. Two examples are Winter Wonderland on Ice and Shamu Christmas Miracles. We went for O Wondrous Night  in the Nautilus, which was a retelling of the Christmas story from an animal perspective. The show was gospel-musical alike and very Christian-orientated, being told from the animals' perspective. At the end, there are real sheep and even camels on stage, which makes it quite impressing.
At Rudolph's Christmas Town, you may meet Rudolph, the red-nosed raindeer, his female raindeer friend Clarice and yeti-alike Humble Bumble and take pictures with the characters. The pictures are included in a Christmas time special picture package.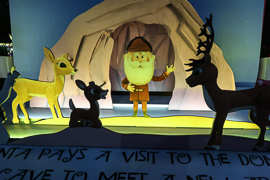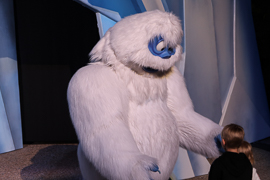 Christmas Shopping
Of course, you may invest your remaining funds or plastic money to any kind of Christmas and non-Christmas souvenirs. As you support SeaWorld, who is doing animal research and rescue, you even support a good cause. There are a lot of nice goodies to bring home. The prices are definitely more reasonable than for example at Disney, where you can easily spend more than 20 USD for a single piece of Christmas tree decoration.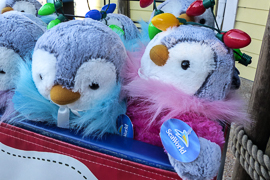 Christmas at SeaWorld Orlando – My View
Like during our whole trip right before Christmas 2018, it has been a bit cold during the SeaWorld Christmas evening, but the more visiting the place was just impressive. I love SeaWorld to see the animals (I feel I never did a ride there…) – but at holiday season time, it just becomes even more special. If you around at Christmas time (maybe 2019?), you should give it a try. I absolutely prefer it compared to Disney (though their Mickey's Very Merry Christmas Party is named to be quite cool as well). Definitely a Top Pick!
Amusement Parks – More Postings
Here are all postings about Amusement Parks:
(Greater) Orlando – Postings
Orlando is much more than Disney – here are all postings about the Entertainment Wonderland: