A museum with an amazing collection of luxury and top-class racing cars, driven for the cause of charity. This is about the mission of the Marconi Automotive Museum & Foundation for Kids. Dick Marconi donated his amazing car collection with muscle cars and Formula One racers in 1994. If you like cars, you might have this place on your bucket list when visiting California.
Marconi Automotive Museum – Location & Admission
The museum is located in an industrial area in Tustin, California, a town North of Santa Ana in Greater Los Angeles area. The museum is not too far away from Interstate 5 in an commercial area. Santa Ana John Wayne Airport (with the lovely Lyon Air Museum) is just a few miles South of the museum. There are sufficient parking lots at the premises of the museum.
The museum is opening its doors from 9:00 to 16:00 hrs, Tuesday to Saturday. The suggested donation is 20 USD. During my visit, the Marconi Automotive Museum was just preparing their main space for an event. You could see all cars without any issues, some of them were not on their normal position, e.g. outside the museum building on the parking lot.
Marconi Automotive Museum – The Visit
After entering the museum building, you walk along an isle which is full of racing motorbikes. I am not too much into them, but the collection looked quite impressive. From there, you also access the main exhibition space (which has been partially cleared for an even, as said). The museum owns quite an impressive collection of Ferrari cars (as well as other Italian sports cars).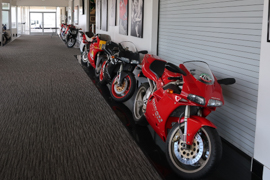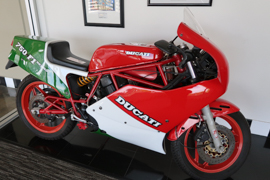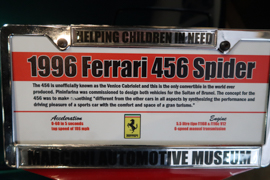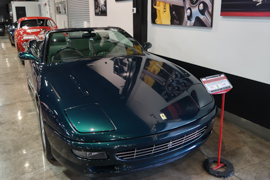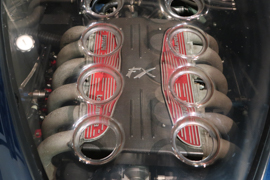 The museum also owns quite a couple of former Formula One and Indy Cars, including original vehicles by Michael Schumacher, Nigel Mansell and Ayrton Senna. You can get really close to the cars and explore them – which is of course a memorable experience.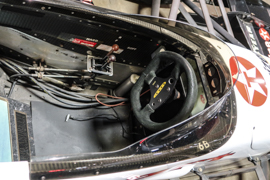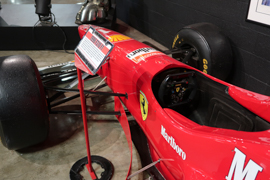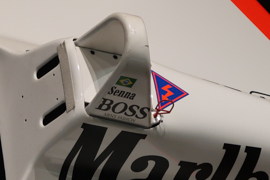 A Lot of Interesting Cars in the Side Exhibition Room
From the main exhibition room, there is an aisle to a smaller room, which felt to be in its normal state during my visit. Apart from some really interesting pieces of mobile history, this section is especially impressive as it holds a couple of cars originally owned by celebrities and modified according to their wishes. This also includes a car originally driven by Elvis Presley.
The room also features some other really interesting cars like an old firefighter model or a racing car originally maneuvered by Keke Rosberg. The 1998 Louie The Lizard dragster car, which Kenny Bernstein used to break the 310mph barrier is fixed to the wall – in line with some other Formula racing cars.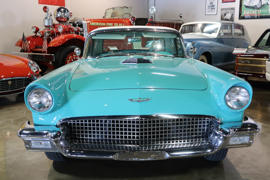 More Than Just Cars and Motorbikes
Especially on the walls, there are a lot of additional items and memorabilia around motor sports. Dick Marconi feels to be really amazingly connected to the people, there are a lot of signed original clothing and accessories.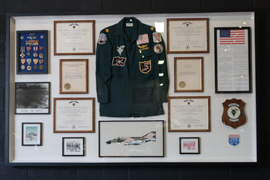 Outdoor Exhibits
Due to the the event, there were a lot of cars parked at the parking lot in front of the museum. I have been to Dubai that often – but this one is likely the poshest car park (regarding the cars in there) I have ever seen. Decide on your own if you rather love the Lamborghini Countach or the Ferrari F40.
Marconi Automotive Museum – Services
As said above, part of the charity work of the museum and foundation is that you can rent the place for any kind of events. Weddings, company events and more can be held in the middle of Ferraris, Formula One Cars and other fancy vehicles. There are also a couple of merchandise items on sale.
Marconi Automotive Museum – My View
Regardless that this is a charity and you even support kids with your admission, the Marconi Automotive Museum is an absolutely fascinating place. As it is not too far from key Greater Los Angeles attractions like Disney, you should definitely think about this place when visiting this part of California the next time. I absolutely loved it.
Greater Los Angeles – Travel Reviews
Here are all travel related postings featuring the Greater Los Angeles area:
Technical Museums – Other Postings
Here are all other Flyctory.com postings dealing with technical museums and exhibitions: