The seventh day of my Pittsburgh Penguins trip in March 2022 lead me to Marion, Southern Illinois. The local Veterans Airport of Southern Illinois is supported under the US Essential Air Service program I had a direct return Cape Air flight from Marion Airport (MWA) to St. Louis (STL). This one, however, is an airport review.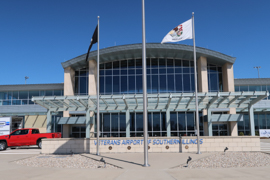 Marion Airport (MWA) – Location & Transport
The Veterans Airport at Southern Illinois (MWA) in Marion is located West of the city, in a commercial area. It is some three miles East of the I-57, from where it is also signed. There are a lot of shops and services around, including a Motel 6 hotel, a Target and a Walmart Supercenter.
I could not spot any ground transportation other than going to the airport by car or taxi. There is free parking in front of the terminal. Hertz is running an office in the airport building, which is likely serviced by another location on demand.
Marion Airport (MWA) – Connections
At the moment of my visit, in mid March 2022, Cape Air were the only provider of scheduled air travel services to and from Marion. They connected to St. Louis (STL) and Nashville (BNA) airport at that time. The St. Louis Service is dominant with some five connections per day.
Arriving at Marion Airport (MWA)
Arriving in a small airport like Marion (MWA) is obviously very relaxed and effective. We had a nice view of the airport before touching down. From the plane to the terminal, it is just a short walk. The terminal building joining check-in and arrivals facilities on one level. The luggage belt is really short and somehow cute, but thereby absolutely fit for purpose.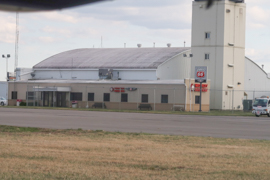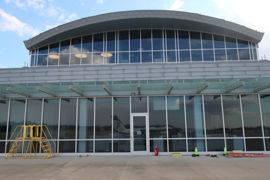 Departing from Marion Airport (MWA)
In relation to the volume of flights available, Marion Airport (MWA) terminal feels rather spacious. Apart from the check-in desks, there is a nice waiting lobby with a variety of different seating options (bistro style, work desks with power outlets etc.). I also liked that there are a lot of windows and thus there is a lot of light in the terminal building.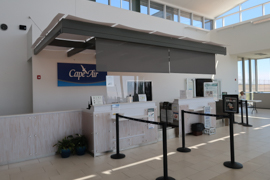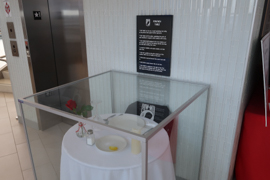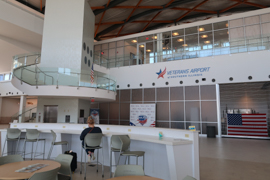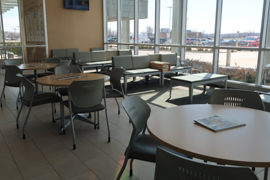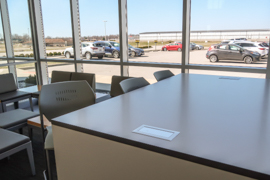 Due to the limited passenger volumes per flight (Cape Air's fleet does typically not have more than a dozen passengers per plane), it is not too surprising that security typically not opens before 30 minutes before flight departure. The more, I was surprised how spacious the airside area was. Again, there were different seating options, including a nice range of power outlets. There are even airside toilet facilities.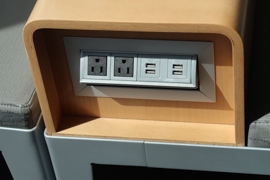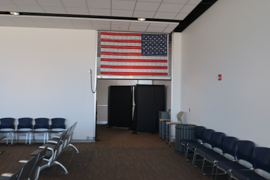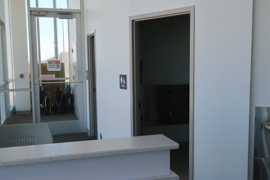 Marion Airport (MWA) – Services
The staff at Marion Airport was very friendly and helpful. The airport also provided very good WiFi. There are no food or drink services at Marion Airport (MWA), neither landside nor airside. The only option you have are vending machines. As said above, the airport features a Hertz office, so that you can rent a car to or from this location.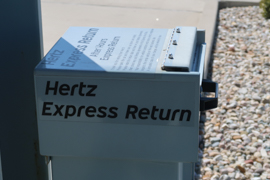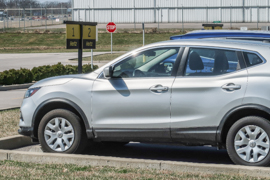 Marion Airport (MWA) – My View
The Veterans Airport of Southern Illinois at Marion (MWA) is just how I feel the Essential Air Serivce should work alike. If you feel that it is really worth to spend a relatively high volume of state funds to allow flights from a certain city or region, than that travel hub should also offer a certain level of convenience and service so that people use it. The lovely terminal, the friendly people and five daily connections to St. Louis are definitely turning the Southern Illinois region into an attractive air travel destination.
Special Flights at Flyctory.com
Here are all reports about flights, which are special in whatever way:
Flyctory.com on Social Media
Flyctory.com is active on the following social media platforms:
Furthermore, you can follow the weekly updated Country Music Playlists on
I also add new songs weekly to my New Country Hits Playlists on