After flying from Washington to Chattanooga, my first night on my trip to Nashville in 2019 was in Tupelo Mississippi. I arrived there late in the afternoon, majorly to be ready in the morning to visit Elvis Presley's Birthplace and then to head on West through the Delta Blues region to Memphis. I chose an outlet of my preferred brand, Hilton, the Hilton Garden Inn in Tupelo.
Hilton Garden Inn Tupelo – Location
The hotel is located at Main Street, East of City Center. You are practically still in the historic city center of Tupelo. The multipurpose BancorpSouth Arena is right behind the hotel. It is about a two mile drive to Elvis' Birthplace. The further key attraction of Tupelo, the Automobile Museum, is in walking distance as well.
There are some restaurants and bars around the Hilton Garden Inn Tupelo. However, some of them have comparably early closing times you should be aware of.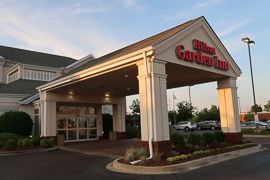 Hilton Garden Inn Tupelo – Room
I had one night at the Hilton Garden Inn Tupelo. The prepaid rate was 103 USD including tax. The room absolutely met my expectations and was a nice overnight, being clean, sufficiently spacious and featuring the necessary facilities.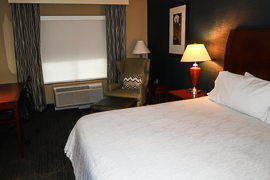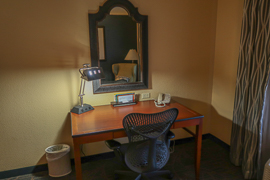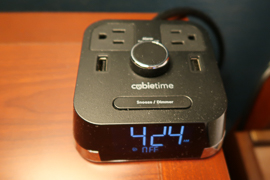 The bathroom was really nice as well. All expected amenities were provided. Like the room itself, the bathroom was absolutely clean.
Hilton Garden Inn Tupelo – Breakfast
Breakfast was not included in my rate, but I have complimentary one as a Hilton Honors Gold member. I had the full breakfast, continental and hot dishes. The hot dishes are provided from a serviced buffet. Items like pancakes or omelette are made to order. There was quite a lot of variety. The ordinary breakfast price is roughly 8 USD (continental) / 12 USD (full breakfast), which is a very nice price. Hot drinks were even served by the waitress.
Hilton Garden Inn Tupelo – Services
The staff was really nice and helpful in all situations. Check-in and check-out went smoothly, also the breakfast staff was really kind. The WiFi connection was good as well.
I did not use any of the hotel's additional facilities, but the HGI Tupelo offers a compact gym as well as a nice pool area (US hotel pool size) with a separate jacuzzi. There is also a business corner and a laundry.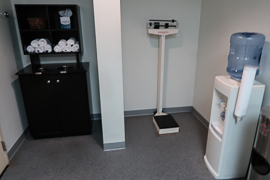 Hilton Garden Inn Tupelo – My View
After having a rather troublesome time at the Doubletree in Washington, this stay was a really good one. The hotel is a really good place, well connected to the road system and close to the key attractions. I see no significant reason which I could criticize about the place – so I definitely call it a Top Pick! – Great stay!
Hilton Hotels – More Reviews
Here are all my reviews of Hilton Hotels:
USA – All Postings
Here are all postings which deal with the USA: