Flying Southern Airways Express was not my only debut aviation experience on route to Philadelphia for the NHL Stadium Series. It was also the first time I used American Airlines for a transatlantic connection. Thereby I chose Premium Economy cabin for both directions, which were serviced in Airbus A330 planes. I flew from Frankfurt via Charlotte to Philly and returned on the same route. Here is a review of the flights and the services around the quite recently introduced cabin. I already reviewed AA's in-flight magazines in this thread.
AA Premium Economy – At the Airport
Premium Economy Passengers enjoy priority check-in at the airport, together with status customers and higher class cabins. Some airports also offer priority security. The check-in staff was very friendly on both airports I checked in, Frankfurt and Philadelphia.
Due to my British Airways Executive Club Gold status, I had access to the lounges on my trip. In Frankfurt, American Airlines is contracted with the JAL Sakura Lounge, which has recently been renovated. Nevertheless, the lounge experience is rather limited. Furthermore, there was quite a lot of hassle in Frankfurt with the at-gate security at Frankfurt Terminal 2, so that more or less all status / priority passengers arrived rather late for boarding.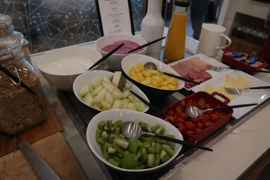 Apart from Frankfurt, I visited American Airlines Admirals Club lounges in Charlotte and Philadelphia. There is just very limited food available, which was especially unfortunate in Charlotte on the return leg. There were just very few flights when I returned from Philadelphia, so the lounge has very intimate and gave a nice time (I liked the breakfast offer also more than the daytime food). In both cases, the Lounge bar and cozy working cabins add a lot of value to your visit.
AA Premium Economy – The Flights
In fact, I had new cabin layout Airbus A330 thrice on my trip namely
| Flight | Date | Dep | from | to |
| --- | --- | --- | --- | --- |
| AA 705 | 21.2.2019 | 1025 | Frankfurt (FRA) | Charlotte (CLT) |
| AA 2191 | 21.2.2019 | 1629 | Charlotte (CLT) | Philadelphia (PHL) |
| AA 793 | 24.2.2019 | 1245 | Philadelphia (PHL) | Charlotte (CLT) |
| AA 704 | 24.2.2019 | 1640 | Charlotte (CLT) | Frankfurt (FRA) |
However, at the domestic legs, there was standard Main Cabin Extra service on flights.
American Airlines A330
The Airbus A330 configuration including Premium Economy features five rows of 1-2-1 Business Class, three rows of Premium Economy (2-3-2) and Main Cabin. There are designated Main Cabin Extra seats, which grant more legroom and earlier boarding. The Premium Economy cabin is located after the second entrance doors in the second section of the cabin. A very convenient feature is that there are lavatories in front of both aisles right before Premium Economy Class, so that these are more or less exclusive for these passengers. The Airbus features in-flight WiFi connection. However, this feature failed on the outbound flight from Frankfurt to Charlotte.
The Premium Economy Seats
SeatGuru states a seat width of 18.5 inches and seat pitch of 38 inches for the Premium Economy cabin. On all legs I flew, I had row 6 seats at the bulkhead (different aisle seats). I generally prefer bulkhead, especially overnight to ordinary row seats. The monitor is located between the seats, which is a bit uncomfortable if you a bigger like me. Therefore, you have a two-part footrest in the bulkhead – the other rows only recline with the screen in the seat in front of you. There is a power plug and USB port in each seat. Of course, you also find the remote control for the entertainment system at your seat.
One rather critical feature about the A330 are the narrow and unhandy overhead bins. Other planes like the Dreamliner have significantly better luggage storage. The very first set of bins even has a "Business Class only" sticker inside, which reflects the quite recent re-design of the cabin.
Overall, I absolutely liked the American Airlines way of a Premium Economy seat though. It was quite plushy, so that I had a lovely nap, especially on the inbound flight back to Germany.
Food and Drinks
You can pre-order your meal at American Airlines up to 48 hours before take-off. On the inbound flight from Charlotte to Frankfurt, they changed the menu compared to the printed one, while my pre-booking (pumpkin risotto) was still booked on the existing one. If you had a seat change during check-in (as I had on the outbound), the pre-booking tends to become chaotic. The food quality was really nice.
What I liked is that American Airlines did not only give you a bottle of water (500ml), but also served drinks in full cans in the Premium Cabin. You definitely won't get thirsty there. I loved that much more compared to British Airways, where you sometimes feel you have to beg for water or a drink. Snacks are available throughout the flight.
Service and Amenities
In general, service was accurate with many drink rounds, the cabin crew was friendly. Some of the American culture is a bit strange to me, though. When I ordered a cider for lunch on the way to Charlotte (they have it in their drinks menu surprisingly), the flight attendant first re-asked me what I would like to drink and handed over to me with an "I don't know what it is but here you are". Sorry madame, know your menu! Interestingly, the cider I had on both legs was also not offered with ice, which would be appropriate (and hey, Americans put ice everywhere…).
There is an amenity kit which is quite nice for a Premium Economy one. The In-Flight Entertainment System is very good if you are a movie junkie. For music lovers like me, it is a bit more limited, but still offers a good variety. The noise-cancelling headphones provided are very good.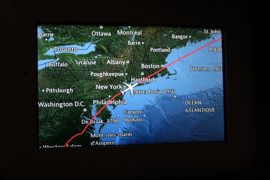 AA Premium Economy – My View
American Airlines did a really good job in Premium Economy to me. I would definitely keep them in mind for my future transatlantic bookings. Compared to British Airways, which is the oneworld service I typically use for these travels, American Airlines is definitely much better – a nicer seat, better food, better service. The connections from Germany are a bit limited, though. It may thus be worth transferring to London-Heathrow, from where you can directly connect to several US destinations with that carrier.
Aviation on Flyctory.com
Here are all postings about Airports & Airlines:
USA – All Postings
Here are all postings which deal with the USA: