In between of tour-chasing Weird Al Yankovic in Florida in October 2022 (see my picture posting), I also had the opportunity to check out some of the Sunshine State's public transport system. The most exciting one was definitely Brightline. The high speed train service is currently connecting West Palm Beach to Miami, but will extend their network to Orlando International Airport (MCO) soon. Before I introduce you to their service in a posting, I take you on a lounge review of their Premium Lounge in Miami. I also reviewed their Premium Lounge in West Palm Beach.
Brightline Premium Lounge Miami – Location & Access
Brightline operates own stations and is thus not directly linked to other rail operators like Amtrak or Tri-Rail. The lounge is located in their own station MiamiCentral in the rear of the building. In contrast to the Brightline Lounge West Palm Beach (which I will introduce to you separately), the Brightline Premium Lounge at MiamiCentral is located below the tracks (and not above it).
The only access possible is having a Premium Class ticket departing from Miami at that day. I don't know the exact time interval accepted by Brightline, but due to rain, I was at the station about 90 minutes before departure (which also means: one train departed in the meantime) and had not issue to pass the turnstiles, which give you lounge access.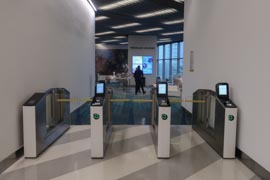 Brightline Premium Lounge Miami – Atmosphere
The design of the rail lounge is definitely a beauty. The large window lead to a lot of sunlight (even during a subtropical thunderstorm), there are different seating areas and a central buffet. Large screens inform you about the status of the trains. In contrast to the smaller West Palm Beach lounge (which I will feature in a separate review), the lounge at MiamiCentral station also featured a proper work desk area.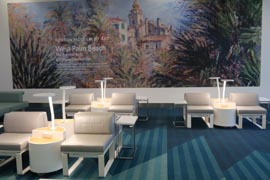 Brightline Premium Lounge Miami – Food & Drink
Brightline provides snacks while you wait. apart from some sweet and salty items, there was also a nice cheese board, some fruit and vegetables and similar items. Regarding that you also receive a snack during your train ride, which is (currently) not longer than 1:20 hours, the items offered were very good. The selection of items reflects the afternoon setting – the West Palm Beach review will introduce you to their morning buffet.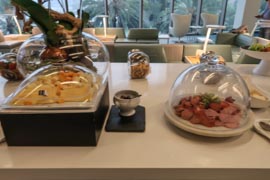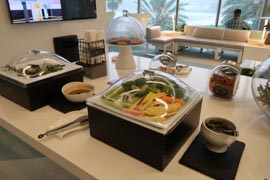 I did not take a picture of the soft drinks provided. However, there was also a nice variety. In addition, you could go for hot drinks and alcoholic beverages. The coffee machine also features some less common option like a chai tea, which I absolutely loved. During your lounge stay, you can also have up to two alcoholic drinks, beer or wine, per person.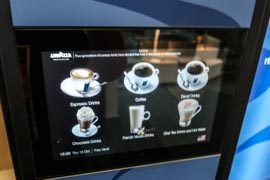 Brightline Premium Lounge Miami – Services
The lounge was clean and buffet items were always available, due to a very friendly and attentive staff. The station / lounge WiFi worked very well and did not block me in any way in my work.
Brightline Premium Lounge Miami – My View
I do love the recent upgrade of the German Rail Lounges, like the one at Frankfurt Airport – but the Brightline Premium Lounge in Miami definitely lifts rail lounges to another level. I absolutely loved the place, which is comparable to basic to average airport lounges already (the staff is even better). If you keep the significantly shorter traveling times in mind, Brightline is offering an outstanding service.
Rail Lounge Reviews
Here are all lounge reviews related to my Rides on Rail category:
IHG Hotels
Here are all my postings related to IHG Hotels: