I was looking forward to my second day of visit at the US Open. Divij Sharan's match was of course in special focus of my attention, but there were also some other interesting matches on schedule. Due to the prolonged weekend, prices were significantly increased. The weather was more summer-like again. The worse started my day as I could not get passed the security with my sunblocker spray, which I had with me the two days before, too. Hoped that this was not bad omen – and Saturday would become as good as Friday.
The match of the day from a German perspective was likely the German Men's Singles battle, in which Philipp Kohlschreiber beat Alexander Zverev. There were less singles matches on the outer courts and some of the doubles matches were really crowded. Here are the tennis matches I visited.
There is a larger-size US Open 2018 match picture gallery on Flyctory.com.
Women's Singles: Vondrousova – Bertens 7-6(4) 2-6 7-6(1)
I have to admit that I was neither looking forward that much to see Czech Marketa Vondrousova nor Kiki Bertens. I simply felt that I should have seen the completely rebuilt Louis Armstrong Stadium, which is open to Ground admission in the highest tier. In her second US Open, Vondrousova gave Bertens a tough time and advanced to the Round of 16.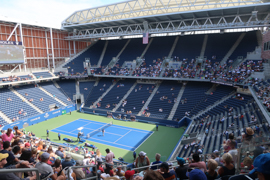 Men's Doubles: Chardy / Martin – Kontinen / Peers 7-6(4) 3-6 7-6(3)
After my Louis Armstrong Stadium experience, I went on to Court 11. Quite a lot of people saw the second-seed doubles team struggling against the French. Even after Henri Kontinen and John Peers won the second set, they did not get sufficient confidence and finally lost in a third-set tie-break.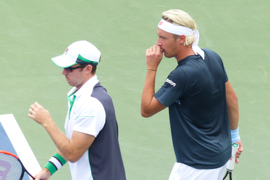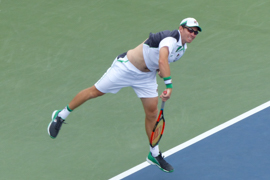 Practice Pics: Divij Sharan (India)
As said, Court 11 felt quite crowded and the match did not catch me that much. Thus I decided to have a look at Divij Sharan. The Indian Davis Cupper prepared for its 2nd round doubles alongside New Zealand's Artem Sitak. Took some pictures here.
Men's Singles: John Millman – Mikhail Kukushkin 6-4 4-6 6-1 6-3
As said before, I targeted to see the major courts on my second day of visit. Thus, I headed on to Grandstand. Mikhail Kukushkin just won the second set against Australian John Millman. The match had quite some long rallies. Though I felt the Kazakh was back in the match, the Australian took his chance and finally won in four sets.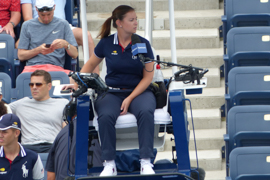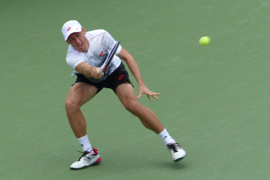 Mixed Doubles: Atawo / Grönefeld – Azarenka / Chan 4-1 ret.
To me, Anna-Lena Grönefeld is one of the most underrated German players. Starting her career strongly in singles, she is now likely Germany's finest in Women's Doubles. Alongside US-American Raquel Atawo, the 33-year old from Hanover was seeded and thus the favourite in that match – even though Victoria Azarenka and Latisha Chan were doubles hot shots on the other side. Atawo / Grönefeld won the first four games of the match, which showed a lot of interesting rallies. I felt to stay on Court 7 for a while, when surprisingly Chan retired after winning the fifth game. No chance to guess what really happened there.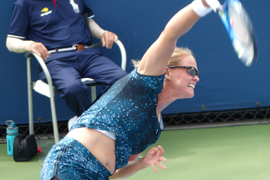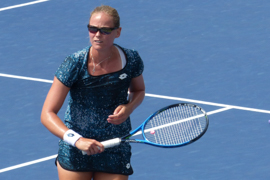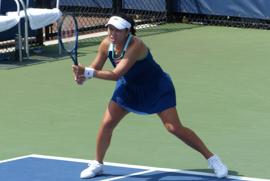 Women's Singles: Cibulkova – Kerber 3-6 6-3 6-3
I went back to Louis Armstrong after this short tennis episode. I felt that I should have a look at Germany's #1 in Women Singles, Angelique Kerber. This time I chose the standing area in the beautiful arena. Kerber broke Daniela Cibulkova early in the first set and coverted – afterwards, she got into more trouble and finally lost as fourth seed, so that all German ladies (in singles tennis) had finished their Grand Slam duties for 2018 already a bit earlier than expected.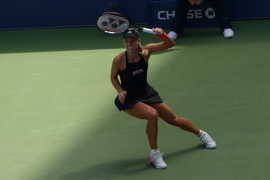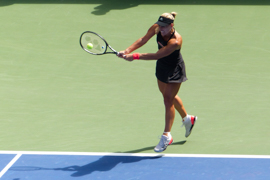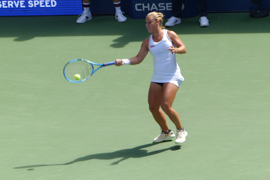 Men's Doubles: Kubot / Melo – Sharan / Sitak 6-3 3-6 6-3
Sharan and SItak gave a great fight against 7th seeded Marcelo Melo and Lukasz Kubot. Especially in the second set, they have been the stronger team in a very entertaining doubles tennis match. However, they failed in transitioning to the third match, where the Brazilian-Polish combo took an early break and made use of all their experience to advance to the round of 16. Nevertheless, Divij played a great match and showed some very decent shots. It will be fun seeing him along Rohan Bopanna at the Davis Cup in Serbia.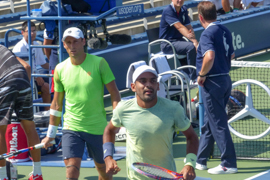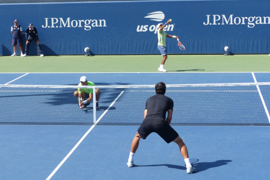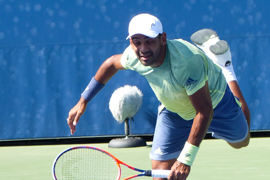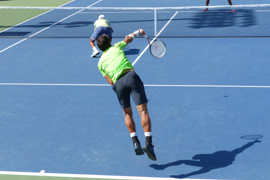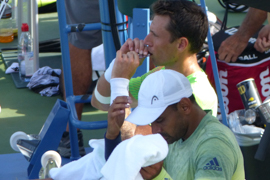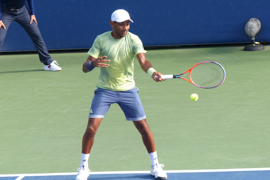 Practice Pics: Leander Paes (India)
During the match, just on the other side of the stands, my idol had his daily practice session. I just had to watch him for a while. Finally, it was Leander who made me wear the "My passport is German, but my heart is Indian" shirt. It was Leander (alongside Mahesh Bhupathi) who gave me that plus to tennis, which made me become an Indian tennis and Davis Cup fan. And of course, it was Leander who made me travel to the US Open for the fifth time in my life. I felt very gifted that I at least saw some final points by rushing from JFK to the grounds in 80 minutes. That was the dream making me travel there. Felt it was my duty to just be there when he was preparing for his next stage in his amazing career. Will miss his amazing (and maybe still unique) touch on the net in Serbia, but undoubtedly Rohan and Divij are currently our #1 choice. Thank you!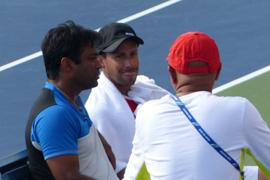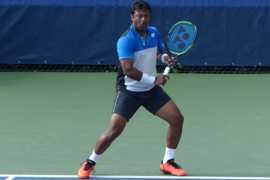 Mixed Doubles: Melichar / Marach – Grönefeld / Gonzales 6-4 6-4
After Grönefeld's first appearance that day had been successful, but limited in effort, I wanted to have a look at her mixed doubles appearance. Austrian Oliver Marach and Nicole Melichar played a very leveled and thereby strong mixed doubles team. Especially the 25-year old American Melichar played some very impressive shots while I was there.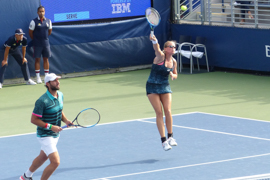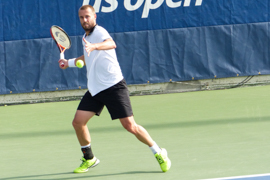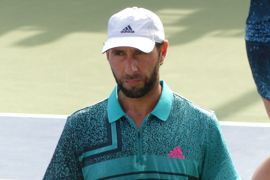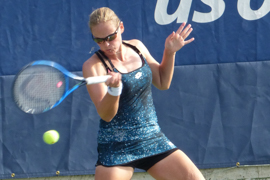 There were still some matches ongoing – I might have saved a spot at Armstrong to see the German battle – but I just did not feel to much like it any more – so I left a bit earlier than expected.
US Open 2018 – Match Picture Gallery
To see more match pictures (also in larger size) of the two days of my visit, please visit the gallery:
There is also a designated article about how the US Open are like from a spectator's perspective.
I just used my point and shoot / bridge cameras for the pictures, as I had ordinary tickets for this event. Thus, please excuse the limited picture quality.
Postings about Tennis
Here are all postings which are related to tennis on Flyctory.com
USA – All Postings
Here are all postings which deal with the USA: