What would a visit to the Silicon Valley be without at least visiting one computer museum? Duing my February 2020 trip, I did the Computer History Museum at Mountain View, California, just close to where all the electronic revolution started. Time to share my experience with you in this posting.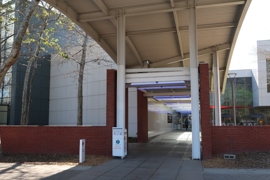 Computer History Museum – Location & Admission
The Computer History Museum is located right North of the US-101 in Montain View. The Google campus is located right next to it. It is about 12 miles away from San Jose Airport and 25 miles away from San Francisco Airport. There is a local bus stop, Shoreline/Pear right in front of the museum, but I did not fully check out its connections.
Adult admission to the museum was 17.50 USD at my time of visit. They museum also offers Geek Packages, which include stuff like a t-shirt, punched cards or more apparel. The museum hours were Wednesday to Sunday, 10:00 to 17:00 hrs.
Computer History Museum – The Visit
The museum is split into twenty sections. In general, the sections are representing a topic, but they also have some sort of chronological order. The first sections, for example, are Calculators, Punched Cards and Analog Computers. You visit will finish with Mobile Computing, Networking & th Web and What's Next?. There is also a short Orientation Theater show. Even though each individual section is not overwhelmingly large, they do contain quite some interesting and diverse items, also as there are very often drawers or interactive exhibits, which enrich the displays.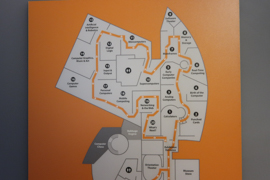 I personally enjoyed the first sections of the visit most. The overview on historic computing was really good, having some interesting machines in display.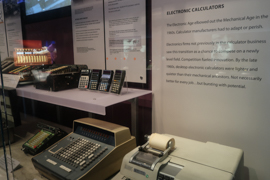 After the first couple of sections, you run into topics like Real-Time Computing, Memory & Storage or Supercomputers, which I felt are generally very impressive to watch (even if the museum ones have a low capacity compared to nowadays machines. you more and more head to towards more recent topics, when you touch areas like Input & Output, Computer Graphics, Music & Art or Computer Games.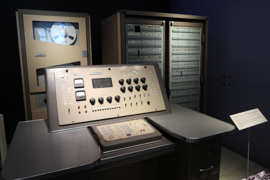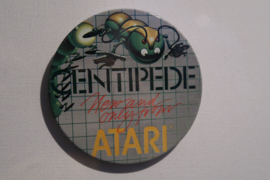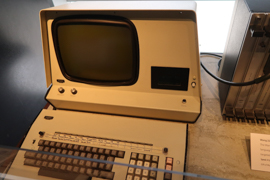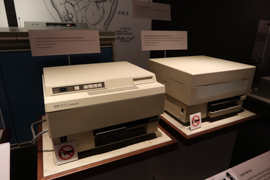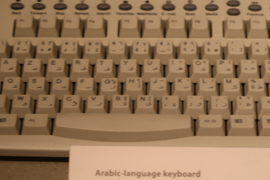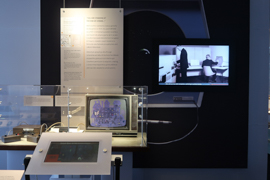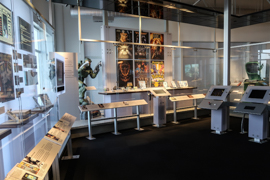 Starting with Personal Computers, you finally run into the last four out of 20 sections of you museum visit. I liked that part as it – naturally – gave me a lot of memories about my time starting to interact with computers.
The separate Software Lab shows computer applications like Wikipedia, World of Warcraft, but also a car crash simulator, which was really interesting as well.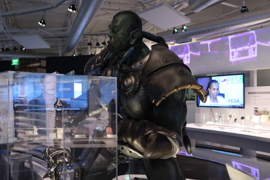 Computer History Museum – Services
Of course, no museum visit is complete without visiting the ouvenir shop, which offered quite a bunch of geeky stuff. I could stand the temptation to buy something there, but it has indeed been a close one.
The Cloud Bistro cafe was very popular among the visitors. I had a lovely sandwich there. Overall, I felt it is a really nice place for a snack, located in the main lobby.
Computer History Museum – My View
The Computer History Museum is really a well driven place with a lot of interesting exhibits. Depending on your level of "geekiness", you might spent some hours up to a whole day in that place. I really enjoyed being in it – even though the place might deserve more space to finally host (even) more exhibits. Still a Top Pick!
USA Travel Top Picks
Here is my list of travel reviews about the US, which lead to my Top Pick! rating award:
Technical Museums – Other Postings
Here are all other Flyctory.com postings dealing with technical museums and exhibitions: