Already right on the very first day of my Pittsburgh Penguins trip in March 2022, I visited the new home venue of the New York Islanders, the UBS Arena in Queens. The match on 10th March 2022 has originally been scheduled to be a battle between the Islanders and my beloved Pittsburgh Penguins. Covid-19 required some schedule shifts and so the Islanders faced the Columbus Blue Jackets the same day. Here are my thoughts about the arena.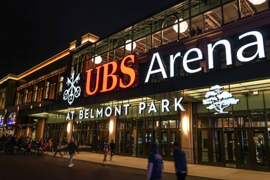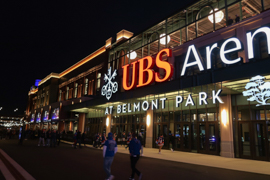 UBS Arena – Location & Traffic
UBS Arena is located on the Queens side of New York City, in the Borough of Elmhurst. The brand-new arena opened in late 2021 has been built right south of the horse racing track Belmont Park. At my time of visit, important infrastructural sites of the arena have not yet been fully completed. This also includes a car parking garage and a hotel, which will open right next to UBS Arena. At the moment of writing, there is no major accommodation (apart from some Airbnb options and very few places with obscure ratings) around the arena. You even won't find some sensible place to sleep roughly in a two mile distance. Elmhurst is majorly a residential area – there are also very few bars or place to hang out before / after the match.
You will find a lot reports about chaotic traffic around UBS Arena, especially during the first weeks after opening. In early March 2022, there were only three parking lots in place, Emerald Parking (North), Silver Parking close to the arena and South parking, all fed by different exits of the Cross Island Parkway. You have either a some ten minute walk from Emerald Parking to the arena or a shuttle bus service. In addition, that was the only parking lot I could book a spot for in advance. The shuttle buses worked rather well – there seemed to have been major issues at the first matches, though. Needless to say that going to UBS Arena by car will likely expose you to New York traffic jams.
Incomplete Public Traffic Connection
At my time of visit, the public transport situation was poor. The Long Island Railroad (LIRR) has been serving Belmont Park, but there were issues with trains only stopping at certain stations, depending on the direction of traveling. This is about to be solved in the near future, so that the connection to Manhattan should improve significantly. There are also bus connections (Q2/Q110). At the moment, taxis / ride shares feel to be the only alternative to driving by car, especially for late evening matches.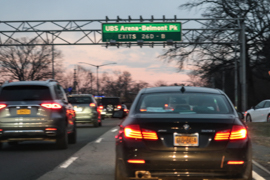 UBS Arena – Arena & Ticket Situation
Even though the Islanders are the key renter, the UBS Arena is a multi-purpose arena and is also very frequently used for concerts and other entertainment. For the ice hockey team, UBS Arena replaces the Nassau Coliseum and the Barclays Center as a home venue. The arena has been opened on 19th November 2021, having a capacity of 17,255 (for ice hockey) / 18,500 (concerts). What I especially liked is that the routes through the arena are very efficient, the aisles are comparably wide. There is a lot of club and suite seating, especially in the lower rink.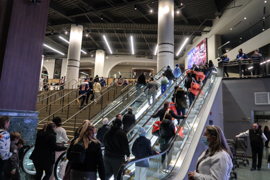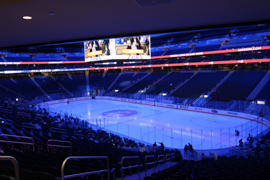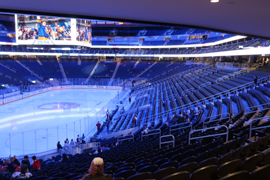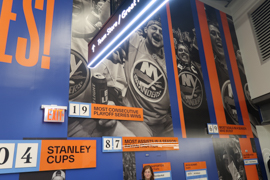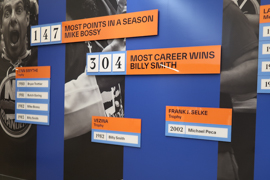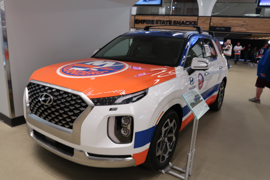 It might be also due to the rather incomplete traffic situation, but I was quite surprised about the ticket pricing at UBS Arena. My ticket for a lower ring seat behind the goal was 86.70 USD only. The initial ticket for the Penguins match (which is likely a more attractive opponent) was just slightly more expansive before I had to refund it due to the schedule change. Generally, most Ticketmaster tickets are mobile tickets only. This may be unfortunate for foreign country visitors in case of WiFi/internet issues. If you care for your ticket early, the ticket situation is absolutely fine for single match purchases.
UBS Arena – Atmosphere
I have been to New York Islanders matches at their previous arenas already – and one thing I absolutely love is that they are comparably close to European ice hockey experience. The Islanders fans are still quieter than their European peers. However, there are people (not displays) who are supporting their team and cheering for their team without being told to do so. This leads to a very fun experience. One very special thing is that the Islanders fans raise the US flag over the heads of their fans while their anthem is played before the match. That almost leads to some sort of "choreography" feeling.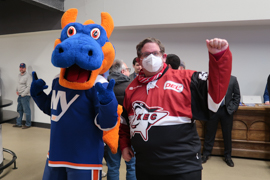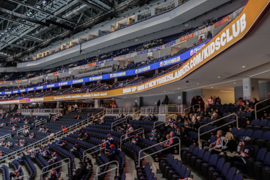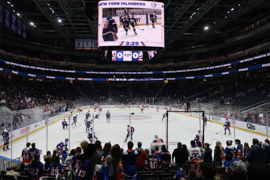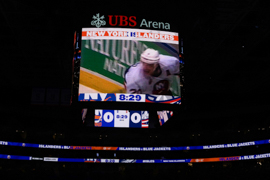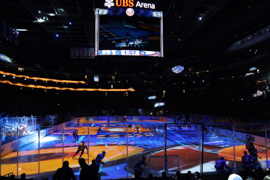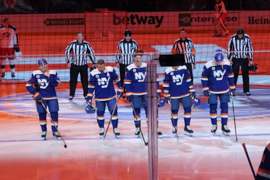 UBS Arena – Food & Shopping
There is a wide range of food available. Like most arenas nowadays, they have snack bar services as well as supermarket-alike food shopping available. The food was rather pricey, but I appreciated that there was a soda flat fee coming with a souvenir mug (14 USD). I just arrived from JFK Airport and had quite a hurry so that I definitely did not drink enough that day. The organisation around food is very good. Nonetheless, I just felt that there could be more spaces where you can have your bite in the aisles of UBS Arena. I am just not sufficiently "Americanized" to consume all my food and drinks at my seat.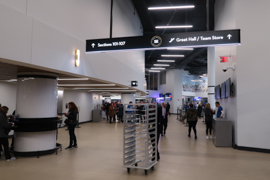 The is, of course, sufficient opportunity to invest your credit card balance in souvenirs rather than in edible items. The souvenir store is quite large and offered a nice range of items.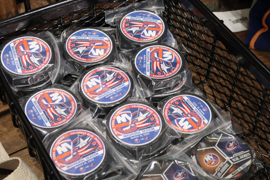 UBS Arena – My View
Apart from the public transport situation, I really enjoyed visiting UBS Arena. The connections, however, caused a lot of organizational work for my trip (hotel location, getting around). You see that the venue is built on latest standards. Unfortunately, that also means that a lot of good seats are business seats and loges. Single match visitors may hardly sit in the middle of the lower rank, for example. The infrastructure is the biggest issue of UBS Arena. Currently, I don't believe this will really fully change after all changes (like the hotel) envisaged. You simply need more hotels and more connections in walking distance to be able to escape the heavy New York traffic.
Flyctory.com about Ice Hockey
Here are all ice hockey postings on Flyctory.com:
Postings about Canada
Here are all Flyctory.com postings dealing with Canada: