On my December 2019 trip to Pittsburgh, I had to book an additional night as I had to reschedule my American Airlines Premium Economy flight. For that booking, I went for the Hampton Inn & Suites Pittsburgh / Waterfront in West Homestead, at the Eastern suburbs of my ice hockey hometown. I stayed there before a couple of years ago and especially liked the stores around, including a Dave & Buster's.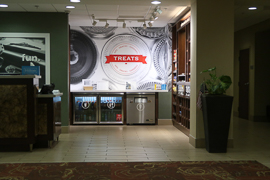 Hampton Inn West Homestead – Location
The hotel is located right at Monongahela River, at the edge of a shopping mall area. It is in fact not too far away from Pittsburgh, so that you can easily commute into the city. Of course, the hotel offers free parking.
There are a lot of services around, including a cinema, stores of all kind, restaurants and the Dave & Buster's. In summer, you may also visit the former steel producing sites nearby on a tour. I did not only have a river view room, but there is also a nice river walk and fireplace at the rear of the hotel.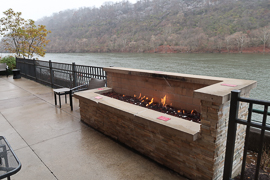 Hampton Inn West Homestead – Rooms
My prepaid one night rate in December 2019 was 135 USD. Overall, the room was very spacious and just met what you expect of a Hampton Inn room.  The room was clean, I had a lot of room for my luggage and the room featured a fridge. Very nice place to stay one or more nights in, definitely.
The bathroom was fine as well and very spacious as well. I have to add, though, that the water pressure in the shower was far away from a monsoon and rather close to a light shower, which was very bothering. Having said that, the bathroom was clean , and all amenities were available.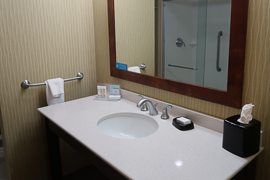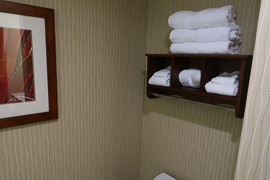 Hampton Inn West Homestead – Breakfast / Food
The breakfast area was just under renovation during my stay, which is of course a bit unfortunate for a review. Overall, the breakfast was much more on the disappointing side than I experienced it in previous stays. Most of the items you would expect at a Hampton breakfast were available. However, there were some unfortunate things. For example, there was just one kind of waffle dough in the double dough spender – and no dustbin around to put the dough cups in. I also felt that the layout was too unfortunate for the staff, who had to work very hard to keep up with refilling consumed items.
Hampton Inn West Homestead – Services
The check-in was very friendly and efficient. I was also offered a lunch bag at check-out (which includes a pastry, a cereal bar, an apple and a bottle of water), which I absolutely liked. As you see in the pictures above, the hotel offers a small store next to the reception for some snacks. Finally, the WiFi quality was reasonable as well.
The hotel features quite a nice gym and pool area. The gym is comparably large and offers quite some machines for a workout. I did not try the pool, but the area looked very nice as well. Again, the size was rather on the above average side for a hotel of that level.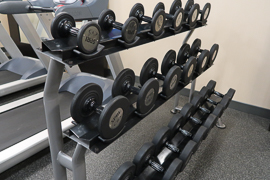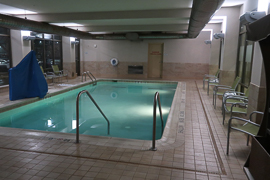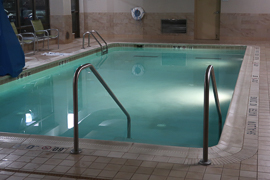 Hampton Inn West Homestead – My View
It was the third time I stayed in the Hampton Inn at West Homestead. Unfortunately, it was the worst one. Sometimes you are lucky and sometimes you have a below average time. The hotel is still a good choice in many aspects, but just did average when I was visiting it in early December 2019. I am quite sure you will have a better time when you are around, though.
Flyctory.com in Pittsburgh
Here are all other postings by Flyctory.com related to Greater Pittsburgh:
All Hotel Reviews
Here are all postings about hotels and other accomondation: