In order to explore downtown and the central sights of Kansas City, I opted for the Hampton Inn & Suites Kansas City Downtown/Crossroads. Apart from a somewhat reasonable pricing, I especially liked the location and traffic situation around the hotel. Here is my review, based on a stay in late July 2022. The Hilton Group Hotel was rather new at this time and operating for some one year.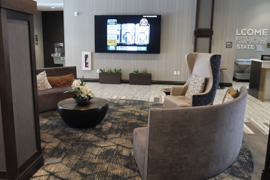 Hampton Inn K.C. Downtown/Crossroads – Location
The hotel is located right in the heart of Kansas City, in the Crossroads borough. Thereby, the Hampton Inn Kansas City Downtown Crossroads is also a good option when you happen to arrive in the city by one of the four daily train options. The Kansas Streetcar stop Kauffman Center (Northbound) is located right in front of the hotel. If you arrive by car, the hotel is managing an open space parking across 16th Street. The daily parking fee was 10 USD during my visit.
The area is really nice. There are a couple of other hotels and restaurants. You need to travel one stop by streetcar (in either direction) for minor supermarkets. The hotel is two stops away from Union Station and five stops from City Market.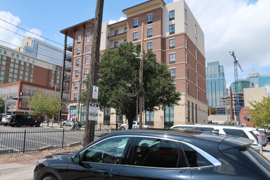 Hampton Inn K.C. Downtown/Crossroads – Room
I had booked a Double Queen Non-Smoking room with fridge and microwave. The prepaid / non-refundable rate was 155.60 USD including all fees and taxes. In general, the style of the hotel reminded me more of the new Hampton hotels in Europe than of the traditional Hampton Inns. The room was cozy and fine in size, coming with a nicely sized work desk. The newly designed Hampton also had a nice number of power outlets.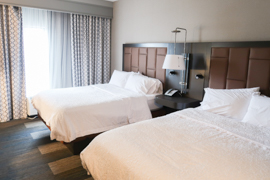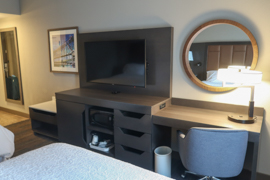 The shower/bathtub bathroom was nice as well and came with a good size. Sufficient towels and amenities were provided. Given that the room was very close to the elevator, I could clearly hear the ringing of the elevator bell when a car arrived.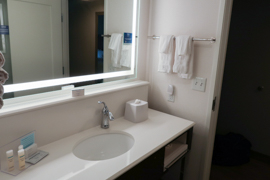 Hampton Inn K.C. Downtown/Crossroads – Breakfast
Like the whole lobby, the breakfast area at this Hampton Inn is a beauty. However, the selection of breakfast items was slightly more limited than at the Hampton Inn Kansas City-Airport I had stayed in two nights before. The presentation is really nice though – and the spacious room leads to an easy potential to upgrade the dishes offered.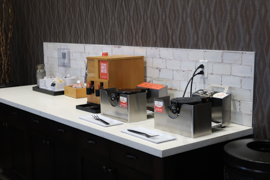 Hampton Inn K.C. Downtown/Crossroads – Service
WiFi in the hotel worked really well. In the basement, the hotel is offering a nice and comparably spacious gym. The staff was really friendly.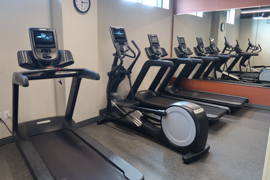 Hampton Inn K.C. Downtown/Crossroads – My View
The Hampton Inn & Suites Kansas City Downtown/Crossroads indeed gave me a great stay in Kansas City. The excellent local traffic allowed me to do a lot of places on my list with local transport, the staff was great, the room new and modern. I definitely recommend if you put Kansas City on your travel list.
Soccer-related articles
Here are all soccer-related postings on flyctory.com:
Hilton Hotels in the USA
Here are all my hotel reviews of Hilton Hotels in the USA: