Even though there is the new Grand Ole Opry building (which I, for example, visited on 18 March 2022), the Ryman Auditorium is without a doubt the most classic and magical concert venue in Nashville. Music City hosts so many concerts, but this former church just comes with a very special and unique aura. While I have so far not been gifted to visit a show at "the Ryman", I at least took a look inside on a self-guided tour on the sixth day of my Pittsburgh Penguins match-chasing trip in March 2022.
Ryman Auditorium – Location & Admission
Officially, the Ryman Auditorium is located at 5th Avenue in Nashville Downtown, right at the Broadway and located across the street of the National Museum of African American Music. However, you nowadays enter the building from 4th Avenue. This does not make too much of a difference, Many key Nashville sights are in short walking distance – and the transport advice is the same like for all Downtown attractions: public transport is limited, parking prices are ridiculous. Thus, either make use of a full day in the city, don't care about the costs – or go for an Uber to get there.
Ryman offers self-guided tours daily practically – there are only some limitations in case of shows. You can pre-book a daily ticket online and visit anytime daily between 9:00 and 16:00 hrs. The online price is 31.65 USD, which includes a very high 4.65 USD convenience fee (nominal ticket price is 24.65 USD). Thus, if you are not arriving at a very busy day, you may simply walk-in and pay 27 USD, incl. tax and fees. Some discounts are available.
Ryman Auditorium Tour – The Visit
Your tour starts at the Balcony Level of the Ryman Auditorium, before you go down to ground level and the stage. Before you enter the venue itself, you are watching a nicely done and illustrative movie about the story of the Ryman. This, of course, also includes famous people of the Ryman Auditorium history and why the venue was closed for a quarter of a century between 1974 and 1999. You then pass a lot of posters advertising for Ryman concerts of all genres. Even Weird Al Yankovic recently had a show in the Ryman, but you also find Ed Sheeran or other acts, which you wouldn't necessarily see as typical Nashville acts. At the evening at the day of my visit, for example, a metal band played on the legendary stage, for example.
During your visit, you can explore the stands, walk around the auditorium and also learn about a lot of Ryman Auditorium stories in showcases and video screens. The traditional wooden bench seating is of course a key signature feature of this place. Of course, the showcases are much more museum-alike. You really learn a lot about the history of the place, not only famous artists. Before you head on to the ground level of the venue, you can even walk along a timeline of the Ryman and deeply dive into some information.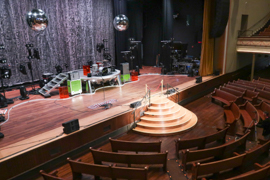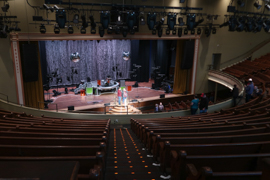 Ground Level – Take a Picture at the Famous Stage
The exhibits on ground level rather deal with famous artists. There are a lot of items like costumes, musical instruments and similar items in the cabinets and desks at the rear of the seats. Last but not least, you can also set your food on the world famous Ryman stage and have a picture of you taken. While this sounds like an additional 20 USD added to your Ryman visit bill – but in fact, this service is free. You can grab your picture at the end of your visit in the gift shop. This is amazing service.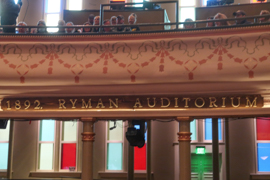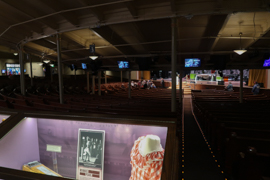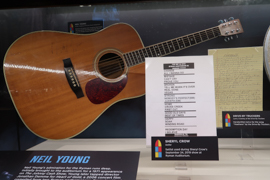 Ryman Auditorium Tour – Services
The staff at the Ryman was super-friendly. I chatted with one of the guest assistance staff for about a quarter of an hour. Of course, there is a souvenir store with a wide variety of items. As said above, you may grab your free picture in the gift shop as well.
Ryman Auditorium Tour – My View
Visiting this 2,200 people venue is just magical. The staff is friendly, you feel the magic and the history of place all the time. Leaving the Ryman Auditorium with your free souvenir picture is of course adding a big smile at the end of your visit. The self-guided tour is of definitely a great choice if you cannot make it to a Ryman show.
Postings about Nashville
Here are all reviews and more about and around Music City:
Stadiums & Arenas
Here are all reviews and reports about (sports) Stadiums & Arenas: