I am not too much of a casino person. However, I love being in Las Vegas as it is also an amazing hub for nature travel. The Grand Canyon and the Hoover Dam are likely the popular ones, but for example Red Rock Canyon is also an amazing visit. Before watching my last hockey match on my California / West Coast tours with the Pittsburgh Penguins, I headed to Nelson, Nevada, just a few miles away from the Arizona state line. My destination: a ghost town, left after the mines did no longer produce sufficient gold. I had an amazing time.
Nelson Ghost Town – Location & Admission / Fees
Nelson is located South of Las Vegas. You slightly face Eastbound, as if you were visiting Hoover Dam, but then turn South on US-95, before you head east towards the mountains on route 165. You have to pass the village of Nelson before getting into the Ghost Town – as the route crosses the place, you just cannot miss it.The trip from the Strip is roughly 40 miles, 40 minutes.
In general, visiting the ghost town is free. It is, however, driven professionally. The family which is owning the place is selling licences to professional photographers and movie crews, who use the place and inventory for their snaps and stripes. I am sure it is an amazing place for that. Thus, if you do photography of that kind, you are asked to first go to the store (see below) and negotiate the price. The store also holds a tip jar, which I would call a more or less mandatory thing to leave a bunch of your dollars behind. In addition, tours to the mine are of course subject to a fee as well.
Nelson Ghost Town – The Store
I would likely recommend to visit a the store in Nelson Ghost Town before you go through the area. As said above, you are also meeting the staff of Nelson Ghost Town there. The store is a wonderland of collected items – some of them are even for sale. The staff they own in there is simply amazing – if you like those kind of things, you won't stop smiling (and if you hate old stuff, you will likely not got to Nelson anyway…). The store is also the only building you may enter (at least, without a guide).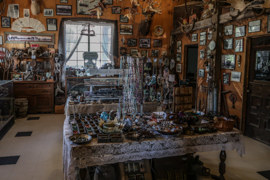 Nelson Ghost Town – The Town
The ghost town itself is as diverse as the store. Countless old cars, even trains, gas station stuff, all kinds of machines – and, last but not least, the buildings themselves. The scenery around the town is just beautiful as well. You can easily spent an hour or more just being fascinated by all the items.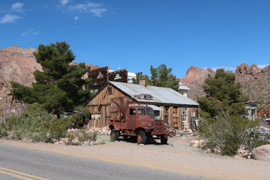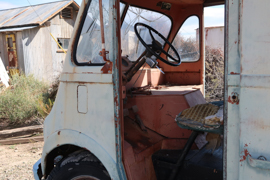 Nelson Ghost Town – The Mine
You can still visit the old mine, Nelson Ghost Town is offering guided tours to it. Unfortunately, I cannot do these kind of tours due to health issues. I am sure, it is a memorable experience.The adult admission price for this Eldorado Canyon Mine Tour is 15 USD per adult.
Nelson Ghost Town – My View
Yeah, it is quite a drive to Nelson – but it is absolutely worth it. I feel so gifted to have visited this place – a huge thanks to the people who keep this one up and running, it is a hidden gem. There are also tours from the Sin City, but especially if you have a rental car, I urge you to put Nelson on your bucket list for Nevada.
Flyctory.com in Las Vegas
Here are all postings about Las Vegas and surrounding:
Technical Museums – Other Postings
Here are all other Flyctory.com postings dealing with technical museums and exhibitions: