On my Weird Al Yankovic Tour trip, I also visited some of the major Atlanta sights. The "World of Coca Cola" praising the soda empire is likely the most well-known one in the world (though there are other major ones like the CNN Tour, the Georgia Aquarium, the Martin Luther King sites….).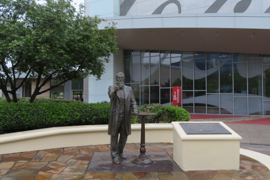 The admission is quite moderate with 17 USD for Adults. An alternative is the so-called City Pass, which allows you to enter five attractions in Atlanta, three of them are fixed (World of Coca Cola, Georgia Aquarium, CNN Tour) and two others to choose from, among them the Atlanta Zoo or the College Football Hall of Fame. The tickets are not timed, so it may happen that you have to queue outside the museum to get in (which did not happen to me when I visited on a Sunday, but I saw queues the Monday after). After safety procedures, you are in some sort of reception lobby, where you are offered… a can of Coke – what else? (four flavours to choose from).
From the very beginning: It's all about marketing
The reason for that is mainly that the first two rooms you visit are not just mandatory, but also guided and have fixed times to go through: the first one is called "The Loft" and is comparably interesting with a lot of Coke exhibits from all around the world and all eras around. This is where you are welcomed by your (how could it be different in a Coke temple in the US) highly motivated guide, who is pointing out some of the stuff in the drawers or at the walls.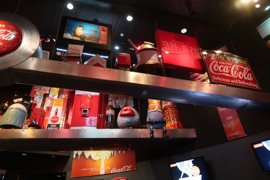 The second stage is called "Coca-Cola Theater" – but could also be named as "The likely longest soda advertisement you have ever seen" – they name it "Moments of Happiness". You have to see a movie, which in general does not have to do anything with Coca Cola – apart from that it is telling you that whenever you have a good time, you just need to have one of the drinks of the Atlanta-based drink empire. Quite sure you deeply feel that message when you stood this movie after some six minutes when the screen is lifting and freeing the way to the remaining museum.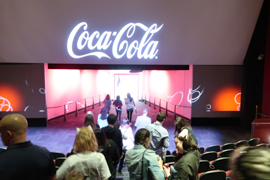 Take pictures, be amazed, love Coke!
You are now in "The Hub", which is the place where you finally can choose any of the exhibits of this place (I don't dare to call it "museum" or similar). The only thing you can do in "The Hub" except queuing is to take a picture with the Coca Cola polar bear – which is of course taken by the friendly Coke staff, who give you a slip to purchase the pictures at another point. Some people seem to have managed to get pictures on their own cameras, though. There are also differently designed (i.e. painted) Coke bottles around this place. The bottles are also in focus of one exhibition on that floor called "The Bottle Works" – if you ever wanted to see how they fill these well-known glass bottles, here is the place to go and explore.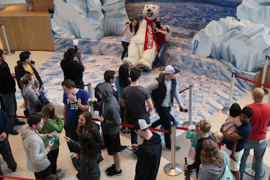 Flagship Attraction: the Recipe
Most likely, however, you first queue in the line for the "Vault of Secret Formula". Yeah, you may really see the original recipe? Wow! Before you do it, you pass a lot of exhibits about all the background how Coca Cola has been created by legendary John Pemberton, who could most likely be described as some sort of "soda alchemist". I was most curious about that part – how much will Coca Cola reveal in their secret place? To make a long story short: two potential ingredients of the original recipe are not mentioned throughout the museum (which very likely lead to the naming): cocaine and kola nuts. The only thing you do get to know is that it has been the bookkeeper who had the idea to the name "Coca-Cola". No more comment. Interesting that the DEA Museum about Drug Enforcement in the USA in Washington clearly states that Coca Cola contained cocaine in the beginning.
After a couple of exhibits, you finally end up in some sort of team game, where you have to find some people around who are making strange movements which are then included to a video game. If it works out in time (I am sure it always does), you stand in front of the massive vault, which holds the original recipe. They really put this one into the building and the recipe inside… But finally, you just see a big, big piece of metal in front of you.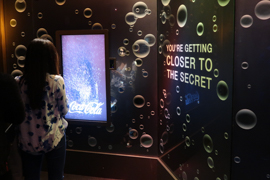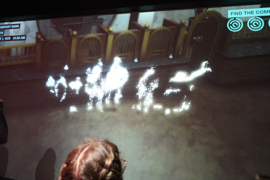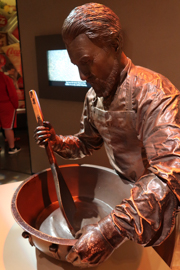 The World-wide Distribution of Coca-Cola Brands
The final exhibit on ground level is called "Milestones of Refreshment", which is quite likely the most interesting one, as it tells you a lot of the history of the company and how the portfolio of drinks have evolved over time. This exhibition also shows how Coca-Cola is involved in the world of sports (like the Olympic Games). Of course, you will also just have the "good stories" here. Coke is happiness, not critical thinking. Nevertheless, there are a lot of interesting things to be seen including drinks where are only distributed very locally (Germans will feel at home when they see the Mezzo-Mix exhibit, for example…).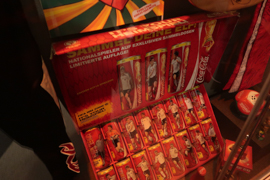 If you are more interested in the different Coca Cola brands, you will love "Taste It" on the top level, which is likely the exhibit you do right before you leave – and the one you were looking forward to: in multiple soda machines split by region of origin, you can taste a lot of these local drinks – if you do it extensively, prepare for massive pee breaks on the remaining day! It is definitely very interesting and you will end up being filled with sugar for the rest of your Atlanta visit. However, in order to feel not too comfortable there, the floor is really, really sticky – it is likely nearly impossible to keep it clean with all the pops dripping on the floor.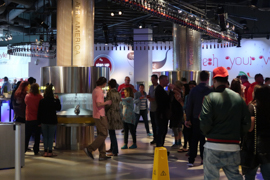 Some more advertisement on Top Level
I have to admit that I did not enjoy the remaining exhibits on top level. There is a "Coca-Cola Portrait Wall", which shows you how good is the empire for the communities around the world. "Pop Culture Gallery" is again showing Coca Cola Arts, from painted bottles to furniture (did you ever want to have a pic of you in a Coke sofa? Get this one!) or the small "Perfect Pauses Theater", which is showing Coke TV advertisement. Nowadays, any tourist trap needs a 4D Theater – and so there is one at top level, too. If you are a Coke-addict, you will of course end up in the souvenir store right before you exit this second-best rated Atlanta attraction – it is hard to say if there is any Coke article you could imagine, but not find in the shop!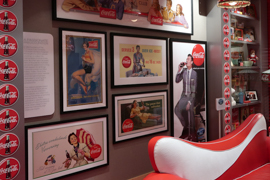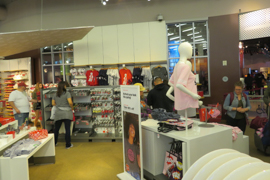 My Thoughts on "World of Coca Cola"
If you define a museum as a place with exhibitions which gives you valuable experience and learning of any kind – it is hard to agree that "World of Coca-Cola" is a place of that kind. To me, it is rather a huge marketing place for the drink provider. Some exhibits like those dealing with the world-wide distribution are really interesting and maybe even really teach you something, some others are quite disappointing unless you really love the drink(s) and just enjoy any piece of the franchise's history. "Taste it!" is definitely fun and interesting (some stuff really tastes awful in my point of view – but I am sure that other culture think the same about "Mezzo Mix" or other European local favorites. As the price is not bad and you finally end up with a lot of drinking, you should likely do this one when you are in Georgia's metropole (your friends will ask you for that anyway…), but if you are short in time, there are definitely better places to go than this one.