Holy Land Experience is a theme park in Orlando, which you typically find quite quickly when you google for something like "Weirdest Theme Parks in the World". In close proximity to Universal Studios, you don't find any roller coaster rides, but a park about the Bible and Christianity. Though I am not too much in these topics, I felt to give it a chance when I was in the area on my own. Religious fundamentalist freak show or worth visiting? Here is my review.
Holy Land Experience – Location & Admission
Holy Land Experience is located right at the I-4, across Millenia Mall and close to Florida's Turnpike. In contrast to most other theme parks, parking is free. From the Hilton Garden Inn Orlando at Sea World I stayed in, it was a some twenty minute drive.
Adult admission is 50 USD. As for most Orlando attractions, you will find some coupons to reduce the admission. Compared to other Florida theme park, this is quite low. One reason for this is that a significant part of the funding of the park is coming from donations – there is even a donation link on the park's website. The park officially opens its doors from Tuesday to Saturday, 10:00 to 18:00 hrs. As the first performance (see below) is at 10:00 already, I in fact entered Holy Land Experience around 9:50. I would also recommend to be there early due to the special philosophy behind the park.
Holy Land Experience – Visiting the Park
If you typically visit an amusement park, you get into it, rush to different attraction in whatever order you feel like (or feel to be profitable due to the queues) and leave it when you are fully exhausted of all the looping rides, ice creams and other thrills. Holy Land Experience is different. I would rather describe it as a tour through an historic replica which is structured by the schedule of its shows / performances. If you reach the park at 10:00, you will likely first go to Lazarus' House followed by Jesus At the Temple, just because they are the first performances of the day (and the only ones at 10:00 and 10:20). If you enter the park after 10:20, you may still catch one of the performances at Lazarus, but Jesus At The Temple is done for the day as it is just performed once a day.
Thus, I split the performances into Recurring Performances (which are typically held in minor theaters) and Onetime Performances, which have a fixed daily time slot (based on my visit on 10th August 2019). I was not aware of that structure before my visit and planned some additional things this day – thus, I did not see all performances.
Recurring Performances
The first performance I saw was Lazarus' House, in which you really have a look into Lazarus family life with his two sisters. Later, Jesus is visiting with some disciples. Already in this early play, I saw a couple of characteristics about Holy Land Experience, which were quite in contrast of my expectations: first of all, some of the dialogues really had some sense of humor and were entertaining. In addition, the quality of stageplay and singing was really at a quite high level. The small theater bursted because there were so many people who wanted to see it.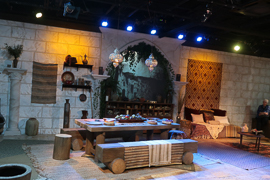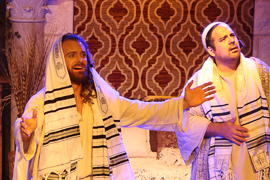 The second recurring play I saw was Talita's House. You find this story in the Gospel of Mark only. Talita is very ill and the doctors have given her up already. Her father is not sure about calling Jesus, but finally her mother and her brother manage to get him into the house. Talita is already thought to be dead, but Jesus is telling her to sit up and she is arising. In this play, also Jesus's mother Mary appears and tells of Jesus' birth.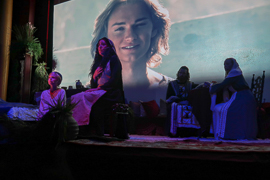 Simeon's House was played twice on the day I visited. The House of Judea, where it was played was quite large and hosted several hundred people. Simeon invites Jesus and his disciples to his house after meeting him at the temple (see below). However, a prostitute is occuring and Jesus is welcoming her which leads to confusion. In addition to these three plays, there is also The Wilderness Tabernacle about Aaron passing his legacy of priesthood to Eleazar, which I did not visit.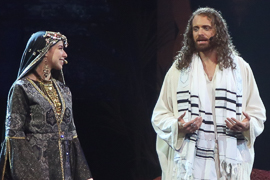 One-Time Performances
The first performance of the day which was just played once was Jesus At The Temple. The title is quite self-explanatory. However, it is not just about Jesus and the Disciples meeting the Pharisees, but there are also parts of the Sermon on the Mount in this ten minute play.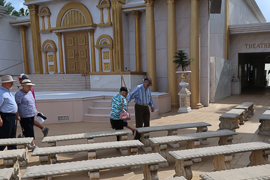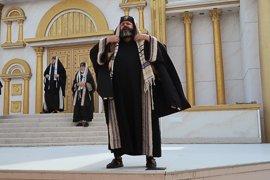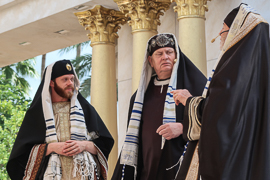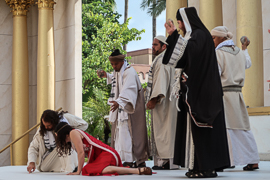 Another ten minute episode played outside was Welcome to Capernaum, in which Holy Land Experience displayed some of his wonder. After that show, Jesus was also playing with some of the kids actors and also invited the minor guests of the park to play with them. The day concludes with Lazarus' Resurrection at the Tomb, which I did not watch.
The signature show of the park is David: The King of Jerusalem, though. Like the other theater plays, it is like a passion play, a combination of acting and singing (or like a musical with a limited focus on dancing). It shows the story of King David. The amazing thing about this play is that has an overall duration of roughly 2:30 hours and is played in three acts with breaks in between. I just saw the first part, which was very well presented (note: the Jesus character in this play represents God). The play is held in the massive Church of All Nations theater.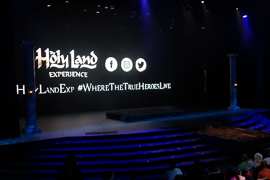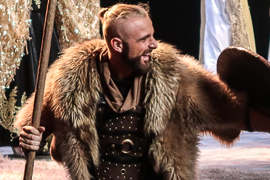 Holy Land Experience – Atmosphere & Other Attractions
As you may have seen in the pictures already, the park is nicely arranged. There is quite a lot of green there as well. I enjoyed to walk around. Especially during major shows, you even found a quiet spot to enjoy. The area around the Lake is really beautiful. All around the park, there are small places of biblical reference, for example a small Garden of Gethsemane corner, a model of Bethlehem or large He is risen letters in plants on the lake shore. Overall, I feel that the park has a nice atmosphere.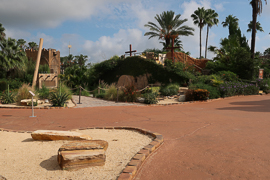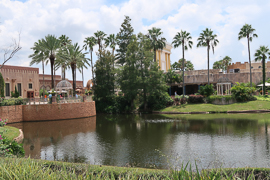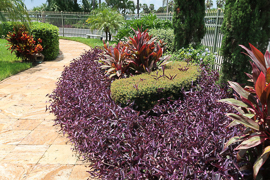 The park also features two key attractions, which you can visit more or less any time. First of all, there is a huge model of historic Jerusalem (which is the largest indoor one in the world). Twice a day, there is also a tour about it.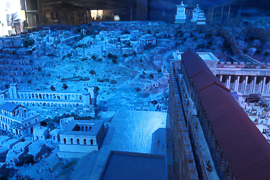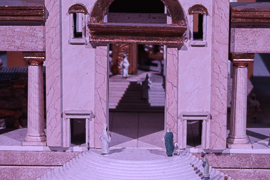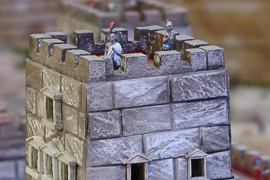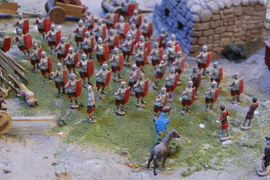 One of the key attractions of the park is The Scriptorium, which is hosting a large collection of bible time artefacts. The Scriptorum can only be visited by a 55 minute fully guided tour, which is starting every seven minutes and is thus closest to other amusement park attractions. This is also the only show which is available in Spanish on demand, regardless of the high number of Spanish-speaking people visiting the park. It is the only place in the park where photography is prohibited.
Holy Land Experience for Kids
I am not sure how long you can really fascinate our youngest ones with the good performances of the actors and the stories of the bible. Finally, there is some program for kids. The key place for them is likely Smile of A Child Adventure Land which holds a small theater and a colorful Noah's Ark themed play area with a lot of animal figures. A very remarkable attraction is a nine-hole mini golf course, though. Every lane is themed after a different topic in the bible.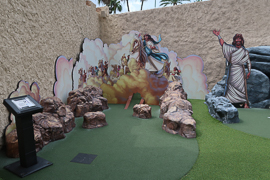 In addition, once a day, after the first act of the David: The King of Jerusalem performance, the park offers a Roman Soldier Training Camp in close proximity of the Church of All Nations theater.
Holy Land Experience – Food & Drinks
There are a couple of places to have a drink or a bite. The key restaurant is likely Esther's Banquet Hall, which is very central in the park. In addition, there are some more places. One iconic one may be the chance to have the Last Snack together towards the end of the day. I did not try any in-park food, but at least the prices looked very reasonable.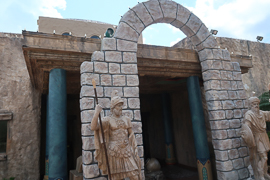 Holy Land Experience – Shopping
There are a couple of stores around the park. The two major ones are likely at the entrance and close to the large theaters in the back of the park. One funny fact of Solomon's Treasures close to the entrance is that it is closing over noon. The reason is that people are expected to be around the major stages and not around the entrance area – so there is finally nobody there. It is simply not a normal amusement park.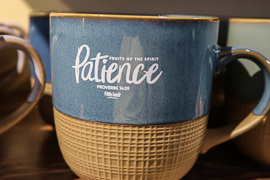 Holy Land Experience – My View
I have been baptized as a kid and later decided to quit church again. This means, I knew most of the stories told, but do not believe in Gods in general and even less in things like church. I did not expect too much from my visit in the park. Finally, I have to say that I was very positively surprised. You may not visit the park just because you are not interested in the topic, but they definitely do a very good job there for a really reasonable price. The atmosphere is nice, the quality of acting much better than you would expect and even on a Saturday, it was not as crowded as other parks around. If you go there, you should take the whole day. Compared to other parks, you will have a quite relaxed time.
Amusement Parks – More Postings
Here are all postings about Amusement Parks:
(Greater) Orlando – Postings
Orlando is much more than Disney – here are all postings about the Entertainment Wonderland: