One of my favorite franchises when being in the United States is undoubtedly Dave & Busters. It has been part of my Seven Things I miss about the US during the travel restrictions. The combination of different kinds of entertainment – sports, (arcade) gaming and dining, is quite unique and at least a concept you do not have as such in Europe. As I have in the meantime visited so many of their locations, this posting is rather introducing the brand than reviewing it – still I will share some of my experience, of course.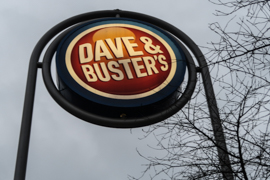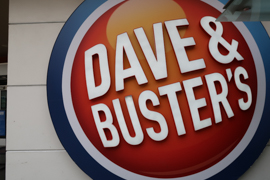 Dave & Buster's – The Concept
Dave & Buster's combines three dining and entertainment concepts into one franchise: on the dining side, Dave & Buster's places typically feature two areas: one, which is a bit more quiet and allows "normal" dining. On top of that, there are sports bar areas, either for majorly having a drink or in order to grab a bite. The special feature about Dave & Buster's is, however, their third pillar: the stores offer large areas of video game arcades. The name, of course, is based on the two founders, David Corriveau and James "Buster" Corley. They founded the first Dave & Buster's restaurant in Dallas in 1982. They sold the majority of the brand in 1989. The company is nowadays stock-listed and for example part of the S&P Small Cap 600 index.
Dave & Buster's – Locations
There are about 140 Dave & Buster's restaurants in North America. Two are located in Greater Toronto, all other are in the United States. There are Dave & Buster's franchises in 41 US States (including Alaska, Hawaii and Puerto Rico). California has most outlets (16), followed by Texas (13) and New York State (11 – all figures as of mid February 2021). I have been to close to twenty of their places so far. The busiest is at Time Square in New York City (my least favorite one so far), my favorite one is at Homestead, Pittsburgh. Many of the locations are in or around major shopping malls. If you have been at another location at your last visit you need to roam your card or device (see below).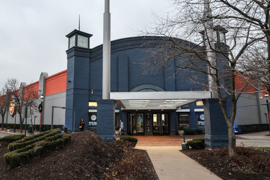 This posting will not review a specific place, but just give you a general overview on the brand (thus, there is also no rating). If you are in the states and fancy a bite and some gaming, just check on their website if there is a location around which suits you. Unfortunately, they block European IPs since a while from their website, which is a bit of unfortunate. I asked D&B about the reason for that, but they did not reply.
Dave & Buster's – Sports Bar & Dining
Most of the venues have two dining and drinking location: while there is typically a separate, more diner / restaurant style section, you also have a sports bar alike seating in the middle of the arcade area in many places. The menu is typically equivalent and offers sports bar classics like cheese steaks, pasta or beef dishes. The options are quite nice. There are also menus which give you additional chips to play in the arcade area. I do like to have a bite at D&B, but overall, I would not say that dining is the key reason you go to one of their locations. You might get better quality in other places.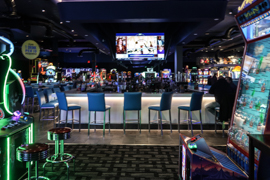 Dave & Buster's – Gaming
The size of the arcade area and the selection of machines differ between the locations. However, I generally feel that the games are typically well maintained, there are typically just a few technical issues at D&B at most. You either have a so-called PowerCard or a wristband, which is storing the two key currencies of Dave & Buster's: chips and tokens. You need chips to play the games. It is very hard to really say how much a game at D&B is – the price per chip significantly differs with the amount you buy and the rebates / coupons you apply. Overall, I feel that the games are reasonable.
You play games like dancing arcades, car racing or air hockey just for fun and spent chips without a revenue. Other machines, like wheel of fortune alike lotteries or skill games do pay you back depending on your result. Your revenue are tokens, which you can exchange at the D&B "shops" against souvenirs. There is also quite fancy stuff you can get like video game machines, games or other pricey items – but you will also need to be a very good gamer (or a lucky guy) for that. As said above, you can transfer chips and tokens between different locations – but be sure you roam at the reception desk before you start playing. I killed my account a few times.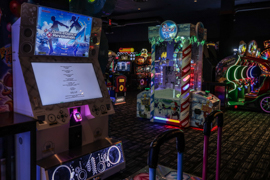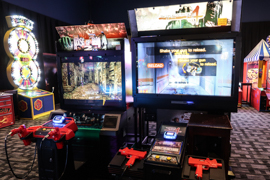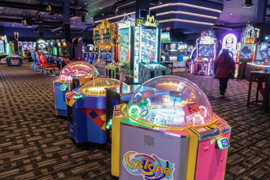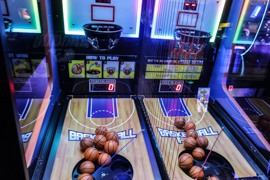 Dave & Buster's – My View
Dave & Buster's are a nice distraction. I especially love to be there as I really can relax there. I love the good quality of the games and the good maintenance. Even dining there can be nice, though it is typically not best quality. Thus, it is really one of my favorite things to do in the US – we simply don't have similar concepts (at least not nationwide) in Germany.
Gaming & Arcades on Flyctory.com
Video Games and Arcades used to be my passion – and I still like them. Here are all related postings:
Flyctory.com in Pittsburgh
Here are all other postings by Flyctory.com related to Greater Pittsburgh: