The Californian In-N-Out Burger chain is generally quite well known under West Coast tourists. Aviation nerds especially praise the restaurant at 9149 S Sepulveda Blvd, right at the Northeastern edge of Los Angeles Airport (LAX). The reason: it is a maybe the most delicious (and maybe: most unhealthy) plane-spotting place in the world. During my trip with the Pittsburgh Penguins through California, I just had to visit this legendary place.
Planespotting at this place in Los Angeles has been selected as by Best Aviation Experience during 2020.
This posting comes with 105 major size pictures in the travel gallery.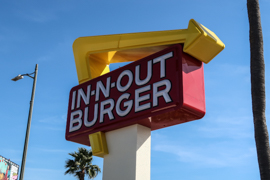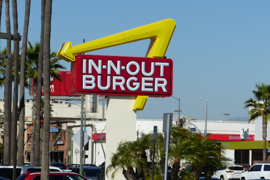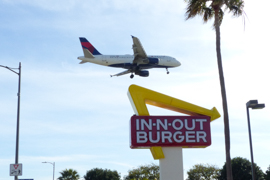 In-N-Out Burger LAX – Location
The restaurant is located at S Sepulveda Blvd, which means that it is located right at famous California Highway No. 1. In fact, the airplane landing viewpoint is across the street in a tiny park, but you can also have a great view from outdoor seating of the restaurant. It may be quite crowded (including long queues at the drive-in), but parking in most of the area around is free for two hours, which makes it quite ideal to have a relaxing planespotting session with a burger.
In-N-Out Burger LAX – Restaurant & Food
One thing In-N-Out Burger is famous for is that there are a couple of "hidden" options on the menu. The in-restaurant menu itself just features three burger menus and a couple of slides. The classic is the Double-Double, the double cheeseburger with two slices of cheese. If you know the menu better, you may also go for a Triple-Triple or even a vegetarian option.
As said, the restaurant is packed even in non-peak times. After ordering, I had to wait some ten minutes for the burger. While ordering a burger, you may also buy a souvenir t-shirt – In-N-Out Burger have quite a wide collection of items available.
The burger itself was really lovely. Prices are really fair and the quality was really good. Drinks are (of course) free refill.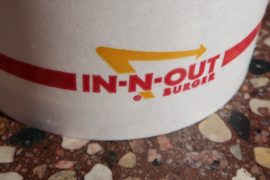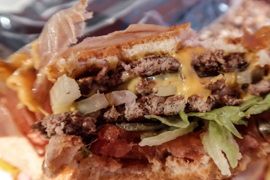 In-N-Out Burger LAX – Planespotting
From the restaurant or the nearby park, you can watch planes landing at runway 24R, i.e. in Southwesterly direction. Typically, the runway is very highly frequented. My timing has been comparably unfortunate, I was at In-N-Out Burger at around 14:00 and stayed for a little bit more than one hour. In this time, there were roughly fifteen planes.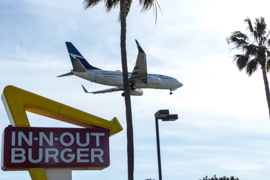 In-N-Out Burger LAX – The Gallery
Due to the planespotting picutres, I uploaded 105 major size pictures to a dedicated section of the travel galleries:
In-N-Out Burger LAX – My View
Even if you are not too much of an aviation buff, the In-N-Out Burger at Sepulveda Blvd is worth a stop. If you are in California, you should give the brand a chance anyway – and why not using that fascinating spot? I had a lot of fun there and enjoyed this stay a lot. Any yeah, the burgers are great as well – so I can absolutely recommend this place!
Flyctory.com on Eating & Drinking
Flyctory.com is not a culinary blog. Nevertheless, here are all posts dealing with Eating and Drinking:
Flyctory.com in Greater Los Angeles
Here are all Flyctory.com postings related to Greater Los Angeles: