Many of you might watch the Tennis US Open at Flushing Meadows  on TV. Some take-outs like interviews on the plaza give you some idea how it looks like at the USTA Billie Jean King National Tennis Center, how the grounds are officially called. 2018 has been my fifth visit at this amazing tournament. Four times I have been an ordinary spectator and once I served the Indian tennis as a photographer. Thus, I thought to give you some insight how a visit at the US Open is like.
US Open – Getting there & Getting In
If you are not a die-hard person and love Queens traffic jams, you will very likely take Subway no. 7 to arrive at Mets – Willet' Point, which is the second last stop before Flushing Main Street when you come from Manhattan. From there, you just cannot miss it – the New York Mets baseball stadium Citi Field is on your left and the holy tennis grounds to your right. On the wooden-paved passenger bridge to the entrance, you may already go for a daily match programme (see below).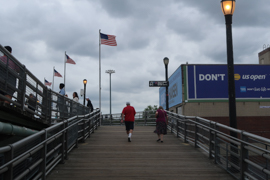 Right before the end of the bridge, there is the bag check – you may even leave major suitcases for a reasonable charge (10 USD, minor bags 5 USD). Then, the security lanes split up into Will Call, People with bags and people without bags. You should note that the US Open has a quite fair bag policy (16x16x12 inches), but bagpacks are not allowed. I had sunblocker spray with me, which was accepted the first two days and then taken on the third one. Overall, the procedures are extremely efficient.
Tickets – Which ones to buy?
The US Open 2018 have been my fifth one. I always attended the first week and sometimes the qualification. Apart from one visit, where I worked as photographer, I always went for ground tickets – and I can absolutely recommend it. You may enter all courts with it apart from the centre court, Arthur Ashe Stadium.
On the refurbished Louis Armstrong Stadium and the Grandstand, the lower ranks are reserved and excluded in the Ground Admission – you may however use the upper tiers. This often leads to the situation that the court looks quite empty in TV as you just see the reseved seats – the upper tier is full, though. There are plenty of cool matches on the outer courts the first week – and it is fun to hop between the courts. Ground Admissions 2018 were roughly 60 USD at the first days. However, while I paid about this price for Friday, the Saturday Ground Admission was about double the price.
If you are more relaxed with not being on the safe side, you may do some bargains by looking at ticket resale platforms and other special offers short before the visit. You may get some really nice tickets, especially if people think that the daily schedule is not attractive. There may still be some of your idols playing.
US Open – The Courts
I cannot tell you anything updated about Arthur Ashe just because I haven't visited it – but if you want to take a look, I would definitely recommend you to buy a ticket for one of the night sessions. It may take you a while before going to sleep, but the atmosphere is amazing.
The update of Louis Armstrong Stadium reduced its capacity significantly – it now "only" holds some 10,000 spectators. It may be covered with a roof like Arthur Ashe. The Grandstand is the largest non-roofed court with a capacity of some 8,800 people. All other courts are ordered from 1 to 17 (or even more…) – the largest among them is Court 17, which is the only numbered courts which is fully surrounded by stands. The other courts have different capacities – some even just allow for a couple of hundred people standing around. As all courts now have video screen scoreboards, you will be update on matches completed and in progress during the court change intermissions.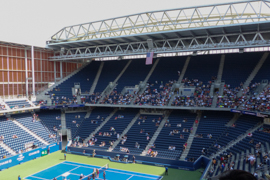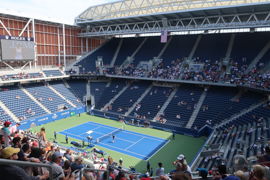 (taken from Friday's and Saturday's US Open reports)
Being in the big stadiums may be impressive, but when you also check my US Open 2018 match picture gallery, you will recognize that you are much closer to the pros on the smaller courts. For that reason, I just love the atmosphere there. It is also much easier to catch a player after the match and ask him for an autograph or a picture. Here are some pictures I took on the outer courts on Thursday, for example: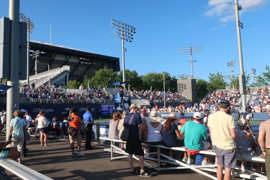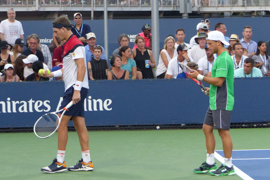 On some of the outer courts, you may even spot several matches in parallel. Sometimes, people even use the upper ranks of an adjacent court to watch a match.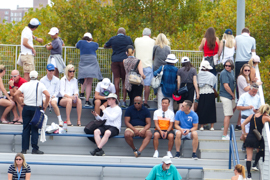 US Open – Practice Sessions
Practice sessions may become a very elementary and welcome part of your US Open visit. The five central practice courts even have designated stands to watch – and if one of the big stars appears, these seats might be demanded higher than some of the show court ones. For example, I had a short look at Alexander Zverev practicing with Ivan Lendl – there was hardly any chance to find a seat with a straight view.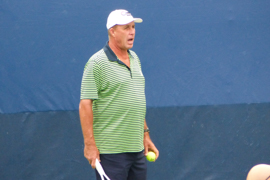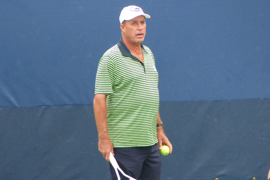 The later the tournament is, the more the stars also take over the smaller courts for their sessions. In this case, you may be really close to them and see them working and improving their skills – including the chance of making some picture memories.
US Open – Eat Drink & Relax
The Billie Jean King Tennis Center can be really crowded, especially during late afternoons. The more, there are some spots where you can relax and refresh. The most obvious one is the food village, which easily has some thousand seated places to have a snack from one of the self service places. However, if you like to take some munch courtside, there are a lot of opportunities around, which are also closer to the venues. If you know US event catering prices like at the NHL or NBA, you won't be too shocked about the US Open. You will typcially end up paying some 15 to 20 USD for a saturating dish. Paying 6.50 USD for a 0.75 liter water bottle is also not a bargain – but the tournament allows you to bring your own food and drinks on court.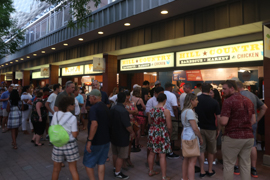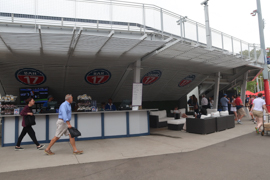 There are also some places I absolutely loved – my favourite one is the Court 17 Backyard, which has a bit of a Biergarten atmosphere. There is also a nice elevated lounge terrace at Grandstand. Some other places are either serviced or have limited access, so I did not check these out.
Sometimes, you just want to do other things than watching tennis? There is quite some stuff to do. For example, you may enjoy the Walk of Fame close to the entrance. There was also a nice VR exhibition on Arthur Ashe and his 1968 US Open victory. Some other places are hosted by sponsors (see below). The tournament tree for the four big events is at the entrance – you will find the other ones around in the grounds.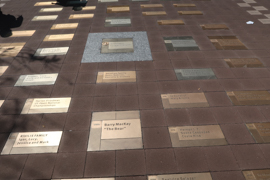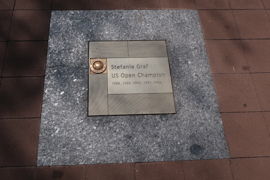 US Open – Sponsors & Merchandise
Most of the opportunities to hang out and have fun are presented by sponsors. The three ones, which are likely most prominent are American Express, Chase and Mercedes. I have to admit that I seriously think about getting an AmEx before I visit the US Open again: you get the US Open radio for free, which gives you commentary on the matches. There is a wristband, which allows you to pay contactless – and gives you a refund on any 100 USD spent. They host a large place with a limited place for cardholders. If you are Centurion or Platinum customer, you may also use an exclusive lounge at the Louis Armstrong Stadium.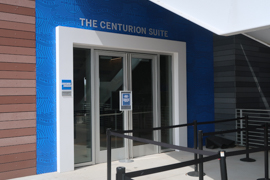 Emirates has a minor interactive booth, but also hosts a terrace cafe. Mercedes sents you some souvenir pictures by e-mail (which did not work out for me). Apart from that, they showcase some of their fanciest models. I feel I never touched a Maybach before. Some models are even not already for sale in the US.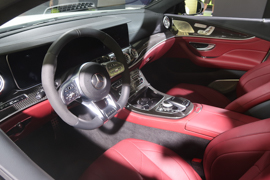 The smartest marketing idea was maybe taken by Chace – for one dollar they rented you a mobile phone recharging battery so that you stay updated all the time. There were bins to return them all around the grounds.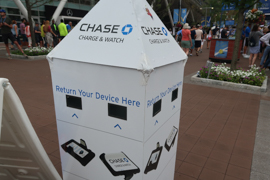 Sports brands like Wilson or adidas host their own merchandise stores. If you want to bring some really posh memories, you can buy them at Polo Ralph Lauren. But of course, there are "ordinary" US Open stores as well – a t-shirt is about 30 USD there (which is less than half of the posh way).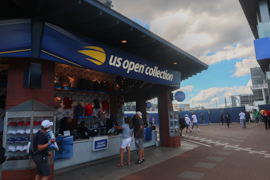 US Open – Other Services
The sanitary situation at the US Open is close to perfect. Though it is an outdoor event, the toilets are clean. This is also due to the fact that each toilet has assigned cleaning staff, which is very helpful. Finding your way to the toilets as well as to the courts is quite easily – there are also a lot of signs around which help to find your way.
The US Open organisers claim that there are 40 stations in the area, where you get free drinking water. I spotted a couple of them. Some of them were at Louis Armstrong, where most people sit in the shadow anyway. Nevertheless, it is a nice service. US tab water always has a significant touch of chloride, though – I personally cannot drink it all day as it hurts my throat.
The App or not the App – what a stupid Question?
Finally, there is the question, what is the best way to get around and stay updated what is going on. In earlier visits, I typically bought the daily schedule, which is 5 USD and comes with a small poster. In case of matches moved to other courts or delays, this "traditional" solution does not help you too much. The fancy way to navigate at the US Open is of course installing the app. It requires internet access (which means you cannot download the daily schedule and recall it if you need it). This does not seem to be too serious, as there is free WiFi in the whole area. Unfortunately, the quality tends to become poor – and even mobile network reception may break down. I installed the app before the tournament, hated it on Thursday and used the website with my US mobile via not too strong LTE the two other days. Still, you receive no alerts – which would be very favorable.
My view on visiting the US Open 2018
Visiting the US Open after a couple of years was just amazing. So much has changed in the grounds – and I have to add, I don't like all of it. First of all, you more and more feel that the space in Flushing Meadows is limited. You do not feel like in Wimbledon, but it may become a quite crowded place. The peak time is at the end of the Arthur Ashe day sessions, when the night session visitors are already around. I also felt that food became worse compared to my previous visits. While the organizers really feel to try to improve the situation a lot, it is still difficult to get updates on match delays. The app does not help you there a lot. Unfortunately, the referees do not seem to feel responsible to inform the spectators in case of a delay. But that's a minor – if you like tennis, you should definitely take the trip and smell the Grand Slam atmosphere. The US Open are a great place to do so definitely!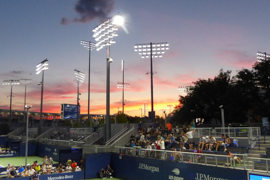 US Open 2018 – Daily Reports & Match Picture Gallery
To see match pictures (also in larger size) of the two days of my visit, please visit the gallery:
They are based on the two full days I visited the US Open 2018: