On the fourth day of my Pittsburgh Penguins trip in March 2022, right before I headed on to Nashville, I stayed a the Hampton Inn Pittsburgh Airport. The key reason for the location was of course the convenient location to Pittsburgh Airport (PIT), where I also returned my Enterprise rental car. Here is my review or the airport hotel.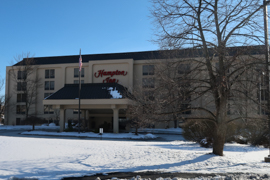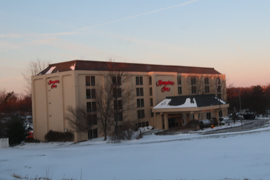 Hampton Inn Pittsburgh Airport – Location
Like several Pittsburgh Airport hotels, the Hampton Inn Pittsburgh Airport is located North of the airport. There is only one hotel, the Hyatt Regency Pittsburgh International Airport, which is located right at the terminal. You easily reach the Hampton after a short drive when you exit the I-376 highway. As you in fact have to drive half-way around the airport area, the distance to the terminals is some seven miles.
There are a couple of other hotels in the area, as well as other very typical American restaurants. The Hampton Inn runs a huge parking lot, which you can you for their Park and Go (park, sleep and fly) rates as well.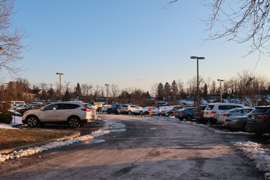 Hampton Inn Pittsburgh Airport – Room
I had a one night stay at the Hilton Group branded hotel. The Sunday to Monday flexible stay rate was 128.82 USD incl. taxes for a King Study Non-Smoking room, which is also the category I received. The study room with the characteristic work desk had a nice size and also featured a fridge and a microwave oven. Overall, the hotel as well as some parts of the room felt a bit old-fashioned, the aisles could have been cleaned a bit better, but the state of the room overall was fine.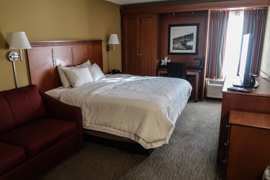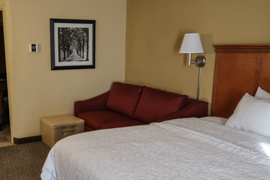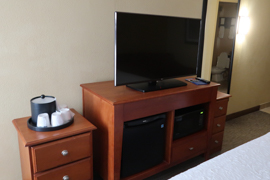 The bathroom was a typical Hampton one, which came with a North American bathtub combined with a shower. The bathroom was clean, all typical amenities were provided.
Hampton Inn Pittsburgh Airport – Breakfast
Breakfast at the Hampton Inn Pittsburgh Airport was fine. Other Hampton places do significantly better, this one rather reaches the standards. The presentation was quite nice, though.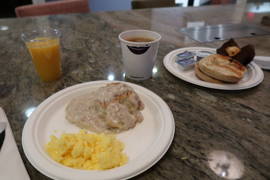 Hampton Inn Pittsburgh Airport – Service
The hotel is running a gym, which I did not spot unfortunately – the signs somehow did not work. There is also an airport shuttle, which is especially handy if you leave your car at their premises for a flight. The staff was really nice during my staff, I also enjoyed the quality of the in-room WiFi.
Hampton Inn Pittsburgh Airport – My View
The Hampton Inn Pittsburgh Airport provided a nice stay to me. It is a comparably good location with quick access to Pittsburgh Airport (PIT). There are a couple of services around. I stated a few issues, the parking lot has been rather packed as well. I would opt for this place again, as it overall felt reliable to me. Not one of the poshest Hampton Inns I stayed at – but a  pretty solid choice.
Airport Hotels
Here are all hotels with a good airport connection:
Flyctory.com in Pittsburgh
Here are all other postings by Flyctory.com related to Greater Pittsburgh: