Flyctory.com is neither a food-blog nor an advertisement platform for fast food. However, visiting the McDonald's at International Drive, Orlando, made me come very close to both topics. McDonald's itself calls the place "World Largest Entertainment McDonald's". You likely never had pizza, pasta and arcade gaming when visiting the burger giant. If you feel you have to do so, you have to visit McDonald's Orlando International Drive.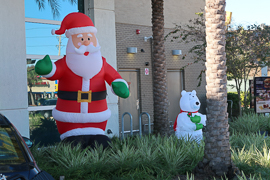 McDonald's Orlando – Location & Times
The exact location of the store is 6875 Sandlake Road. It is very close to other major Orlando attractions like the ICON Park Orlando entertainment district with the giant observation wheel and Madame Tussauds. Universal is about two miles away.  It is also very close to the Interstate, so we had a short drive from our hotel. Be aware that this area tends to have traffic jams. McDonald's Orlando International Drive is open 24 hours.
The store is named to be the largest McDonalds in America.
McDonald's Orlando – Food & Drinks
You recognize very early that something in there is different right when you enter the McDonald's store. On your right, there is an additional kitchen area with an oven, where Pizza and Pasta are prepared. The additional dishes are also on the monitors above the ordering area.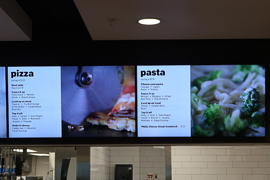 Of course, you can also go for the "traditional" McDonald's burgers, nuggets and fries. We went for the Italian way – and also for the ordering machines – for a very simple reason: there are not just two or three pizzas and pasta dishes from which you may choose, you may choose of several kinds of pasta, pizza sauces, toppings… Hard to decide if you have to review all the possible options first. Another difference at this Orlando store is that you do not go to counter and grab your food – you just take a number and choose a table – the food will be served at your seat.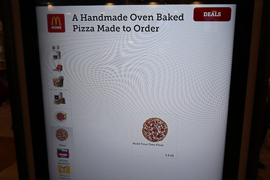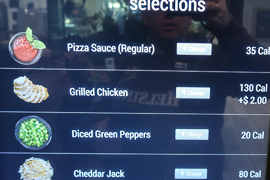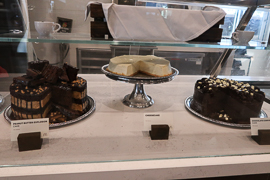 We just went there to see it, to try it out (like many tourists, I guess…). The more we were surprised about the quality. McDonald's does not beat a fancy Italian restaurant, but the dishes were both really good. Pasta is even served with tableware and a slice of garlic pizza bread. The price of each dish was roughly 12 USD – the final price also depends on the selection of topics. You have a couple of options for free, while meat is always charged. Drinks are of course free refill.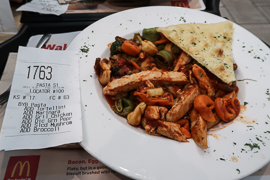 McDonalds Orlando – Games & More
On the upper floor of McDolands Orlando is not just additional dining area, but also a small arcade. It is not Dave & Buster's, but it is quite a nice area with a nicely designed playground for kids as well.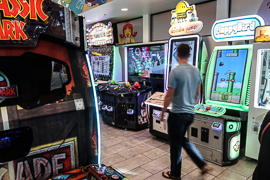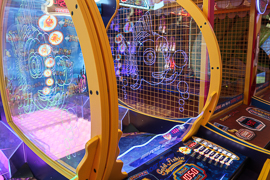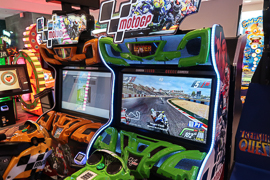 McDonalds Orlando – My View
Does one need McPizza and McPasta from Ronald McDonald? Nooo, absolutely not! But it is fun, more fun than I expected. The quality is good, the restaurant is quite cozy – and getting your meal served at the table is just a wonderful add-on on top of your visit. If you do not visit, you miss a really good pizza and very nice pasta – but more than that, you miss a funny memory you can tell your friends at home later.
(Greater) Orlando – Postings
Orlando is much more than Disney – here are all postings about the Entertainment Wonderland:
Flyctory.com on Eating & Drinking
Flyctory.com is not a culinary blog. Nevertheless, here are all posts dealing with Eating and Drinking: