During my tour-chase of Weird Al Yakovic in Florida in October 2022, the schedule made me visit a couple of places I haven't been to before. One of them is Melbourne – which is not too unknown as the the local airport even offers direct flights to Europe nowadays. A rather famous name in racing, however, is the Andretti family. As the Andretti Thrill Park is located to one of the tour stops, I just had to have a visit. Here is my review of the small racing-branded amusement park.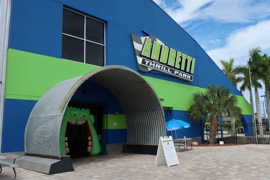 Andretti Thrill Park – Location & Admission
Melbourne is a city at the East Coast of Florida. The park is located right at route 507, a few miles South of Melbourne Orlando International Airport (MLB). The name of the airport, which is even serving European destinations, is a bit of misleading, though. The driving distance from Andretti Thrill Park to Universal Studios Florida in Orlando, for example, is roughly 80 miles. There are no other attractions in close neighborhood. But, of course, this part of Florida cannot deny to be touristic. There is a large parking lot with free parking.
Park Opening house differ by day and season. Roughly, they are noon to 22:00. In general, admission to the Andretti Thrill Park is free. However, you are not able to ride any attraction then. You either pay per use or go for a wrist band. I went for a full day admission via Groupon. Unfortunately, a lot of the attractions were closed due to maintenance, so that they gave me more capital for the arcade machines – which was a really nice deal. The ordinary adult all-day wristband price is 45 USD. Arcade machines are charged additionally, if you do not have credit of any kind in your deal.
Andretti Thrill Park – Outdoor Attractions
the outdoor part of the Andretti Thrill Park looks really fun and would be worth the money definitely. There are four Karting courses. Unfortunately, you are just racing, there are no timing facilities or similar. During by visit, however, only one of the tracks, F1 Extreme has been operating and was a lot of fun. Especially Super Speedway looked like a lot of potential. There should also be a coaster, some fun fair rides and a mini golf course. All of them were closed in parallel – which felt a bit of weird to me. Baseball fans could also go to a batting cage (additional charge, but operating). A fun attraction outside, which was operating are the Wave Rave Bumper Boats – they were indeed a lot of fun.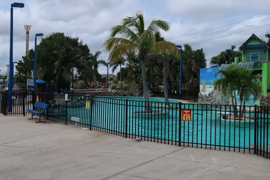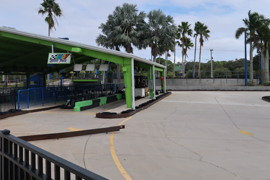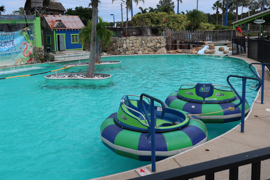 Andretti Thrill Park – Arcades & Food
On the indoor part of the park, there are mainly arcades. However, the selection is really quite nice and range from ticket machines to typical video games. The indoor area comes in two level and was fully operating during my visit. They also feature the Hologate and a laser tag game.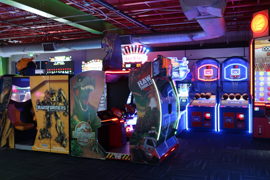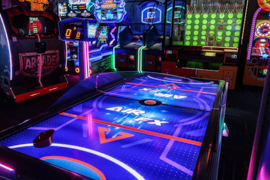 Apart from the shop which allows you to trade your arcade tickets, there is also a small snack bar. The place was a bit of busy, so that I finally did not take any snaps from there.
Andretti Thrill Park – Services
The staff was really kind and helpful. I also highly appreciated the way he tried to help out in my situation – you just cannot change it (and I feel many Florida visitors, even if US-based would have run into the same situation).
Andretti Thrill Park – My View
First of all: I had a fun afternoon at Andretti Thrill Park – thus, it was not a bad time at all. The few rides operating were fun, the arcades distracted me well – so I overall had a nice value for money. Nonetheless, I have to rate the experience I had – and that has been too limited. Bad luck, I feel that this neat place has a lot of potential to have some fun and memorable races with a couple of friends.
Amusement Parks – More Postings
Here are all postings about Amusement Parks:
Flyctory.com on Sports Museums
Here are all Sports Museums I visited: