As central as it gets: not only during the CMA Fest week, the Hilton Nashville Downtown offers a perfect location right next to Broadway, Bridgestone Arena and the Country Hall of Fame. For my Pittsburgh Penguins Trip in March 2022, I opted to stay two nights in this place, which I always admired from outside. Here are my thoughts.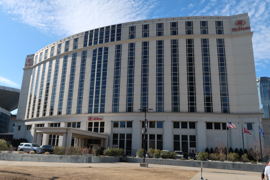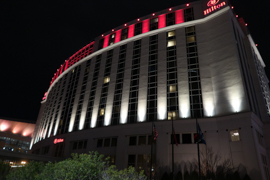 Hilton Nashville Downtown – Location
The Broadway in the North, Bridgestone Arena as the Western neighbor, the Johnny Cash Museum in the next building on the East side and the Country Hall of Fame right across Walk of Fame Park in the South – do I need to say more about it? All central attractions are in easy walking distance – and if you fancy to have a quick drink or dance in a honky-tonk, you will be in, room door to bartender, in less than ten minutes. Apart from the first two pictures below, all views have been taken through the window of my hotel room.
You will likely arrive by own car or by taxi / rideshare, so that I skip any public transport information.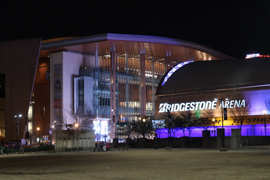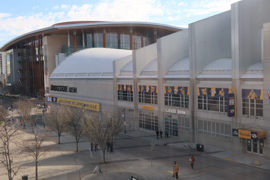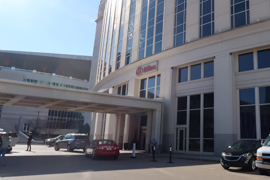 The hotel features a garage. You may either do valet parking (incl. in/out) for 45 USD or self-parking for 38 USD per night (the first hour is already at 20 USD, so that in/out is no option here). My European heart is getting angry about these prices, but they are reasonable for Downtown Nashville. The really bad thing is that there is only one hotel entrance in the car park, right in the valet area on the first level. You likely have to bring your luggage from -2 to -1 if you go for self-parking – which I feel it is some sort of a rip-off.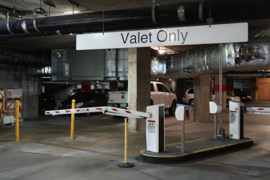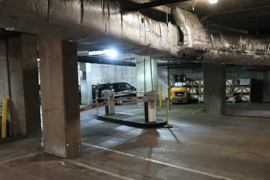 Hilton Nashville Downtown – Atmosphere
I feel that the building is already quite impressive from the outside, but the interior is even better. You have an atrium over all floors, which gives you a feeling of massive space. The design comes with some negative sides as well, though. For example there are just elevators in one corner of the hotel, close to the reception. My room was at the very opposite side. This felt bothering. Like from outside, the missing daylight in the atrium leads to a beautiful atmosphere in the evening / night hours.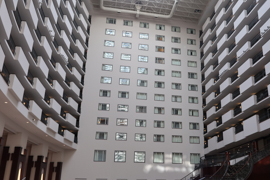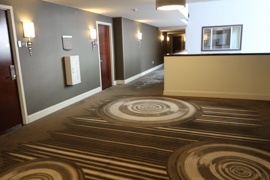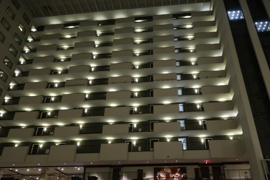 Hilton Nashville Downtown – Room
I booked a Standard King Room for two nights, paid with Hilton Honors points. At the time of booking, the two nights would have been around 800 USD including tax. This is a rather average price for this place – the pricing is very volatile, though. There has likely been an upgrade, as I stayed in a suite-alike room. The room featured a separate living and working area and a sleeping room. Especially entering the room and standing in the large living / working room was awesome. It came with a lot of nice amenities like a huge sofa or nice bar items. The location of the work desk right behind the door has not been perfect, but did its job.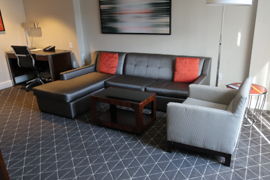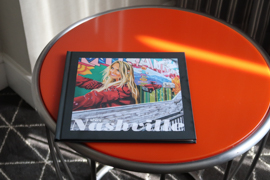 In contrast to the spacious living rom, the sleeping area might be regarded to be a bit of narrow-ish. Overall, I felt it was really fine, I had sufficient space to comfortably walk around and even store one of my suitcases. The sleeping room (of course) featured a second, large flat screen TV set.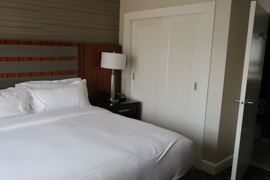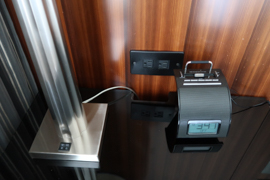 Beautiful Bathroom – but a bit of narrow
I loved the design of the bathroom as well. However, the layout of the room was a bit of narrow. I especially felt that the area with toilet and shower at the end of the bathroom was too packed. On the other side, it was cool that the room had direct access to the sleeping room as well as to the living room.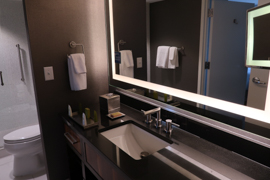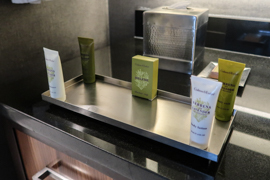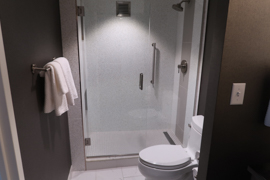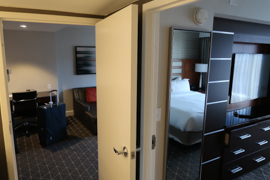 Hilton Nashville Downtown – Executive Lounge
My Hilton Honors status granted me access to the Hilton Executive Lounge. I really liked the design of the neat place. However, I did not visit the lounge during Happy Hour times (when alcohol and basic food is for free) – but it is hard to imagine that this rather small space is providing sufficient capacity on busy Hilton Nashville Downtown days. The lounge staff was very attentive.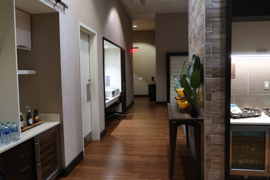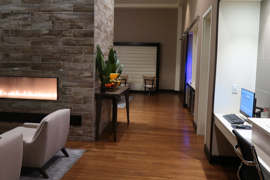 Hilton Nashville Downtown – Breakfast
I had two options for breakfast: either take the one provided in the Executive Lounge or go for the breakfast buffet. Regarding it was a complimentary lounge buffet, the selection of dishes to start into the day was not bad at all. There were different kids of breads, muffins, some healthy choices, oatmeal, scrambled eggs and bacon. I really liked that way to start the day.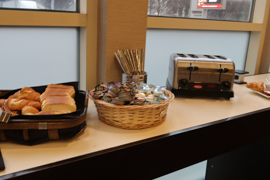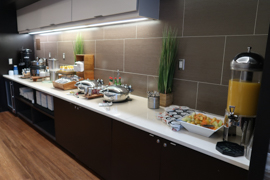 The breakfast buffet served was the open space cafe. As the reception at check-in confirmed that I have a credit on my food / drink expenses as a Diamond member, I just felt to give it a try. There was a wider selection of fruit, slightly more warm dishes (e.g. potatoes, biscuits with gravy) – but overall, I did not feel that the upgrade was really worth it. Definitely, I have been to lower standard Hilton Group places in North America who serve better breakfast than the Hilton Nashville Downtown – which is a shame, as their other dining options like the Italian restaurant are closed in the morning.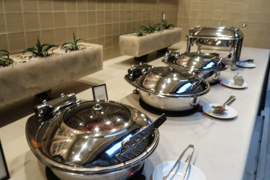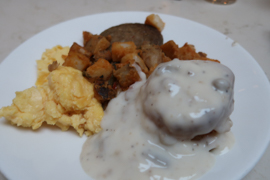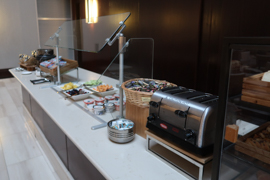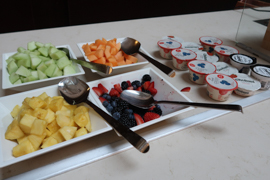 Hilton Nashville Downtown – Service
Despite I had "premium" WiFi due to my status, especially working for Flyctory.com has partially been a pain, even during later hours. I had to change from the normal connection (with Premium connection) to their meting WiFi, which was obviously under too much pressure and just gave a slow connection.
The hotel is driving a gym, which felt comparably small to me – maybe Music City visitors rather want to improve their drinking than their athletic abilities. The check-in process went rather smoothly. As said before, I asked to confirm my food & beverage credit as a diamond member. The receptionist confirmed the credit and that it is 20 USD per day (which is generally wrong – it is 15 USD per day). Luckily, this credit thing only exists in the USA – other locations still give you free breakfast.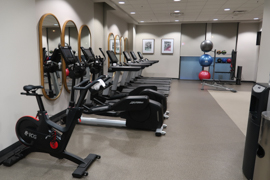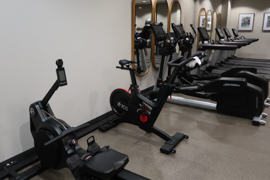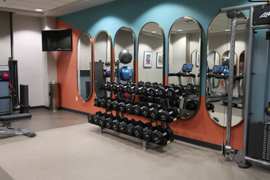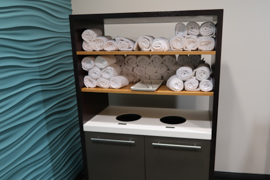 Check-Out / Invoice Issues
It felt like a good stay – until the time of check-out. Luckily, the hotel had sent me a pre-invoice by e-mail, so that I already saw one of the issues: even though I parked the GMC Acadia I had rented from Hertz in the self-parking and had not moved it at all. For whatever reason, the hotel had added one (!) night of valet parking to my bill.
At check-out I also got to know that they fully charged the breakfast. First of all, they stated that I don't have any food & beverage credit due to the Executive Lounge (which I feel is weird – Hilton shows that benefit for all their branches, even those which more or less generally have a lounge). The receptionist at check-out claimed that this was my fault. Upon multiple request, she could neither give me a corresponding invoice or any other kind of proof that the expenses are valid. Furthermore, they had charged me 20 USD for breakfast and not 15 USD, which was the reduced status member price (15 USD… Food and Beverage Credit… Is that really coincidence?). After a long discussion they at least removed the valet parking and reduced the breakfast to the status member price.
This finally means that there are three weird issues or incorrect items on one bill, which is too much. You can never proof that, of course, it might just be an act of grubbiness, but there are rather frequent reports that hidden fees and incorrect items are put to invoices in US touristic regions. Before I could even complain about the valet parking I was aware of, the receptionist just stated "You are all set, good to go", without even naming the total balance of my invoice. Under these circumstances, I see the whole staff behavior at check-out as very critical.
Hilton Nashville Downtown – My View
So sad – this place could be so amazing. Great architecture, outstanding location. But you cannot neglect all the negative points. First of all, there are the invoice issues as well as the absolutely poor WiFi. The internet was simply not acceptable quality in a place like this (it's been the worst of my whole trip). Forcing the people to have valet parking by not giving self-parking guests direct access to the hotel is… Find your own word for it. The room was fantastic, there were so many good memories about my two nights at the Hilton. Finally, they just did too much wrong.
Travel (Nashville)
Here are all my travel postings related to Nashville:
Hilton Hotels in the USA
Here are all my hotel reviews of Hilton Hotels in the USA: