The harbor city of Mystic, Connecticut, is well know as a tourist destination. Especially the Mystic Aquarium and the Seaport Museum are attracting people from everywhere and crowd these locations especially during weekends. On my Weird Al & Grass Court Tennis trip 2019, I just had very limited time to explore the city. However, I made it to Olde Mistick Village, an alternative shopping destination close to the Interstate.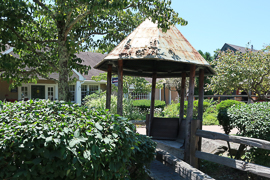 Olde Mistick Village – Location & Map
Olde Mistick Village is located right south of I-95, exit #90 / Mystic. It is right next to the Mystic Aquarium. Olde Mistick Village provides sufficient free parking.
The place is arranged like a little historic village. There is quite some atmosphere by the small houses and different kinds of trade offered.
Olde Mistick Village – Shopping
Olde Mistick Village just tries to be different – and does a good job in that, especially in shopping. One of the first shops I had a look in was the Newport Sock Exchange, a store for "funky, cool and crazy socks" – which even spends its earnings to charity projects. Bestemors is huge and offers Scandinavian products – but there is also Irish Eyes, who rather fancy the island's stuff. Taylor's Sports has a lot of American sports memorabilia. I cannot list all the stores, but apart from the (minor label) fashion stores and exclusive jewelry, there are a lot of products you may not find in other malls. For example, I loved Toy Soldier, which is focusing on traditional toys. I spent much more time than expected to explore all the different stores.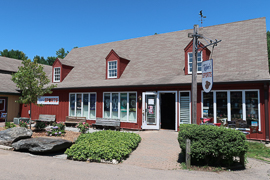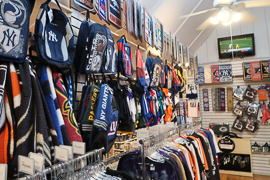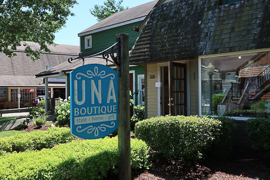 Olde Mistick Village – Food
Not too surprisingly, there is quite a variety of dining options as well. The mall's map and website list five of them, starting from Mango's Homemade Ice Cream and Vault Coffee & Deviant Donuts for the sweet desires up to Go Fish and the Steak Loft of Mystic. A lot of places offer outdoor seating, too. Thus, it is also a nice option for a relaxing meal. Unfortunately, I visited Olde Mistick right after breakfast, so I cannot tell you too many details about the dining.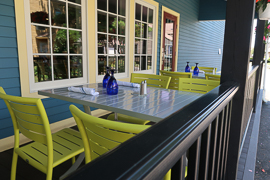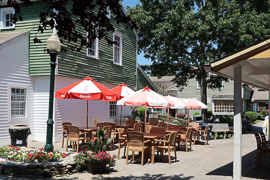 Olde Mistick Village – Services
Olde Mistick Village really tries to offer a wide variety of companies, including services. The most eye-catching place are likely the Mystic Luxury Cinemas. But there are a lot of other services, from real estate brokers, banks, a visitor center and a photo lab.
Olde Mistick Village – My View
Honestly, I just chose to visit Olde Mistick Village as I saw that I will be running out of time that day and had to "downgrade" my day from the major, but more time-consuming Mystic key attractions. Finally, I have been really happy that I chose to visit this small, but charming mall. You may not stay there for hours and you will not find too many bargains – bit you will leave the place with a smile and maybe take some memorable souvenirs with you – I left with some new socks and Pittsburgh Penguins souvenirs, for example. If you have some time in the area and just look for an easy hang-out and maybe a snack, why not taking the small diversion from I-90? I feel it is worth it!
Olde Mistick Map taken from website.
Postings about Shopping
Here are all postings related to Shopping:
USA – All Postings
Here are all postings which deal with the USA: