Another six months have passed – the first full half year of Flyctory.com's existance. After I did the Very Important Postings for the 1st half of 2018, it is now time to look back to the following six months.
Technical Stuff – Steady improvements
I tried to improve the navigation and add a lot of features which makes it easier for you to find related postings and information. For example, I put a lot of effort in better tagging and tag structures. Have you ever checked the Tag Glossary? I like that feature. You may now also navigate via the country-level tagging, I might even drill that down in the future.
I also tried to improve the display of the website on mobile phones. In the past, it was hard for you to access the latest postings. Hope the current navigation is better. Quite challenging for me, as I had to introduce myself to php for that. There are also some new plugins which support my work, including a feature which is evaluating my language. I am always thankful for corrections and suggestions how to improve the website.
Travel – It all started in the Carribean
In July, I started off to a trip to Niagara Falls, Curacao and Toronto. The trip to the Dutch island was planned as a beach trip with some history and culture, but felt like a hidden gem to me. Historic facts like given in the interesting Kura Hulanda Museum and the lovely capital Willemstad and the interesting harbor tour were two key visits. Visiting the original Blue Curacao Factory was cool, as well as enjoying the nature in two national parks or the massive Curacao Ostrich Farm. I also enjoyed my daytrip to Bonaire.
I love Toronto, so I was looking forward to introduce it to my wife at the end of the trip. Glad to present the Hockey Hall of Fame here on the website. The Royal Ontario Museum, the Bata Show Museum and the great Casa Loma were two additional cool visits.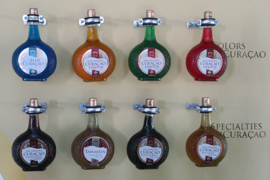 Weekend Trips thereafter
A dream vacation for my wife was definitely the weekend trip to Fort William in Scotland. Riding the Jacobite (also known as Hogwarts Express) was just an amazing train ride.
Sports and Music made me travel a lot thereafter. Especially Tennis Davis Cup in Kraljevo, Serbia, gave me some interesting insights to a country I haven't visited before. Two amazing monastries and the depressing Kragujevac memorial were two cultural highlights of the trip. Liverpool introduced me to the Beatles Story and the great Slavery Museum, while I loved the Manchester United Stadium Tour. Thessaloniki was a highlight of my second half 2018, the Archaeological Museum was the best visit during the trip.
I had another trip to Dubai and Abu Dhabi in early November. The Emirates National Auto Museum in the middle of the desert was definitely a great visit. I also loved being back at the Dubai Parks, which I reviewed in early 2018 already. For the first time, I could also fall in love with the Global Village, just as the locals do.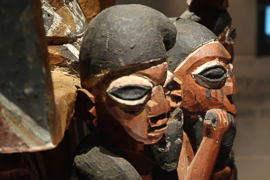 Florida
Right before christmas, Sarah and I went back to the USA and visited Tampa and Orlando, Florida. We visited a lot of places, much more than I expected. There will be a lot of travel and hotel reviews from this time, which will be published in early 2019. So far, there are just two postings of that trip available: First of all, I looked at the Christmas Party at SeaWorld Orlando. The second posting deals with the four mini golf courses at World Disney World. One of the courses, the Fantasia Fairways, it is not just one of the toughest ones in the world, but also one of my favorite places in the areas. A must visit!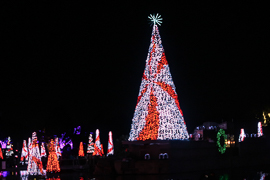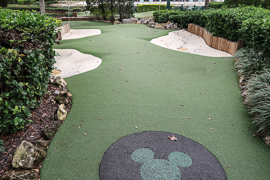 Good Stays – Bad Stays
Visiting abroad places always comes with hotels and accommodation, which is one of the most popular categories at flyctory.com. The overnight experience of the Curacao trip was rather negative, on the Curacao side as well as in the Novotel in Curacao.
I had a couple of charming stays thereafter, like the small Hotel Crystal in Kraljevo during Davis Cup. There are were also some group hotel stays in Hilton and Accor Hotel chains. Hilton gave me a nice time in Helsinki and especially in Manchester. Later, I had a good business trip stay at a Hilton Garden Inn in Dublin. The Novotel Dubai Al Barsha was very nice as well. A very interesting experience was my first ever B&B Hotel night in Aschaffenburg.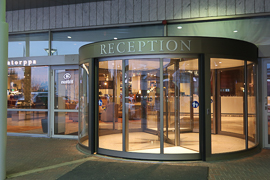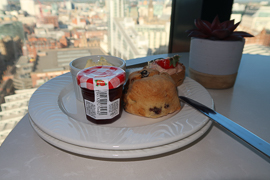 Daytrips and Short Reports
Right at the beginning of the semester, one posting completely surprised me: Reviewing the quite unique City Outlet concept in nearby Bad Münstereifel is one of the most-read postings on flyctory.com. Other spin-offs of major trips were the nice Gulliver's Gate miniature world in Manhattan or the amazing Finnish Aviation Museum in Vantaa. A spin-off of the famous "Deutsches Museum" is the Flugwerft Schleissheim North of Munich. I spent about a day in Speyer at the Technology Museum and haven't seen everything.
I also tried to improve the regional coverage of attractions around my hometown Cologne. One cornerstone article was the comparison of the two Eau de Cologne giants, Farina (the original) and 4711 (the ones better in marketing). I will also do some more coverage on local museums. I visited the interesting Ratingen-Cromford Textile Factory, for example.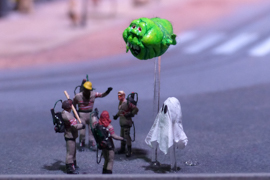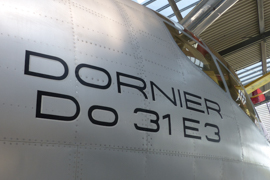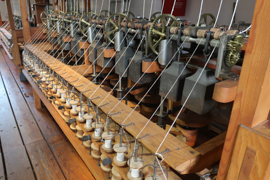 Aviation – Dream Flight to New York
The Curacao trip introduced me to Premium Rouge, the upper class experience of Air Canada Rouge. This was the first highlight of my life as aviation nerd in later 2018. A bit of a bitter touch had my VLM flight report from Cologne to Antwerp, as the airline stopped service just some days after. British Airways' very special service BA1 from London City to New York was a dream for me again, followed by the new Iberia A350 Business Class on the inbound flight to Germany. I also did my first Aegean flights in their A320.
I also reviewed some airports during the second half of 2018, namely Belgrade (BEG), Thessaloniki (SKG), Manchester (MAN) and Glasgow (GLA). There will be more reviews very soon. I also visited the new Swiss Lounges in A Gate area at Zurich airport.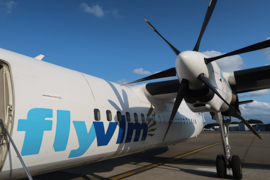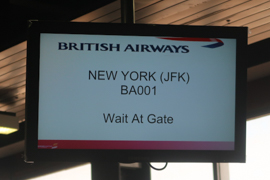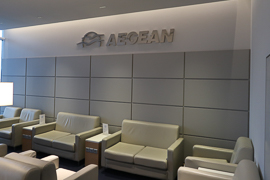 Sports – More Sports!
I am still aiming for more frequent Flyctory.com sports postings, but at least, I was much more happy with the coverage during the recent period. I started with (women) soccer. There is a pre-season match in my home town between the St. Augustin locals SV Menden and 1. FC Köln (Cologne), which I did with sport-live.net for many years already. I also reviewed the biography of Patricia Hanebeck, a great soccer player, who is a friend of mine.
September 2018 was quite much about tennis. I had a great time during my short visit in New York to see the US Open again. Just two days, Friday and Saturday, but a cool time. Great to see some of my Indian tennis player friends, who two weeks later competed in Kraljevo, Serbia, for the Davis Cup. We did not manage to win there, but it has been a great weekend. I met a lot of very interesting and nice people there and just love to remember these days.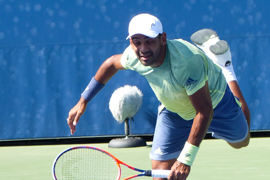 I would love to increase my effort in floorball. Nevertheless, there were some matches. For example, I visited the Bundesliga match between Holzbüttgen and Hamburg. It was one of the most-visited postings during the second half of 2018 and a lot of fun, as the home team in close Cologne proximity is doing a great job promoting the sports. After a lot of years, I went back to Winterthur, Switzerland, to see the Red Ants playing in the Women and Under 21 league. Last but not least, I loved my visit to Nurmijärvi, Finland, to see SB-Pro in their season home opener against Koovee.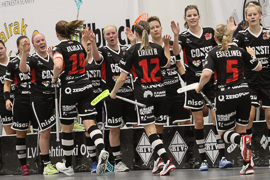 Music – More than Country Music
On the music side, the first half of 2018 majorly dealt with country music. This will still be a key focus of my musical coverage, but I also felt to widen the focus. I love quite a lot of genres of pop music – why not reflecting it here as well?
The first music posting in July 2018, though, was about a country album which dominated my year 2018: I just fell in love with Catherine McGrath's Talk of this Town and felt happy to see her on stage in Liverpool later that year. A very different 2CD album I reviewed was Metal Queen Doro Pesch's Forever Warriors // Forever United. After a stunning live performance in Cologne, I also had a look into the hop-dance-hip hop style of Kiddo Kat, who produced her Piece of Cake. Of course, there were also regular country music postings. My favourite one, likely, was my October one focusing on new talents. I also introduced my favorite musical, Rock of Ages, to you in a designated posting.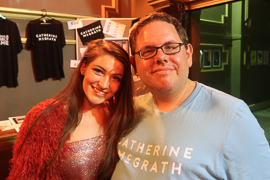 Lost in the Middle taken from Catherine McGrath's Talk of this Town album was also selected as my song of the year 2018.
Outlook to 1st Half 2019
I founded Flyctory.com as a sports and travel blog – and there will be quite some sports at the beginning of 2019 on the website. Right at the beginning of January, I will go to Gävle to report from the Floorball Champions Cup. Just about a month later, I will go to Trencin, Slovakia, for the Women's World Floorball Championship Qualifiers. I am planning to do some women soccer and other sports during that period. I will also visit the NHL Stadium Series to support the Pittsburgh Penguins at Philadelphia – but this will just be an ordinary spectator trip.
On the travel side, my highlight of the first half of 2019 will be my very first First Class flight experience, which will lead me to Singapore. I am planning to do a trip report of that one. There will be two trips to the Emirates – both times, I will stay in Abu Dhabi this time. Finally, the first half of 2016 will end up with a ten-day trip report of road and air travel to Washington and the CMA Fest, likely the world-best country festival. Of course, this is held in Nashville, TN. I also plan to visit Graceland and some other music-history interesting sights on the road.
The "Most Valuable Postings" 2nd Half 2018
Looking through the website's postings of the last six months, I felt these ones are the ones you definitely have to have a look at – and especially which is my favourite posting of that period, which will follow the Trip Report on travelling Sao Miguel, Azores, on a scooter.
MVP 3rd Place: Davis Cup World Group Playoffs 2018
Before I really started my coverage from Kraljevo, it was already sure that both teams will advance to the qualification for the 2019 Finals in Madrid. What a strange modus, which needed a lot of explanation. I felt hat this sports article was very detailed – I know it has been used by several members of press as reference. I am proud of it.
Davis Cup World Group Playoff 2018 – More complex than ever!
MVP 2nd Place: Mini Golf at Walt Disney World
Though it finally was close to 100 USD of green fees, it was a lot of fun to complete this posting, which I just recently finished. Playing Fantasia Fairways is just very special to me – and I hope I do attract of you to play a round of mini golf when you are in Orlando. Sometimes, it is just not about roller coasters!
MVP 2nd Half 2018: The Eau de Cologne Giants
Though it has not attracted too many views yet, I just feel that this is my favorite posting. It also needed quite some work to combine all the information. Furthermore, visiting the Farina Museum is really fun and I absolutely recommend to do so when you are around Cologne.