Though I finally did not manage to touch down there, flying from Ronald Reagan Washington National Airport (DCA) was definitely a highlight of my trip to Nashville in May & June 2019. On 2nd June 2019, I took a flight with PSA Airlines from DCA to Chattanooga Airport. Furthermore, I visited the landside facilities the day before. Here are my impressions and views.
DCA Airport – Location & Connections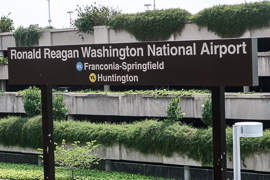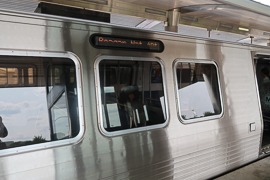 Reagan Airport is located Southwest of the city center, in Arlington, Virginia. It is one of three airport option for the US Capital – I visited Baltimore BWI Airport on my trip with Southern Airlines in February. The most prominent airport is Washington Dulles. Reagan is connected to the local transport by two metro lines, the Blue and the Yellow Line. Many hotels around (like the Doubletree Crystal City I stayed in) offer airport shuttles.
Reagan National Airport currently serves more than 90 destinations. Most of them are domestic. There are a couple of international flights, too. Due to its limitations, there are no planes larger than the Airbus A321T or the equivalent B737 models possible. I did not spot any Turboprop planes, though.
DCA Airport – Limitations & Restrictions
There are a lot of restrictions and limitations around Washington Reagan Airport. The most obvious one is that there is no international arrival facility. All non-US destinations served (mainly Canadian ones) offer US pre clearance on their premises. All flights arrive as domestic service.
DCA Airport – Landside Facilities & Check-In
Wahshington Reagan is extremely compact (small!). Nevertheless, it hosts quite some shops before security. The terminal has large windows towards the runway and apron, so that you can enjoy a really nice view of the airport traffic as well.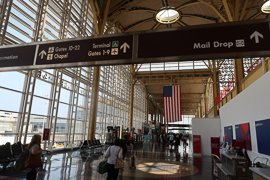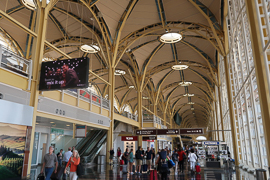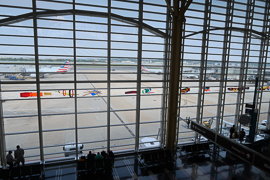 There are ordinary check-in counters, but some airlines like Delta and American Airlines already offer check-in at curbside of the access road. This shows how limited space is – on the other hand, this option is of course very convenient.
Departing from DCA Airport (Terminal C)
A Sunday morning flight at 9:50 hrs may not be the best benchmark for the performance of an airport, but overall, Reagan did extremely well. Between leaving the shuttle provided by the Doubletree Hotel I stayed in and standing in front of the American Airlines Lounge was roughly 15 minutes, which is extremely fast for an US airport. The airside facilities are limited, but there are some nice dining options – and again, you can also enjoy a lovely view about what is going on at the airport.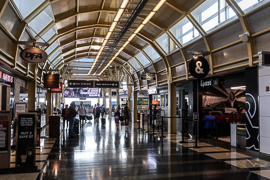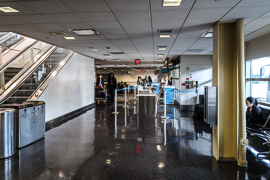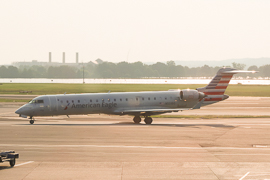 I was very positively surprised of the  American Airlines Admirals Club lounge in the C concourse. It was much larger than I expected. At least on that Sunday morning, it was easy to get a cozy seat. There were limited, but for that time sufficient power plugs as well. American Airlines provided their ordinary breakfast service, which is not too posh, but absolutely satisfying.
There are three concourses, which are only linked airside. As American Airlines is operating flights from B and C, there is a shuttle between these two gate areas. My flight departed from the C35X gates for regional flights. My flight to Chattanooga was operated by PSA Airlines for American Eagle.
DCA Airport – My View
Yes, Reagan Airport is small and thus limited. It is reaching its capacities – maybe it is even exceeding it. However, if you ever got stuck in traffic in the long transfer to Dulles Airport, you will highly value this one. I definitely enjoyed my first flight from DCA Airport.
Aviation on Flyctory.com
Here are all postings about Airports & Airlines:
USA – All Postings
Here are all postings which deal with the USA: